Dual sealed Infinity 12" subs w/ stands (CHEAP!)
Inspired by this
thread
. Figured I'd post this given the low cost, perhaps encourage others with small rooms.
Using the Infinity 12" 1262w
(LINK)
rated at 300watts rms 1200wats peak
For power, the Behringer Inuke3000dsp
(LINK)
680 watts into 4ohms per channel, my application
The thread linked above used a diysoundgroup 1.5cuft flatpack. My enclosure is 3cuft, made from 3/4 mdf. To make it easy on myself I had lowes cut the sides and top/bottom for me, then I cut and fit the back and front at home. Glued together with wood glue, brad nails for good measure and clamps overnight on each step. Joints sealed with glue then caulking. I used a rotozip to cut the driver holes out. (Pain in the ass)
My room is 12x12. My goal is to reach 18-20h at 100dB+ with these two subs. So far the cost is $467
which is less than say, a single svs pb1000. I expect these to outperform that sub by some measure.
Update: I'm testing out plastidip on mdf to see how it comes out. I'm also considering using stands with the subs as shown in the picture below. I'll have to play with placement, though that is limited, and stands for several days I'm sure.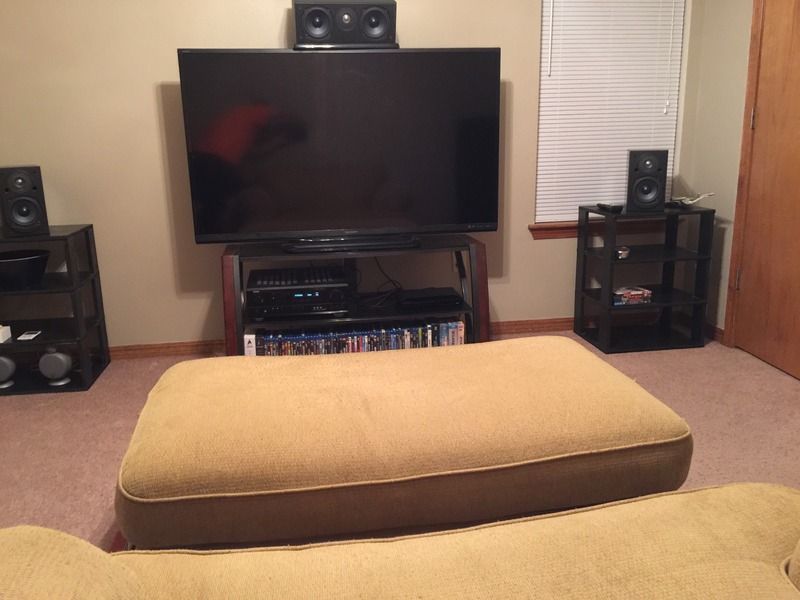 Room layout
(placement not final)