The quick rundown: 2020 AVRs with HDMI 2.1 Panasonic chips seem to display a black screen when pushing 4k/120 and 8k/60 through them. This is a hardware problem, so no firmware updates will fix it. Marantz, Denon, Yamaha use the chips in their 2020 and upcoming 2021 lineups. Sony, Pioneer and Onkyo have been said to have purchased those chips for use in their upcoming units. New Panasonic HDMI 2.1 chips are said to be in the works, with a rumored mid 2021 release.
It looks like workarounds will need to be done for certain transmission types. Bypassing the AVR in the middle and using eARC might be the only work around for now.
This is a rough translation from a foreign site, so hang in there on the read through. Just wanted to post this so that people know what's going on, are informed and we could discuss here.
After the market launch of HDMI 2.1 dragged on for years, Denon, Marantz and Yamaha presented the first audio / video receivers with the new version of the audio / video interface in the past few months – just in time for the introduction of the next-generation Xbox Series consoles from...
Reddit discussion:
https://www.reddit.com/r/hometheater/comments/jgjzsb
Update 1: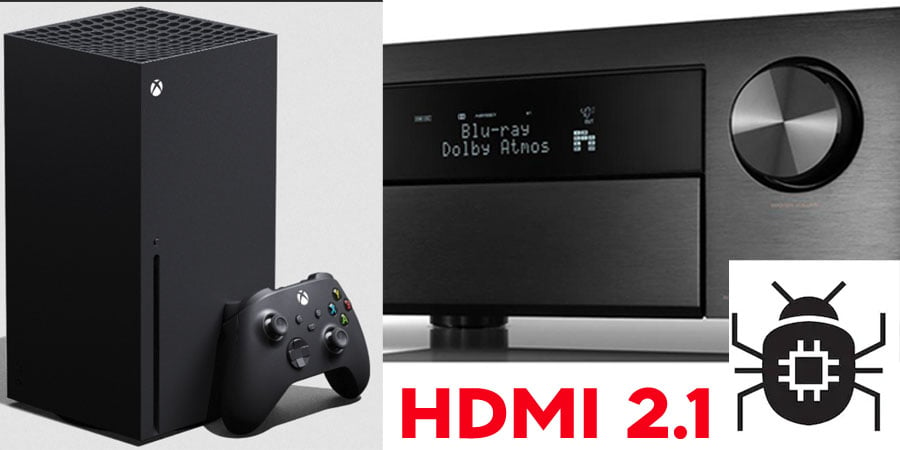 Certain HDMI 2.1 AV receivers from Denon, Marantz and Yamaha have a bug in their HDMI 2.1 chipsets that causes blank screen for 4k/120Hz & 8k/60Hz resolutions. Sound United gives work around and promises future fix.

www.audioholics.com