Discussion Starter
·
#1
·
This has got me psyched! Gears was my all-time favorite series (sorry, Halo, Mass Effect, etc.). I spent countless hours playing horde mode. Heck, I still remember playing with Mboojigga and his wife and kids.
http://www.polygon.com/2015/4/24/8490745/gears-of-war-xbox-one-anniversary-remake
Microsoft and Black Tusk Studios are developing a remastered version of the original Gears of War for Xbox One, sources tell Polygon.
The re-release of Gears of War for Xbox One will include updated visuals and reworked cutscenes, courtesy of animation studio Plastic Wax, according to a source. Stills of Gears of War's remade opening cinematic were shown to Polygon, offering a new look at the Locust invasion with updated visuals.
Update: According to another source, Brink and Dirty Bomb developer Splash Damage is working on the Xbox One remaster of Gears of War. The U.K.-based studio has several job listings that say it's working on a "very well known and highly popular AAA title with next gen technology." We've reached out to Splash Damage for comment.
Update 2: We've seen some multiplayer screenshots of the Gears of War remaster, and it appears that the Xbox One game features improved lighting and increased texture quality. We're told that the multiplayer runs at 60 frames per second.
http://kotaku.com/report-gears-of-war-remaster-coming-to-xbox-one-1700059889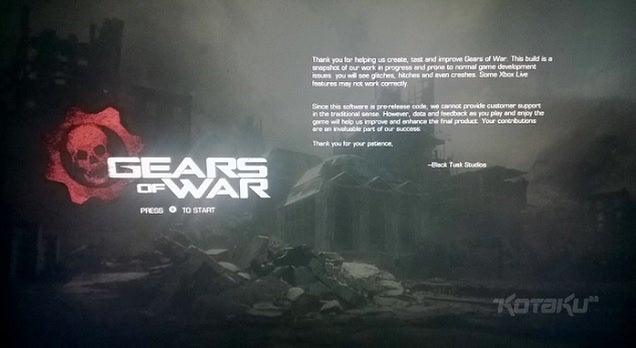 Today, a number of people across the country obtained access to a test build for "Gears of War" on the Xbox One, as shown in the screenshot above. Although we suspected it might be part of an as-of-yet-unannounced Gears collection including a number of games in the series, this may in fact just be a remaster of the first Gears of War game, if a new Polygon report is accurate.
We hear this Gears test build will go live tonight around 9pm Eastern, so we should know more then. Microsoft has yet to respond to Kotaku's requests for comment.
UPDATE (9:10pm): It's real. Three different people playing tonight's test build tell us that it's just the first Gears of War. This test build is multiplayer-only, featuring the following modes: Team Deathmatch; King of the Hill; 1 Life 1V1 Shotgun TDM; 1v1 Sudden Death Gnashers Only; 4v4 TDM Single Round; and 4v4 KOTH Single Round.