Discussion Starter
·
#1
·
Edit: Budget has doubled since original post. Now
~$2k
shipped.
I'm working on my first ever real setup and I could use some help. Who better to turn to than you guys? I did a lot more lurking and used all that I read to decide on a tv, the Samsung LN52A750, and I was about to buy an Onkyo HTIB setup but read on here about some of the shortcomings of the speakers in the set. So after a bit more reading up and looking at my budget (I'm a kid, haha) decided to put together my own setup.
My receiver of choice is the Onkyo TX-SR606, which I've already purchased and is on its way here. Now I need some recommendations for speakers and a sub to go along with. I'm planning on spending around $1k
~$2k
on speakers and a sub. I'm not including the receiver in this budget. And to make things more affordable I'm going to be buying these items over the course of the rest of the year.
The room is approximately 13/14' long by 9' wide and 7.5' high but has some open spaces towards the back so... I dunno it's a weird room. Here's a crummy diagram. The light blue is what I would actually consider the room.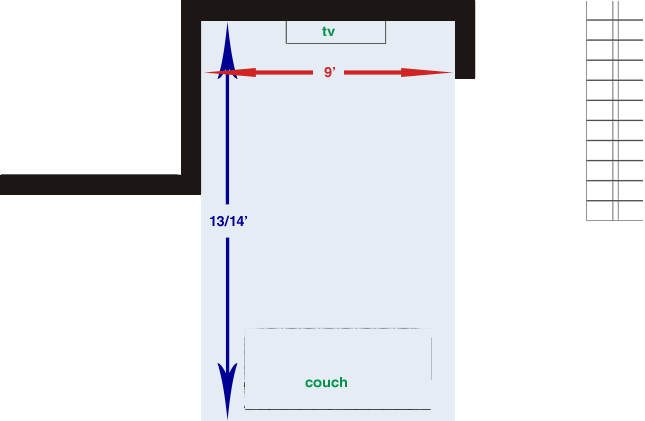 I'd be following this diagram for the 7.1 speaker layout basically with the sub on the left however because I feel that it'll get more "oomph" against that wall.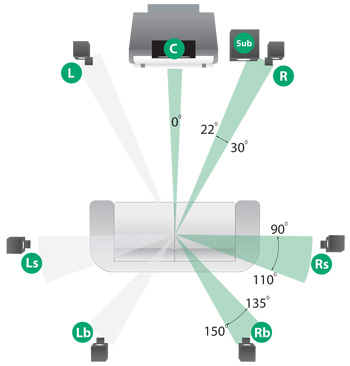 The couch is right up against the wall. I'm thinking about getting 4 Polk
RC80i
s off of Amazon and putting them in the ceiling above the couch, behind the couch or a mix or something. Any thoughts or suggestions on this major shortcoming?
And then the sub, l, c, and r don't really have any issues with I just don't know of anything good myself. Any recommendations? I just wanna keep it around
~$2k
is all.
In all the budget threads I keep seeing suggestions for the AV123 x-sub and I've looked at it a bit online and it doesn't really click with me. Any other guys you'd recommend instead of that specific guy?