Discussion Starter
·
#1
·
Well, after asking a pile of questions on here about pretty much every topic imaginable, this weeked i moved my AV stuff around and took pics of my screen area.
In the pics, i used green tape to label the size of screens, and my main seating spot is where i took the photos from. Seating area goes about 7' on either side of me. The TV in the pic is a 63" samsung, so as you can see, either screen is much bigger.
*don't mind the crappy quality, it's a phone pic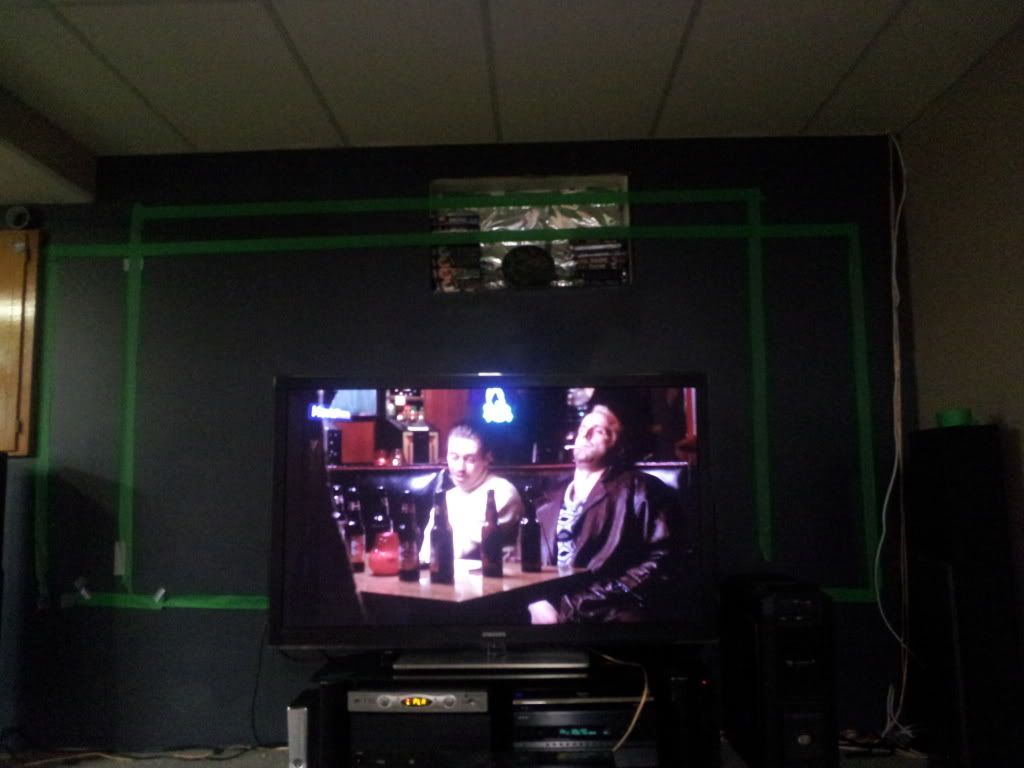 The wider taped area is screen of 129" 2.40, measuring 119x50
The taller narrower screen is a 113" 16x9 measuring 111x62
Because of the crappy lighting not pictured, and the white drop ceiling i don't want to paint (68 2'x4' tiles, not painting that!), i have decided to go with a Screen Innovations Black Diamond III screen with a 1.4 gain. My projector is undecided, but i want something that does 3D, so possibly the RS40/its successor, or the sony VW90/its successor.


NOTE: i only went with a 113" 16x9 screen, as that is the max size Screen Innovations makes for its Black Diamond line

My questions...
1) Will the 129" screen be too dim for most with a similar projector to the RS40/VW90 once zoomed in to fit the 2.40 area? i would like to use the projector at close throw, and then i can zoom out for a 103" 16x9 image.
2)How much brighter would the 16x9 screen be in the 113" 16x9 instead of the 129" 2.40 screen?
3) my uses are basically 40% blu rays, 40% gaming with Xbox 360/PC, and 20% TV (movies, UFC, etc). Would the 2.35 or 16x9 be more appropriate for my use?
4) If 3D is dim in the 2.40 129" screen, i can always zoom it in to the 103" 16x9 and watch it like that, correct?
Any advice/input is appreciated.