Discussion Starter
·
#1
·
Well, I'm looking for any and all advice on building my theater. I have been taking notes as I read an endless sea of threads. I appreciate whatever insight you can offer.
Here is a little background....
1. I will use this set-up for 90% movies and sporting events, 5% games, 5% music.
2. I do have a budget, hence the Epson 8350 and Polk speakers. I would like to keep the remainder of my equipment in that range.
3. I have 10 foot ceilings in the basement but have a beam running over the back row of seats. The post marks the 2nd beam by the screen. I will coffer the area between the beams.
The "P" marks the planned spot for the projector: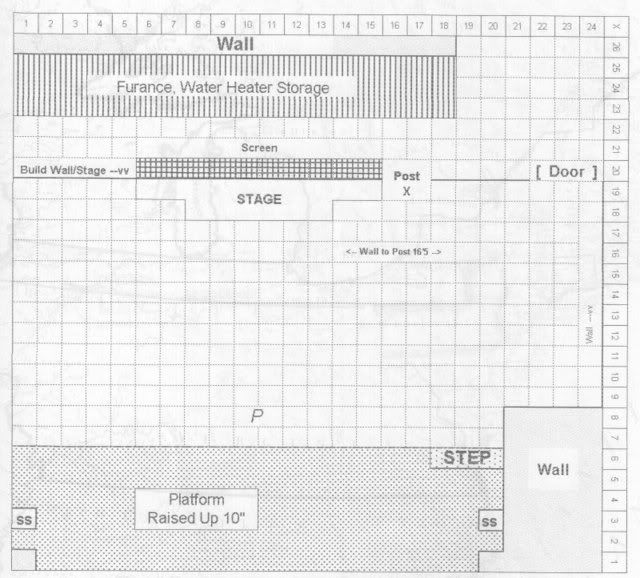 My notes to date:
Equipment
Projector – Epson 8350 placed 13ft back from screen
Screen – Fixed Frame
Receiver – TBD
Front Speakers – Polk Monitor 70 SII
Center Speaker – Polk Monitor CS2 SII
Surround Speaker – TBD
Sub-woofer - TBD
Stage
Fill stage will sand bags
Carpet with dark color
Screen
AT Screen
Considering VAPEX 100'' or 106''
Fixed Frame w/ velvet bevel
Paint area behind screen or cover with GOM
Riser
Power to center of riser on back wall
CAT6 (x4) to riser on back wall
Prewire back wall for 7.1 surround
Fill riser with insulation
Include lights on riser step
Projector
Include power outlet in ceiling for projector
CAT6 (x2) to projector
HDMI (x2) to projector
Run 2 inch PVC tube from storage area to projector in ceiling
Ceiling
– 8ft high along outer edges, coffer to 10ft in center of room
Paint dark color (black if wife allows) using flat paint
Insulate ceiling
Lighting
– Each category independently controlled
#1 - Can lights in raised ceiling
#2 - Sconce lights on pillars
#3 - Small canned lights between pillars
#4 – TBD LED Lights around inside of coffer ceiling
Acoustical Treatments
TBD after install
Sound proofing notes:
Dynamat Extreme
Replace metal HVAC runs with flex duct
Insulate under steps to main floor