Discussion Starter
·
#1
·

DOPE from HOPE Toe In.pdf 159k .pdf file      
Setup of WG Speakers.pdf 206k .pdf file      
Introducing...
logo design contributed by avs member omegaslast. thanks omega!
This thread has morphed from a rallying effort to encourage Parts Express to carry a waveguide into a full blown research and development project coordinated by Erich H to create a new one. On top of that, Erich H and contributors developed a couple new compression drivers, flat pack enclosures, and so much more. While I will provide some updates from time to time, the latest can always be seen by subscribing to this thread or visiting Erich's website:
http://www.diysoundgroup.com/
and the
Official Project List
in the forum.
The primary product that has emerged is the SEOS waveguide (Super Elliptical Oblate Spheroid describes the profile of the waveguide's curvature). The design objective was to provide good horizontal coverage for near constant sound anywhere in the room (controlled directivity for the audio wonks) and vertical coverage that would minimize floor and ceiling bounce, while minimizing the problems associated with traditional 'horns' (internal reflections and such).  
If you don't know why controlled directivity waveguides are useful, don't worry, attached is a pdf that explains it. 
The design objective has been met. This waveguide provides the high dynamics and SPL capability of a compression driver without any of the "horn sound" that plagues other models.
Off axis performance is spectacular:
Several more pics here:
http://www.diysoundgroup.com/media/c...astic3_1_3.jpg
http://www.diysoundgroup.com/media/c...astic2_1_3.jpg
http://www.diysoundgroup.com/media/c...astic4_1_3.jpg
It is available in several options. The first and the premium option is high gloss fiberglass. The second is a poured concrete type product that costs about half as much. The third is the budget option, an injected molded plastic horn. All three will perform similarly.
The waveguide is available in 6" 8" 10" 12" 15" and 18", though not all models are available in all materials. Throat diameter is 1".
Here is some eye candy of the fiberglass models: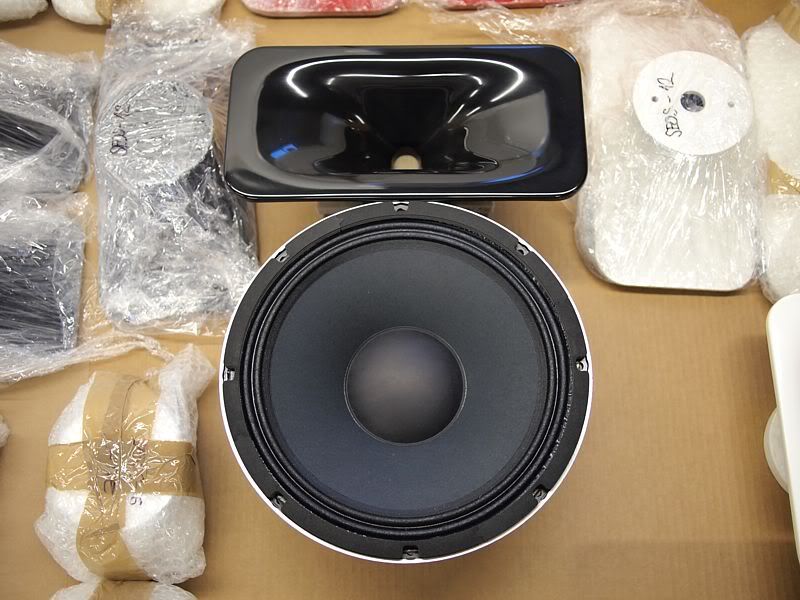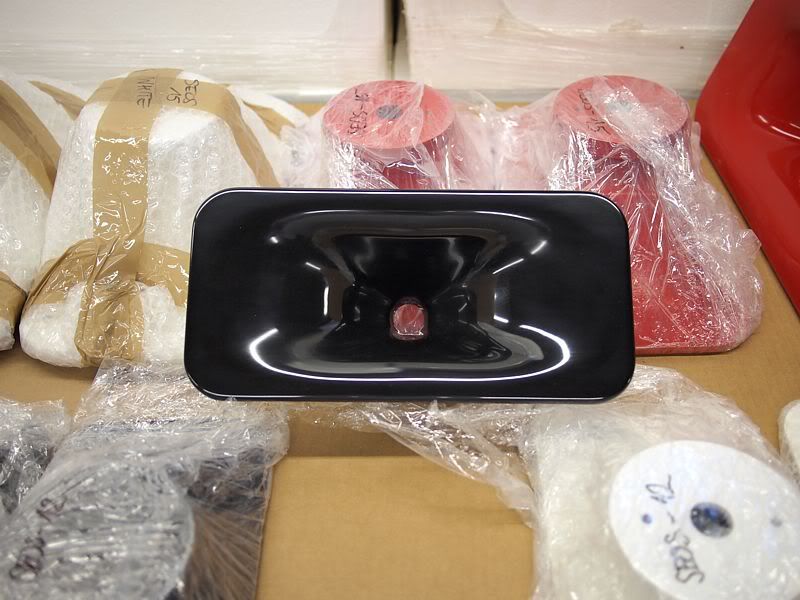 The fiberglass waveguides are available in most any custom color.
12" SEOS measured. DE250 driver, 2m distance, about 5' off the ground.
Horizontal patterns (measured in 7.5 degree steps, 0 to 90 degree range, curves unsmoothed):
http://www.avsforum.com/avs-vb/showthread.php?t=1369780
Member "java" is an early adopter and did a great job with his build.  
Ground up build thread can be found here:
http://www.avsforum.com/t/1417294/seos12-2512-build
Member Brad Horstkotte's interpretation, SEOS 12/360 over a JBL 2226J woofer:
Build thread here:
http://www.avsforum.com/t/1422024/seos-12-dna-360-jbl-2226-j-build
Erich has some flat packs coming together.  Here is an example of how simple they are to assemble:  
More bwaslo progress...SEOS12 and Deltalite 2512 in a test box. Crossover was designed using measurements from the "lesser clone" driver. Here is an overlay of the 1m unsmoothed frequency response with that design using both the "lesser clone" and the DE250:
http://www.avsforum.com/avs-vb/showt...0#post21851410
The clone (and to a lesser extent, the "better clone") has a funny notch at 8.5kHz, but goes higher in frequency; DE250 doesn't have that notch. (Not visible in this design): The "lesser clone" doesn't go quite as low as the DE250 or the "better clone", but still very close.
Here are 90ish dB distortion sweeps. First the DE250:
Then the "Lesser Clone":
Not much to get excited about in either, both pretty clean. BTW, as a sweep, this is quite loud.
And another pic of the waveguide (plastic prototypes on the left and right, fiberglass in the center). The plastic SEOS 12" is being set up for injection molding, so the per-unit cost will be VERY affordable.
AVS member bwaslo has been running AE TD15M/SEOS 15/B&C DE250 and has amazing results in an active crossover setup. As of this update, he is working on a passive crossover network.
A 'prototype' build of his can be seen here:
http://libinst.com/junk/TD15M%20SEOS15/photo2.jpg
AVS member AudioJosh has some pics of a build here:
http://www.avsforum.com/avs-vb/showt...8#post21711808
Here is a corner friendly concept:
http://www.audiokinesis.com/images/p..._ak_prisma.jpg
As for one of the compression drivers in development, it is called the BA because it is so large, aka big ass, relative to the DE250.
Frequency response of the BA driver:
http://www.avsforum.com/avs-vb/showt...5#post21670315
There is also a DE250 clone in the works. Frequency response:
Black is DE250 on 15" SEOS, Red is clone driver on 15" SEOS.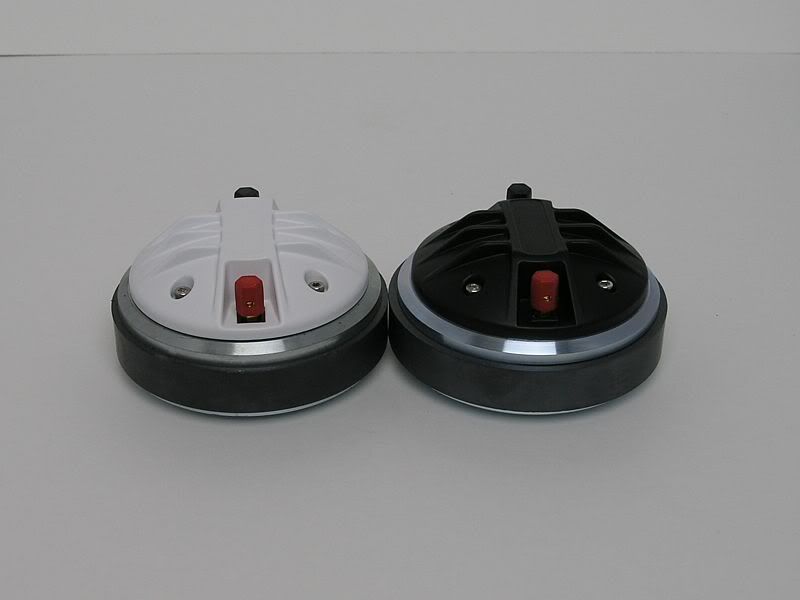 Frequency response:
Also, a very low cost compression driver is in the works. Some early pics: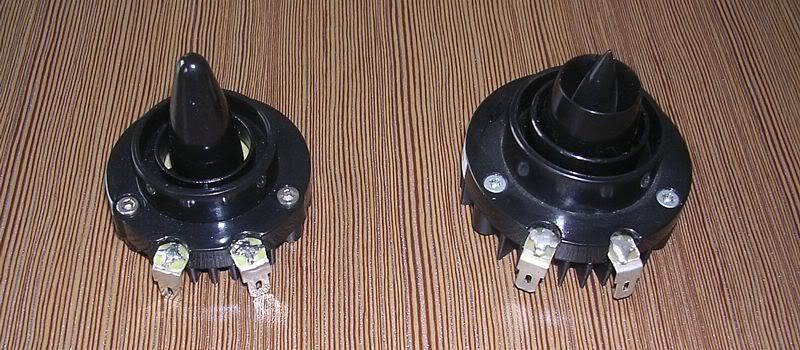 BWaslo's results of a first SEOS12 design. As built from a PCD design (using OmniMic measurements). The woofer is the (very soon to be announced) Dayton Audio "Designers' Series" 10 inch woofer. The cabinet is an old Advent Legacy II box.
http://www.avsforum.com/avs-vb/showp...postcount=3110
Malcolm, A SEOS12 Center channel (another one by bwaslo):
http://www.avsforum.com/avs-vb/showt...1#post21836431
The schematic for the Malcolm (v1) crossover
Malcolm Crossover Parts List from Parts Express
Full baffle options are coming soon. Prototype shown here:
Erich update:
Besides the 1 piece SEOS-10 baffle, most of the designs right now will revolve around the SEOS-12 and SEOS-15. But they're almost certainly going to be using the DE250 or other similar models. Even if someone comes up with a super high end model, it will likely be with a much more expensive woofer, but still use either the SEOS-12 or 15 and the nicer compression driver that showed a slightly better top end than the DE250.
Keep in mind, that every single option will be good. No one here wants to mess around with anything cheesy, it's just a waste of time right now. So when I say "low, mid, high", I'm talking about pricing, not necessarily sound quality.
It's also going to be hard to break things down into categories because all will be available as DIY kits, but some might eventually turn into completed speakers. But if they do, the boxes I'm thinking about will not be cheap. So you could DIY even the high end stuff, but the really high end will be considered completed boxes, but still the same "design". Hope I explained my plans okay.
Just to get things out in the open:
SEOS-8: There will be at least 2 designs. No 1 piece baffle or complete speaker in the works yet. You have to order the fiberglass or the poured version right now.
SEOS-10: There will be at least 3 designs. Low, mid, high costs. All can use the poured or fiberglass waveguide that you can order right now. Some will also fit the 1 piece baffle. You could use the 1 piece baffle for the cheaper model, it would be up to the person building it. Eventually (if an absolutely great design shows up) I *might* try to get an entire speaker made up for the 10.
SEOS-12: I'm guessing at least 5 designs minimum. With all the different woofer and compression driver combos, it could be even more. Obviously the plastic waveguide, the poured one, or the fiberglass model. I think this and the SEOS-10 will be the main focus. Because of the plastic option, some designs will be very well priced that anyone should be able to afford. Probably a few mid level designs, and maybe 2 higher end designs. If one of those higher end designs is incredible, then maybe a full speaker down the road.
SEOS-15: I know of at least 2 designs. But they're probably won't be a cheaper version here. You can order the poured model or the fiberglass model. I don't think there will be a 1 piece baffle. I doubt a completed speaker like the other sizes would be available.....in the cabinet design I'd like to see. It would just be quite expensive.
SEOS-18: I know at least 2 designs here, possibly 3. Same info as the SEOS-15.
*********************
It can't really be put into words how much work and how much money Erich has invested in this project. He financed the whole thing and invested countless hours coordinating with people around the globe. So when you build a SEOS project, at least post your build and/or drop Erich a thank you note. Also, spread the DIYSoundGroup word around...
As with all projects, this one is not the work of one person.
SEOS is a trademark. The name and logo are copyright (c) 2011-2012. All rights reserved. For commercial use, contact Erich H.
This project is dedicated to the memory of our friend who went by the callsign Zilch.
More data, less wank.
Z's avatar is itself a dedication to the memory of James B. Lansing.
The original post:
As many of you know, Zilch & Co. have created some great crossovers for a horn loaded main that uses the QSC 152i horn. It appears that QSC has cut us off from direct buys of this horn, but Parts Express, as a QSC distributor, may be able to supply our fellow forum members if we can rally enough interest.
Folks, I am asking that you shoot a quick email to Parts Express and let them know how much we appreciate their support of our community and that we would appreciate it if they could continue to provide the QSC 152i horn for DIY builds.
Each horn sale from them typically results in an additional sale of a woofer, a compression driver, and many crossover components. QSC gets the benefit of proving their good products among a very vociferous group of folks (lots of free online marketing) P.E. has been a long time friend around here so don't go negative however this one turns out.
The email addresses are here:
http://www.parts-express.com/contact.cfm
Thanks.