Discussion Starter
·
#1
·

Too early to be a construction thread, but too impatient to not start anyway!
After about a year of lurking around on this forum when I should have been working, I have learned so much from the community here. For that you all have my thanks!
First alittle about myself. I'm a former Air Force enlisted guy. Got medical'ed out for asthma of all things. (The AF 2+ years ago was about 10K+ over their congressional limits, so they were looking for excuses to get rid of folks) Turned out to be a good thing, just bad timing. I was stationed at the Pentagon from 99-02, McGuire AFB from 02-04, then the DIA at Bolling AFB 04-05. From then on I became a stinking contractor
for the Missile Defense Agency.
With aspirations of owning a home in NoVA being crushed (rented a place in Brambleton, for the folks familiar, for those that are not, if we wanted to buy the townhome at the time it would have been $400K+) I decided to look elsewhere. A business trip took me to Colorado Springs, CO, and on a whim and a prayer, the wife and I move out here May of 2005.
So that brings us (finally) to the HT! After careful consideration and 'guidance' from the wife here is the design, and pictures of the bare space. I plan on starting construction this fall/winter doing as much as I can when I can.
Hold On Kids Theater
(Hold on kids is what my 2.5 year old daughter yells when papa take a corner too quick, or accelerates to fast)
Here we have the design:
As you can see, the space is kinda odd, but manageable. Using calculators online it seems I can get away with a 90" wide screen (maybe more, but I would definitely need to get a higher end projector). The space is a compromise with the wife. We needed a spot for the family we are currently building, so complete dedication to HT only was out.
Some raw pictures of the area.
The screen wall from the 'booth'
For a visual reference, the 'Booth' will be much like this: (color and style will be different)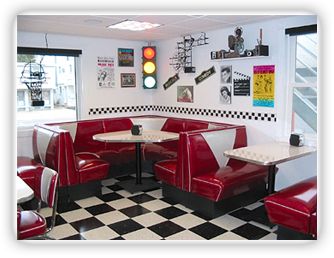 Bar area from 'The Booth'
From the landing looking towards the HT area (Bar area off camera to the right)
AV Closet (Space under stairs)
Well, there she is for right now. Like I said, it's probably way to early to be posting a construction thread, but hey, I couldn't take it anymore.
Any input is always appreciated! No decision have been made on any of the details (color, style, equipment) But that will all come down the road.
Thanks!