Discussion Starter
·
#1
·
Finally, I can give something back to the forum and people that have given me so much inspiration and so many solutions.
So, my problem ceiling. It's short, like 7.5 feet. So dropping a ceiling wasn't an option. I have junction boxes everywhere, something like eleven in just the theater area alone. The pleasures of having a 177 year old house
Code says that junction boxes must have access so drywall wasn't an option. Plus, I have committment issues and want to have access to my wiring and plumbing
Also, I wanted something light enough that I could hang by myself.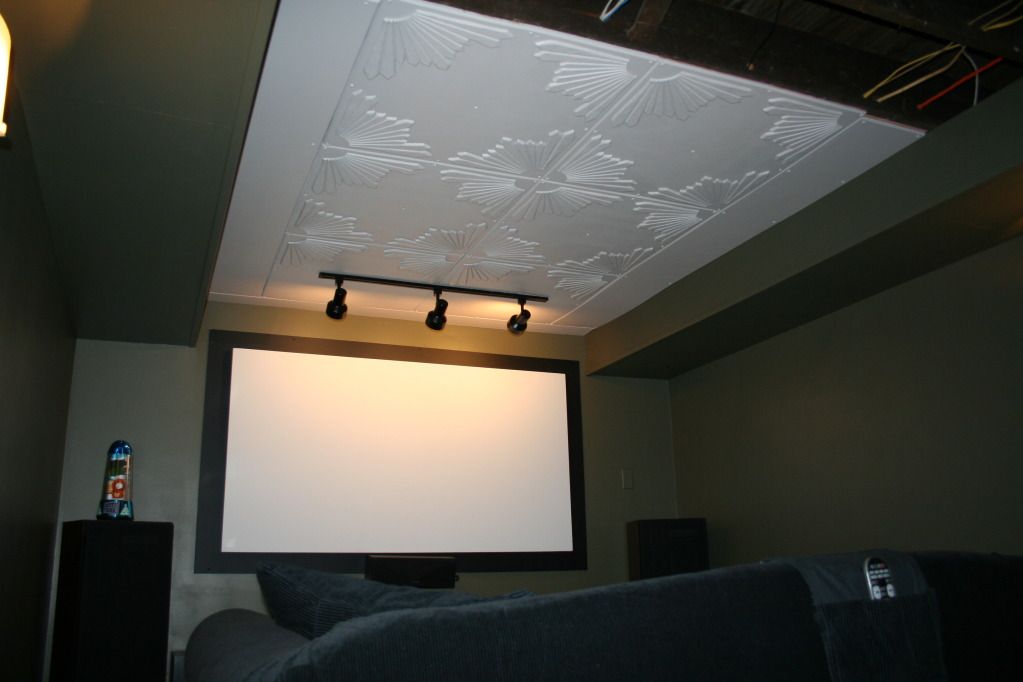 I did some research and found that extruded polystrene, in other words that pink foam insulation board, is code as long as your house is not a rental. So I started cutting up my own tiles, beveling them on the sides for aesthetics. They take roll-on paint well, are light, and better acoustically than drywall or wood. Better, but not great.
I screwed the tiles directly to the floor joists using drywall screws, sinking them into the foam about a quarter of an inch. Then I simply covered the screw holes with 3/8" wood buttons. I painted the buttons before pressing them into the holes.
The tiles looked pretty good but it was a little too utilitarian for my tastes so I thought I'd spruce them up with those little wood accents. But I couldn't find anything I liked, especially sice I wanted a muted art deco look. So here's what I did:
***
Since I'm a sculptor, I had some oil clay sitting around. This is clay that doesn't harden so that it can be reused after the mold is made. I drew up my design and transfered it to the clay slab (rolled with rolling pin).
I cut out the form with a kitchen knife and began forming the fins into what I wanted.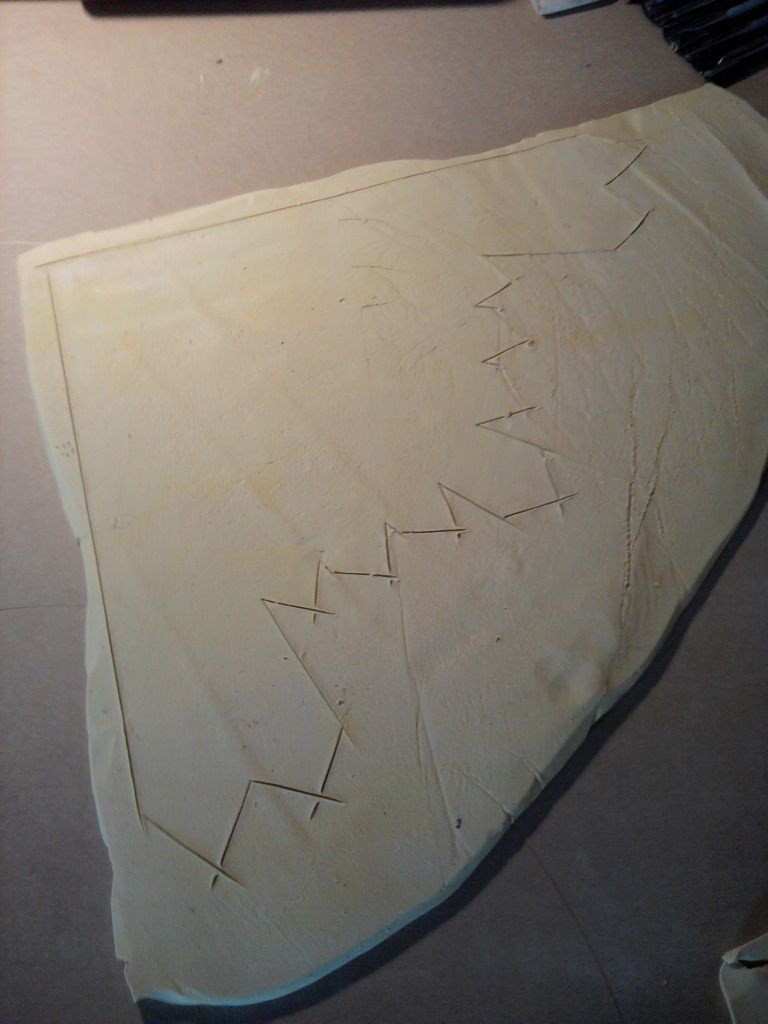 Once the form was sculpted, I used art silicone from a supplier I use (let me know if you would like the website) to cover the clay. I didn't have enough silicone to just pour it over the form so I used thickener. Note the clay wall surrounding the form. This will contain the plaster.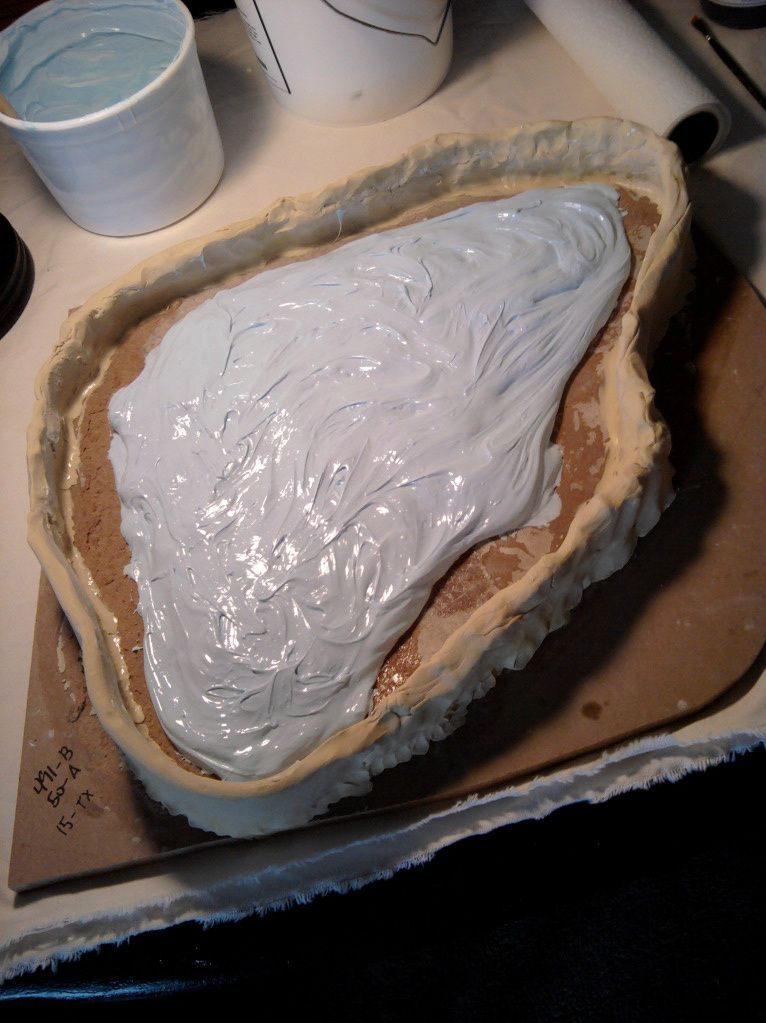 After the silicone is set, about 12 hours in this case, I used plaster to make a mother mold to hold the silicone mold in the correct shape.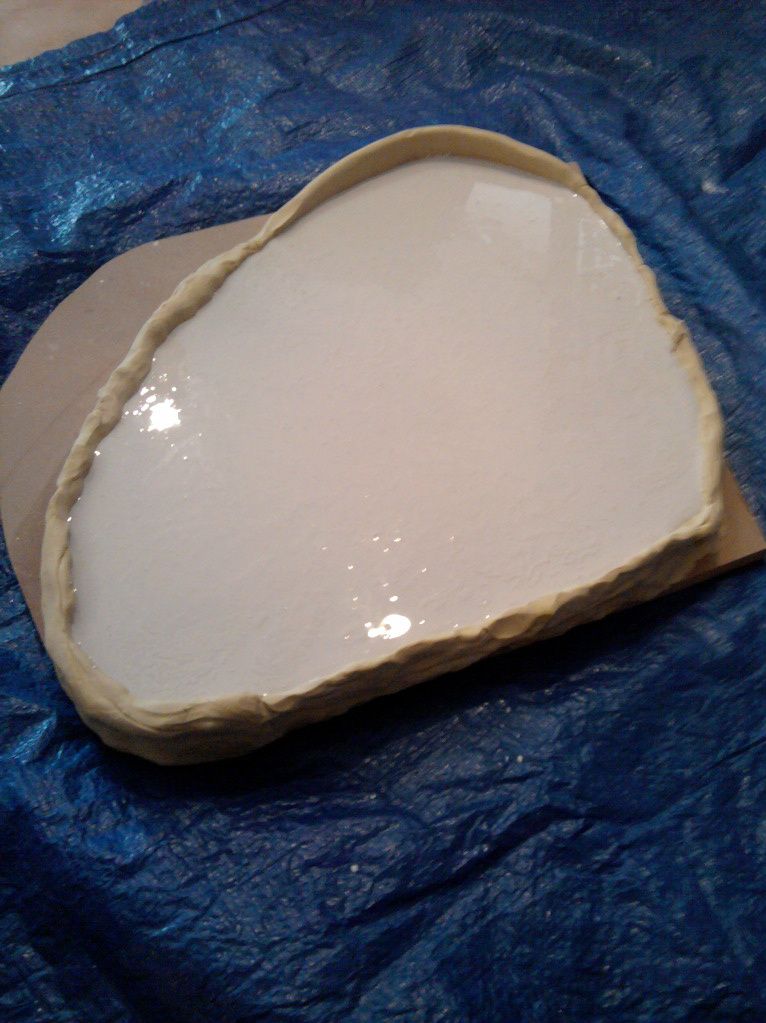 Be sure to use a release agent on the silicone or you'll have a heck of a time separating the silicone and plaster.
Here's the mold in it's mother mold ready for casting.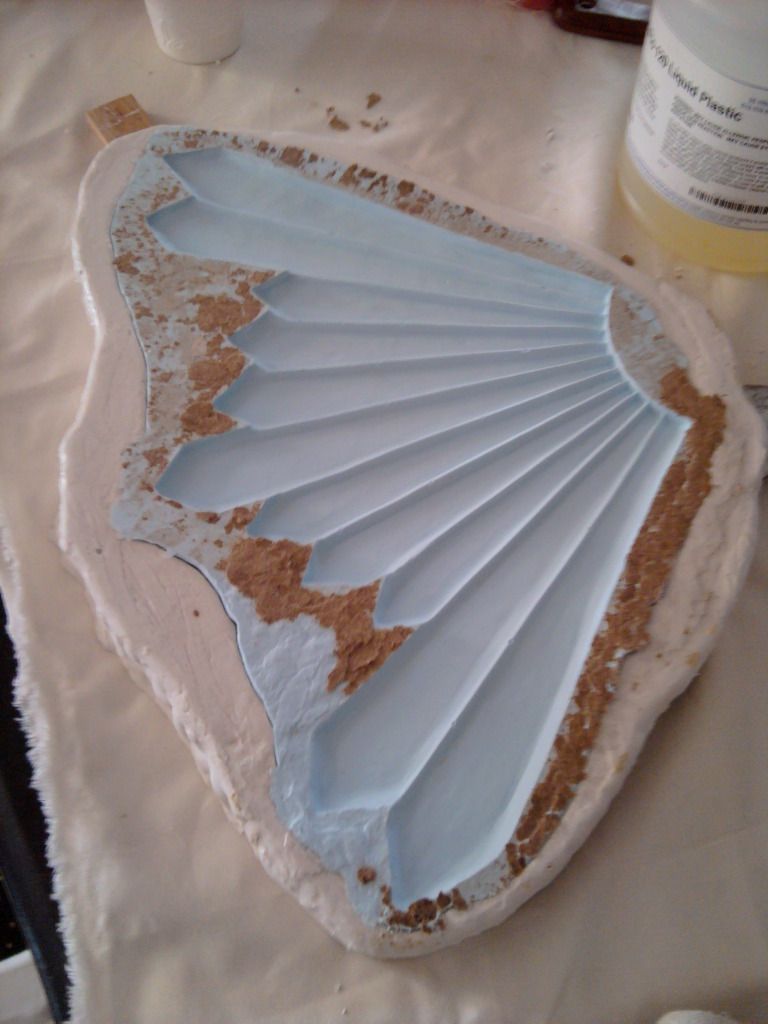 I used a liquid casting plastic because I'm familiar with it and I had some sitting around. It's a two part resin that can be demolded in 20 minutes, another plus. It goes in clear and turns white after it cures.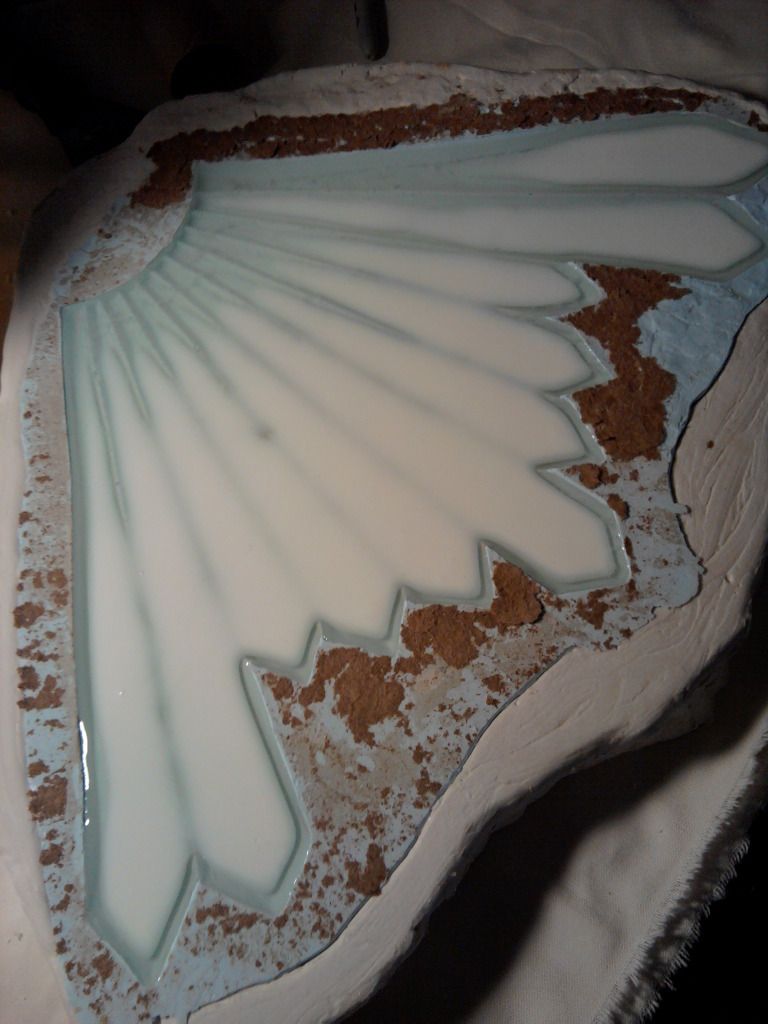 The finished cast. Now I just needed to make 39 more.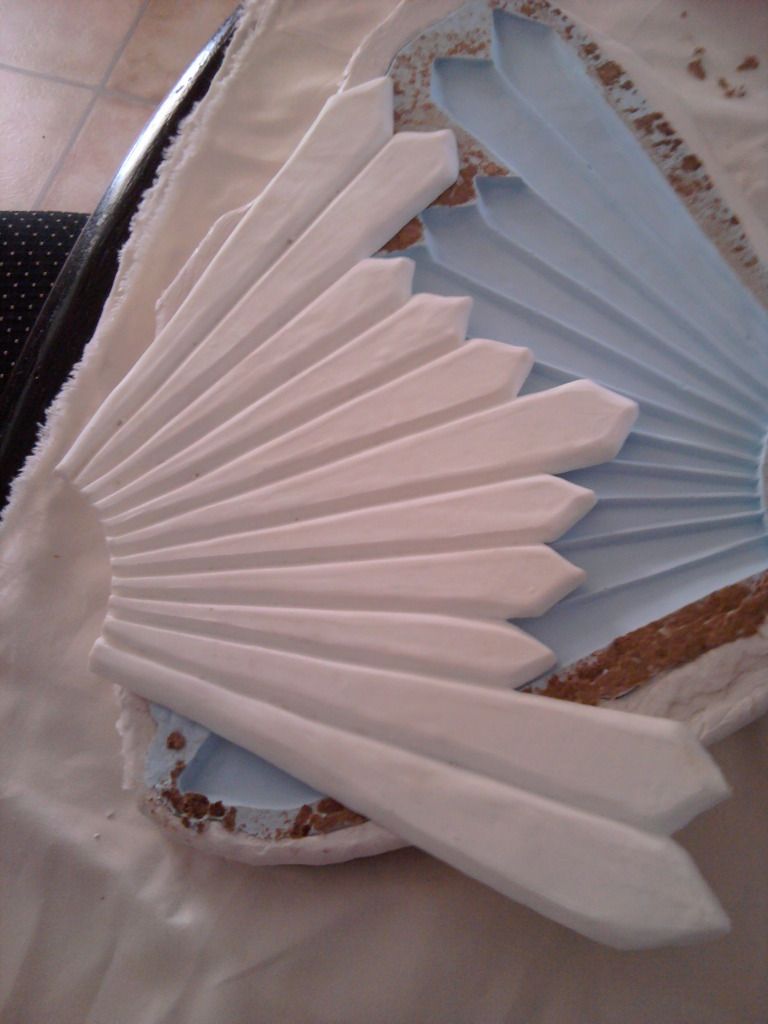 Next I used gorilla glue to glue the accents in place on the tiles. Some of you that know my small theater may notice that I've changed my color scheme. I was inspired by YW84U's Tanner Ridge Cinema.
And the painted tile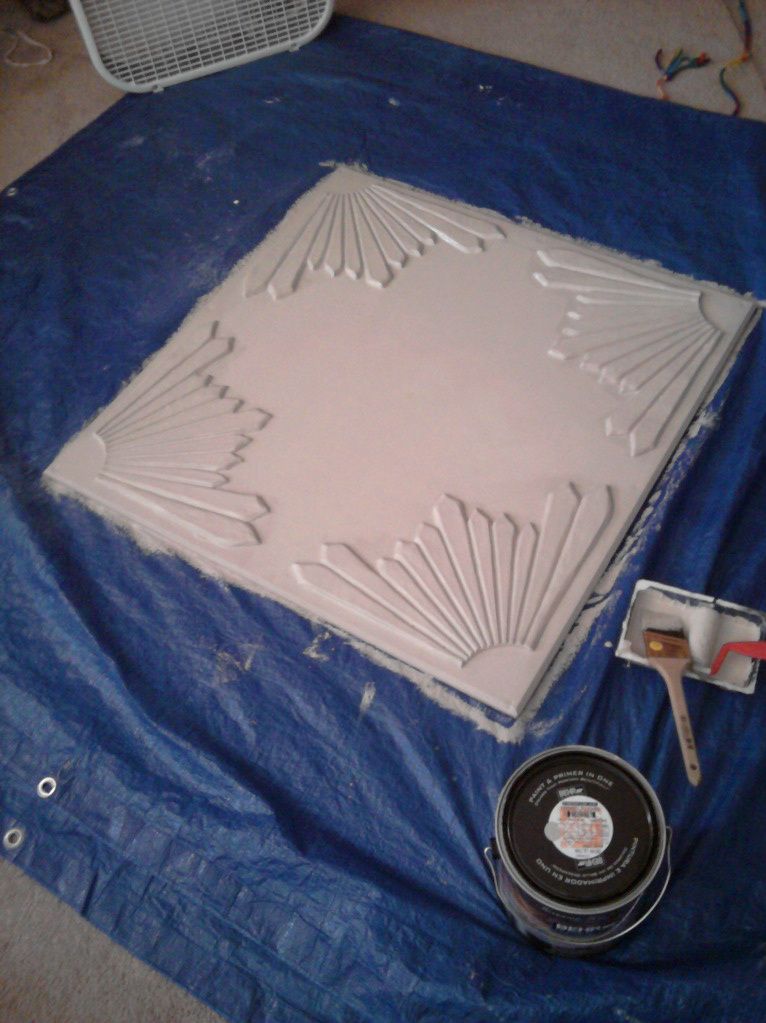 The plastic accents made the tiles quite a bit heavier. I thought about using a two part expanding foam but have had little experience with it. I did try spray foam with disastrous results.
I'm very pleased with the look of the ceiling so far. I have four more tiles with accents to make and many without the accents to hang. but, between school and making art, I'm slowly getting there.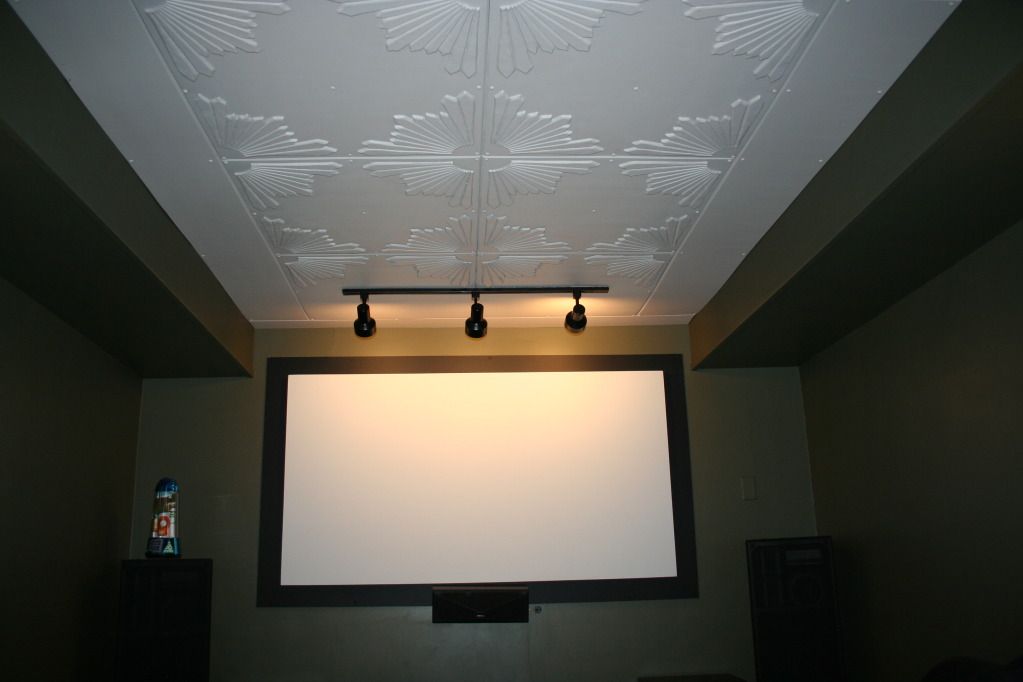 -Mac