Discussion Starter
·
#1
·
A lot of AVS'rs who ask about how much it costs to do a proper Sound Isolated Room. I just finished an 18ish x 25ish' room in our basement with a 120" FP screen.
Costs are in Cdn dollars, subtract 10% for USD., as Yanks get stuff for cheaper than Canadians.
For the rough break down of dollars (margin of error less than 2%).
Soundproofing materials
- including the clips, green glue, insulation, weatherstripping for doors, caulking (but not including the 2nd layer of drywall ) was $2903
Drywall materials (inc. 2nd layer)
I used about 80 sheets of drywall total - tape, mud, screws, super6, and 1/3rd of a ebay drywall lift was $1726
(about 2/3'rds of the drywall was 1/2" thickness (walls), the rest was 5/8" thickness)


Framing materials
- lumber, screws, nails for pneumatic framing gun, shopvac bags, shims etc etc $870
Electrical materials
- IR dimmers, switches, boxes, 2 new circuit breakers, romex, lights, cat5 cable, rg6 was $834
Doors
- safe and sound- 2 x32", 1 x 31.75" wide(custom
$$$), finger jointed pine for extra thick door jambs (none of my jambs are 'standard' thicknesses) stops, door knobs, 9 hinges - $681
Some new tools on sale
- Makita 18v lithium 4 pack (hammer drill, impact driver, reciprating saw (Mr. Fix it), worklight), Ridgid 16g Finish Nailer, couple roller stands - $749
Carpet and install
- 450 sq ft - $1350


Paint / Primer
- Benjamin Moore - roughly $50-60/gallon - $400


Materials for screen and stereo stand, PJ mount
: $228


Electronic goodies
- Epson HC720, monoprice cables, Paradigm cc290(center channel), DSP3100 subwoofer $2255
-
not included in the total was labour
: me,myself and I, plus a couple afternoons of help from my bro-in-laws and dad
-
not included in the total was the previous AV stuff
that I had acquired since my highschool / university days: Sony 5.1 receiver (now for sale, replaced with a Pioneer 1018), DVD player, Paradigm 3se and Titan speakers, xbox360, Satellite PVR.)
Total cost to this point is about $13,000cdn



Next 3-6 months:

Currently, we are using some old furniture in the room. I have my eye out on a 4 seater reclining (leather) HT couch, but will wait a few months before we buy that.... will see what the xmas bills are like. I estimate the couch will cost between $3000-4000cdn. Construction wise I only have to box in the lolly, that'll be about $30 for a sheet of MDF and some leftover paint. I would like to add a 2nd door in the main entrance that leads directly upstairs to the main floor and 2nd floor ( we have a winding stair case, and the stair well goes up to the 2nd floor) The door and hardware if I can find it on sale will be about $100-120. Home depot has solid pine doors for about $70, and I can trim down a 32" door to fit my wonky 31.25" jamb. Sound treatment panels and bass traps for the walls should be about $100-200 for materials (appropriate insulation, framing materials and upholstery)
-----------------------------------------------------------------------
basic layout (scanned rough drawing)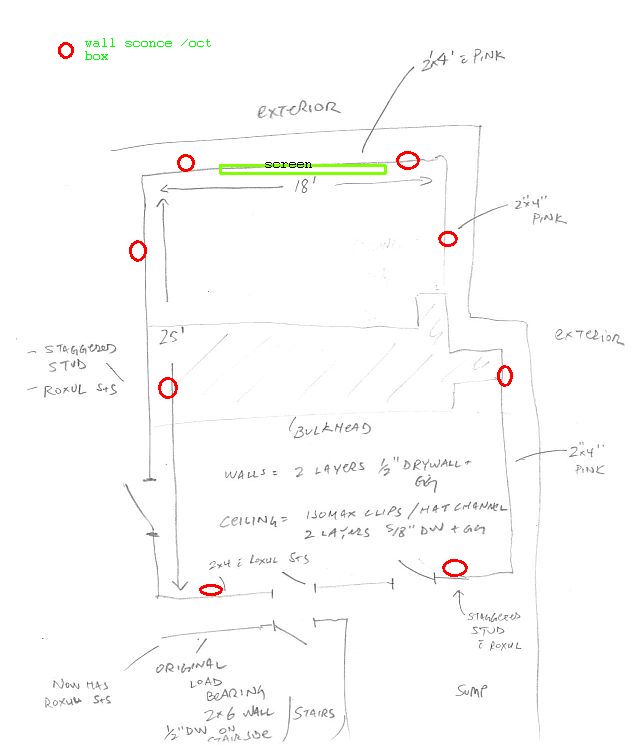 99%done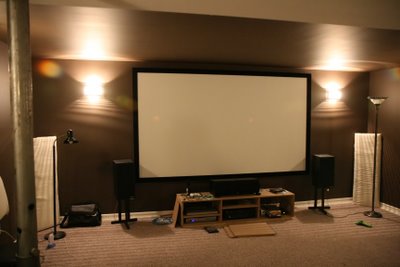 temporary sound treatment 'panels'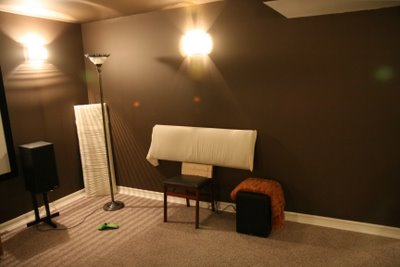 Jchannel (check the siding department at HD) - for cable raceway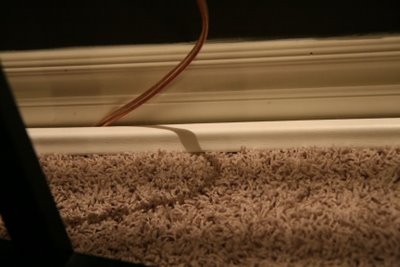 border for screen... milled from 1x3 select pine, has a 45deg edge chamfered along the inside edge to decrease shadows onto the screen surface (BOC), wrapped in black velveteen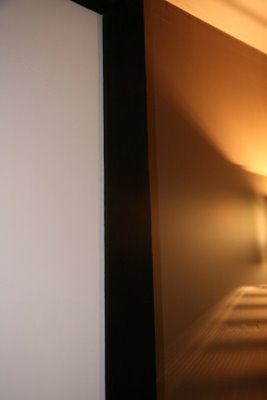 very old couch (wife's before we were married), projector under soffit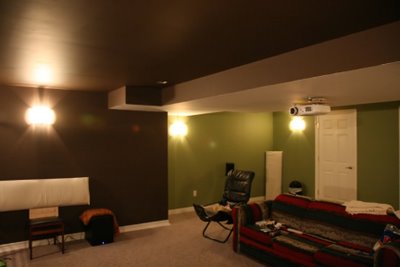 Click here for a brief pictorial history of the work.
Sorry, was I was working by myself, as my wife was busy playing single-mom to our 2 & 5 yr old when I was in the construction area, so I don't have umpteen pictures of wood studs, joist cavities crammed with insulation, or green glue art patterns on drywall.
Anyways, the point of the post, is that when u are online, debating the cost of a $15+ (cdn) tube of green glue, or a $4 Isomax Clip, the total cost of Soundproofing for a 450sqft room is less than $3000. Approximately the same cost as my 1st 47" HD RPTV that I used for about 3-4 yrs before upgrading to LCD and a 720p projector. I sold that 47" for $400 after purchasing the projector in March 2008, and had to lift all 200lbs of it out of the basement.
In terms of HT enjoyment, or piece of mind for dad when oldest daughter starts piano lessons in 12-24months, having a sound isolated room to hang out in for the forseeable future will be priceless. I anticipate we will be in this house for at least the next 15 years. I don't think the $3000 I spent on soundproofing will depreciate our $500,000 home any (we still have homes in Canada that are worth $500,000).
I have heard that to finish a basement with hired help instead of DIY, the cost (guesstimate) is $100/sqft. For my 450 sq ft room, that would have been a bill of $45,000, of which soundproofing would have added maybe $3000-4000 in materials.