Discussion Starter
·
#1
·
Hey guys,
I have been going through the stages of designing a whole wall cabinet for my HT/TV room, and I just wanted your thoughts, advice and criticisms.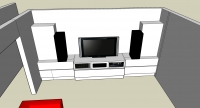 Click to view full size!
Front on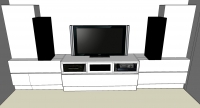 Click to view full size!
Front on - Close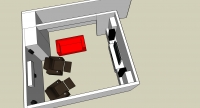 Click to view full size!
Top down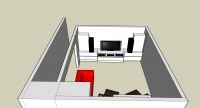 Click to view full size!
Top down from back
Now, a little bit about it and the room.
The room itself is pretty small. it is 4000mm (wide) x 5000mm (long). The large doorway on the left side is open and is where the hallway ends. There is a large set of sliding glass doors on the right side of the room.
The design is so there are drawers all along the wall (drawers are 600mm, where the tv/speakers will sit and 455mm deep on the left/right and 530mm deep on the center), with a bookshelf on either side with doors so it is neat and hidden.
The sub (down firing yamaha unit) is hidden on the left side of the cabinet, in a hollow that is a fair bit bigger than the actual sub is for it to breathe, and will have cover to make it blend in and look flush made out of speaker cloth.
The center speaker is sitting on the shelf just below the tv, with a bracket to make it center with the shelf, and will allow for future upgrades.
Equipment that is going to go into the room:
Sony 46" X Series LCD (early 2008 X3100 model)
Yamaha AV Receiver
2x Yamaha NS series Floor standers and 4x bookshelves and sub
Panasonic DMP-BD30 BluRay Player
Xbox360
Wii
2x black leather cinema recliners
1x 2 seater sofa (will be upgrading to a nicer leather sofa when this all gets built)
Surround speaker placements will change, will be lowered to ear height, which is around ~95cm from the ground. Chair placements will also change. Thinking about making the center cabinet a little wider and the outside drawers narrower, and the size of the side cabinets can change too (are currently 650mm)
Thoughts? Opinions? Advice? Criticisms?
Thanks guys
Edit: Any benefits to wall mounting the lcd? It's going to be sitting pretty much at eye level sitting on the stand anyway....