Discussion Starter
•
#1
•
Here is the situation. I need to figure out how to get air into my theater. I am working with an HVAC pro, but this sound isolation stuff doesn't sync up. At this point he has asked me to tell him what I want.
We are zoning the system (1 zone per floor, 3 total). There are some beams that have caused problems. To the right of NASTY BEAM 1 - the bays go East- West - on the other side they go North-South - - this has caused LOTS of problems on the retrofit (we moved the furnace from one side of the beam to the other).
Here is where we are now. Some of the final stitching together of the ducts isn't done yet.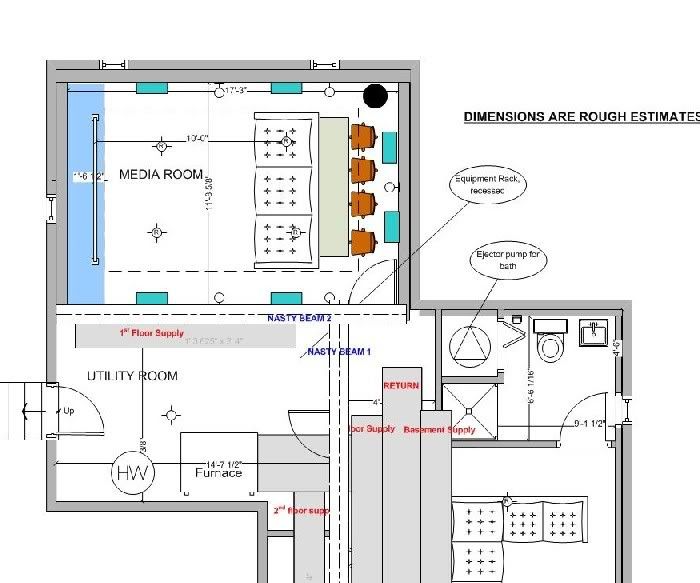 The HVAC guy plans to run 2 "7's" of flex as supplies into theater. He says we can only run them 14 feet from the last point of tin where they branch off (presumably inbetween the furnace and the theater wall).
He says that the supplies will be pretty manageble from a sound isolation perspective since they only share the basement zone
The return is on a party line, so would be hard to contain sound
Also, there was some reason why I couldn't just run flex to the return (sorry he talks in jargon, its hard to keep things straight) Might have been a capacity or distance issue.
He suggested, essentially venting the H.T. into the utility room
That struck me as a lousy idea since I am building a staggered stud wall with GG and 2xdrywall, so big vent holes seem bad
I know I need a return though . . .
He likes to work with flex and tin ducts, I mentioned ductboard to him, he said he didn't like the stuff and doesn't work with it
So how do I hook my return in? Assuming I can get some bends in the supplies (although the 14 feet distance makes it hard to snake into the other room, the return is the tough one. The dotted line in the diagram is a soffit line, and isn't etched in stone.
I seem to remember seeing something about a baffle box in the archives. I tried a search, but might that be an answer?