Discussion Starter
·
#1
·
How much you want to bet the the people who did the
despicabe
The Longest Day
Blu-ray never saw this release
last year
. Maybe its just too boring to watch a 1957
Black and White
classic movie. Way out of their demographics?
Even after The Longest Day there is still
confusion
on how excessive DNRs ruins the art of film. It destroys the image. It looks nothing like what the film makers wants it to look. Much like the pan and scanning of home video releases.
The Seventh Seal
did not suffer any of this nonsense. A big improvement over the Criterion DVD release. An excellent job and they should be commended for it. There is some frames/scenes were you can still see scratches and dust. The scene where Death first sat down to play chess is one example. Maybe in the future better technology may be able to completely get rid of them.
" Oh S***!, Its Black and White! And its too grainy! Why do I get to restore these boring movies?! F*** it, I will just dial this DNR machine to 11 maybe it will be better PQ (sic). Yesss!!! much better. All I need to do now is to set my uncalibrated LCD to "torch" mode and it should look as good as those CGI cut scenes from that videogame I played. Wohoo! "
- Mr. ____ _ _____
Fox studio restorer and revisionist team member
Blu-ray Tartan
Code:
Code:
Total   Video                                             
Title                                                           Codec   Length  Movie Size      Disc Size       Bitrate Bitrate Main Audio Track                          Secondary Audio Track
-----                                                           ------  ------- --------------  --------------  ------- ------- ------------------                        ---------------------
The Seventh Seal                                                 AVC     1:36:13 16,988,663,808  22,550,087,928  23.54   21.99   DD AC3 2.0 224Kbps                        


PLAYLIST REPORT:

Name:           00004.mpls
Size:           16,988,663,808 bytes
Length:         1:36:13 (h:m:s)
Total Bitrate:  23.54 Mbps
Description:    

FILES:

Name            Size            Length          Time In         Time Out        
----            ----            ------          -------         --------        
00004.M2TS      16,988,663,808  1:36:13         0:00:00         1:36:13         

VIDEO:

Codec               Bitrate         Description     
-----               -------         -----------     
MPEG-4 AVC Video    21994 kbps      1080p / 23.976fps

AUDIO:

Codec                           Language        Bitrate         Description     
-----                           --------        -------         -----------     
Dolby Digital Audio             English         224 kbps        2.0 / 48kHz     
Dolby Digital Audio             Swedish         224 kbps        2.0 / 48kHz     

SUBTITLES:

Codec                           Language        Bitrate         Description     
-----                           --------        -------         -----------     
Presentation Graphics           English         37 kbps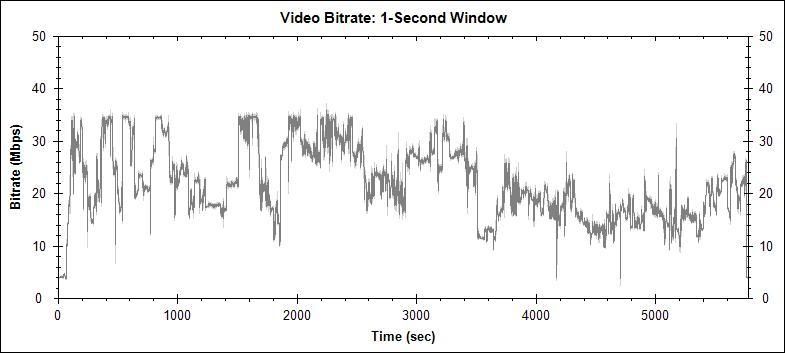 Blu-ray Criterion Collection
Code:
Code:
Total   Video                                             
Title                                                           Codec   Length  Movie Size      Disc Size       Bitrate Bitrate Main Audio Track                          Secondary Audio Track
-----                                                           ------  ------- --------------  --------------  ------- ------- ------------------                        ---------------------
00001.MPLS                                                      AVC     1:37:38 28,593,420,288  48,693,955,687  39.04   34.49   LPCM 1.0 1152Kbps (48kHz/24-bit)          

DISC INFO:

Disc Title:     SEVENTH_SEAL
Disc Size:      48,693,955,687 bytes
Protection:     AACS
BD-Java:        Yes
BDInfo:         0.5.1

PLAYLIST REPORT:

Name:                   00001.MPLS
Size:                   28,593,420,288 bytes
Length:                 1:37:38 (h:m:s)
Total Bitrate:          39.04 Mbps
Description:            

VIDEO:

Codec                   Bitrate             Description     
-----                   -------             -----------     
MPEG-4 AVC Video        34493 kbps          1080p / 23.976 fps / 16:9 / High Profile 4.1

AUDIO:

Codec                           Language        Bitrate         Description     
-----                           --------        -------         -----------     
LPCM Audio                      Swedish         1152 kbps       1.0 / 48 kHz / 1152 kbps / 24-bit
Dolby Digital Audio             English         192 kbps        1.0 / 48 kHz / 192 kbps
Dolby Digital Audio             English         192 kbps        1.0 / 48 kHz / 192 kbps

SUBTITLES:

Codec                           Language        Bitrate         Description     
-----                           --------        -------         -----------     
Presentation Graphics           English         35.534 kbps                     

FILES:

Name            Time In         Length          Size            Total Bitrate   
----            -------         ------          ----            -------------   
00237.M2TS      0:00:00.000     1:37:38.894     28,593,420,288  39,043          

CHAPTERS:

Number          Time In         Length          Avg Video Rate  Max 1-Sec Rate  Max 1-Sec Time  Max 5-Sec Rate  Max 5-Sec Time  Max 10Sec Rate  Max 10Sec Time  Avg Frame Size  Max Frame Size  Max Frame Time  
------          -------         ------          --------------  --------------  --------------  --------------  --------------  --------------  --------------  --------------  --------------  --------------  
1               0:00:00.000     0:01:33.093     10,666 kbps     36,963 kbps     00:00:07.340    36,354 kbps     00:00:03.461    36,295 kbps     00:00:02.502    55,585 bytes    212,303 bytes   00:00:08.007    
2               0:01:33.093     0:07:02.797     34,733 kbps     43,675 kbps     00:08:32.512    37,819 kbps     00:08:28.508    36,975 kbps     00:08:23.503    181,083 bytes   377,025 bytes   00:08:33.262    
3               0:08:35.890     0:07:55.266     36,093 kbps     37,732 kbps     00:09:30.903    36,496 kbps     00:10:16.532    36,363 kbps     00:09:30.945    188,172 bytes   298,283 bytes   00:09:31.654    
4               0:16:31.156     0:11:08.376     36,177 kbps     38,226 kbps     00:16:44.670    36,537 kbps     00:16:40.582    36,374 kbps     00:16:35.661    188,612 bytes   333,582 bytes   00:27:16.801    
5               0:27:39.532     0:05:01.759     35,235 kbps     41,656 kbps     00:32:38.456    37,303 kbps     00:32:34.452    36,755 kbps     00:32:29.447    183,698 bytes   299,919 bytes   00:32:39.123    
6               0:32:41.292     0:04:07.914     36,172 kbps     38,219 kbps     00:35:26.249    36,641 kbps     00:35:22.245    36,392 kbps     00:34:54.133    188,583 bytes   328,216 bytes   00:34:53.174    
7               0:36:49.207     0:06:26.928     36,081 kbps     38,820 kbps     00:38:28.889    36,595 kbps     00:43:09.545    36,376 kbps     00:43:04.540    188,111 bytes   346,688 bytes   00:43:14.466    
8               0:43:16.135     0:05:47.805     35,998 kbps     39,039 kbps     00:48:16.894    36,512 kbps     00:43:26.604    36,313 kbps     00:43:35.529    187,678 bytes   266,862 bytes   00:47:40.858    
9               0:49:03.940     0:09:47.128     36,206 kbps     40,367 kbps     00:53:30.999    37,119 kbps     00:53:26.995    36,652 kbps     00:53:21.990    188,764 bytes   287,907 bytes   00:53:31.917    
10              0:58:51.069     0:03:46.267     30,251 kbps     43,186 kbps     00:58:59.869    37,622 kbps     00:58:55.865    36,320 kbps     01:02:21.362    157,715 bytes   267,220 bytes   00:59:00.245    
11              1:02:37.336     0:07:31.617     36,011 kbps     40,112 kbps     01:06:55.761    37,144 kbps     01:06:51.757    36,652 kbps     01:06:46.752    187,747 bytes   321,713 bytes   01:03:04.489    
12              1:10:08.954     0:08:50.780     33,772 kbps     38,538 kbps     01:18:56.940    36,694 kbps     01:18:52.894    36,499 kbps     01:18:47.931    176,070 bytes   275,729 bytes   01:11:11.725    
13              1:18:59.735     0:07:22.400     34,625 kbps     44,863 kbps     01:25:56.234    36,575 kbps     01:24:48.917    36,425 kbps     01:24:43.912    180,521 bytes   481,403 bytes   01:25:09.187    
14              1:26:22.135     0:08:00.438     34,023 kbps     40,012 kbps     01:34:18.402    36,458 kbps     01:33:50.291    36,337 kbps     01:33:45.328    177,379 bytes   244,582 bytes   01:34:22.073    
15              1:34:22.573     0:03:16.321     25,696 kbps     40,863 kbps     01:36:35.414    37,006 kbps     01:36:31.410    36,641 kbps     01:36:26.405    133,996 bytes   264,910 bytes   01:36:35.873    

STREAM DIAGNOSTICS:

File            PID             Type            Codec           Language                Seconds                 Bitrate                 Bytes           Packets         
----            ---             ----            -----           --------                --------------          --------------          -------------   -----           
00237.M2TS      4113 (0x1011)   0x1B            AVC                                     5858.728                34,494                  25,261,657,556  137,374,095     
00237.M2TS      4352 (0x1100)   0x80            LPCM            swe (Swedish)           5858.728                2,310                   1,692,048,876   9,374,232       
00237.M2TS      4353 (0x1101)   0x81            AC3             eng (English)           5858.728                192                     140,613,888     915,455         
00237.M2TS      4354 (0x1102)   0x81            AC3             eng (English)           5858.728                192                     140,613,888     915,455         
00237.M2TS      4608 (0x1200)   0x90            PGS             eng (English)           5858.728                36                      26,023,558      148,532