Discussion Starter
·
#1
·
Alright, here's the deal. Last year I lived in an apartment with Wifey. We bought a 42" 1080p Westinghouse to complement the PS3. It was great there - smallroom, my upgrade from a CRT 32" 4:3 1080i TV, and I was really happy.
However, we bought a house this year. And our great room with the TV is 25x25.
Here's a picture of the room: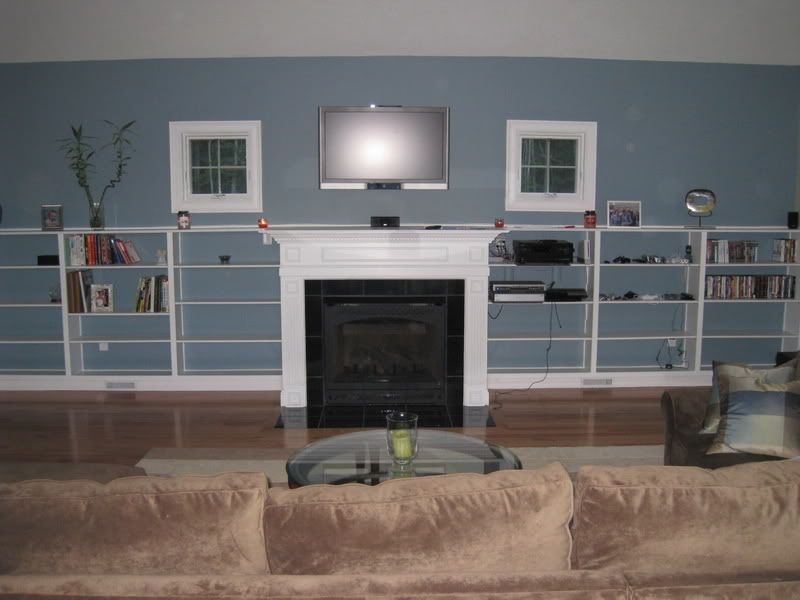 Anyway, the TV is about 12' from the couch. The 42" is just lost up there. It's tiny.
I wasn't going to buy a new TV, but then my wife was complaining about the TV size (imagine that!) and now all of a sudden I'm looking for a TV. Of course, we have superbowl at our house so if I do buy a new one I'd like to do it before that.
My budget is in the $2k range. Really, like $2300 most. There are a lot of good deals out there it seems. I'm thinking a 52" would be a good step up from a 42". I went to BB today to take a quick look and compare TV sizes to see how much bigger a 52" looks and it really is a substantial difference.
Anyways, I also looked on Amazon and picked out 5-6 TV's I might be interested in looking at.
Toshiba REGZA 52HL167 ($1999 at Amazon, free ship)
Samsung LNT5265F ($2199 at Amazon, free ship - also $2199 at BB but then there is tax

)
Sharp Acquos LC52D64U - $2349 Amazon shipped
Sony Bravia KDL52W3000 - $2399 Amazon shipped
So there are 4 great TV's. I also like my Westinghouse so I was looking at the 52" Westinghouse (TX???) but I just feel like these other ones are probably better brands. The 42" one will probably become a PC monitor or something.
Things i want to know:
1. What TV is considered the "best"? I do mostly movies, HD TV, and Blu-Ray & PS3. I really rarely watch Standard Def anymore. I have Dish Network. I don't plan on hooking a PC up to it, at least not yet. The one thing that really bugs me about the Westinghouse is the poor black levels & contrast ratio.
2. My room is HUGE. Is 52" Enough? I think I'm limited by budget. I can't see going to 60", they get so much more expensive.
3. I have a room where the sun rises in the back so in the morning I have glare. The afternoon is usually Ok when I watch most stuff anyways. I heard teh Acquos has a glare issue?
Thanks for all your help! This was kind of a spur of the moment research.