Discussion Starter
·
#1
·
Just putting up shots of my home theater build for thoughts and suggestions. I've read a ridiculous amount of stuff on peoples setups and came up with my own that fits what I was looking for while trying to keep the cost down. It helped cost wise that the basement of my home is already finished, so a carpeted white room was my start point.
The room is 12x18x8. 92" DIY screen (which i am not happy with, a little to glossy). Seating area is about 11ft back with 5ft behind that. Eggshell Jazzy Blue wall paint and Arctic Grey Flat Ceiling Paint.
I decided to go with a short throw projector for gaming purposes. I like having friends over for Tiger Woods tournaments on the Wii and I have the PS3 Move. The BenQ 720p projector was perfect for me. Short Throw, Great Picture, and 3D ready. I have the Optoma 3D-XL and already had DLP link glasses from my Samsung DLP in my living room. I don't mind the 720p as much as I thought I might, the picture looks phenomenal.
I wanted to still have the go big or go home wow factor, so I went with a 7.1 surround system instead of 5.1. I'll do more gaming than anything and the majority of PS3 games that I have are 7.1 compatible, plus Blu-Rays. Sony STR-720 and In-Wall surround and center speakers fit the bill. Cost was low and they sound great. Front speakers are old but sound pretty good, haven't decided on the replacements for them yet.
Reading all the articles on acoustics and color choices made lower cost decisions easier. A properly setup and treated room can bring a lower cost system up into competition. I'm pretty happy so far with the way things are going, its been a lot of work. I've never done any kind of drywall work or running wires through walls. I've never actually painted an entire room before. Its been fun.
My acoustic panels are DIY, no wood frame. 3lb 24x48x2 rigid fiberboard wrapped in fabric. I have 9 panels that I at first decided to mount straight to the wall. I'm still in the air on this and wondering if I should do at least a 1" gap. I don't want to bring them off the wall to far due to the room already only being 12x18, that with the dark paint color would make the room seem so small. I wasn't planning on doing bass traps, so the I thought maybe I should add some gaps to help with that.
I am putting panels on the side walls and ceiling. I was considering some on the front wall behind the front speakers because of
My stuff:
Center Speaker
Surround Speakers
Sony STR-270 7.1 Receiver
$.92sqft Rigid Fiberboard
BenQ w710ST
Playstation 3
Nintendo Wii
DirecTV HD DVR
Optoma 3D-XL
Logitech Harmony One
All wiring was from Monoprice.com
Pictures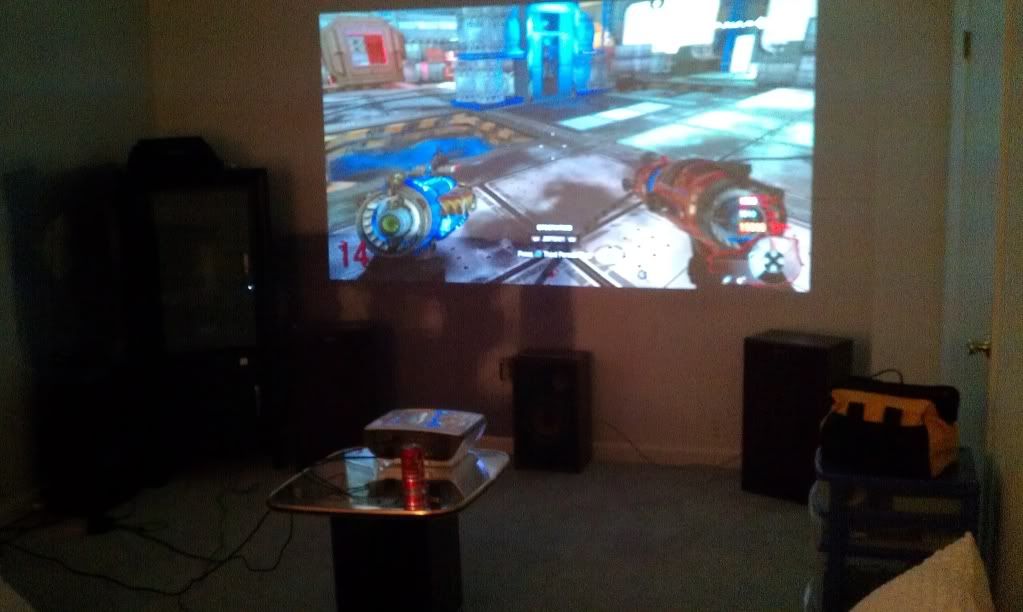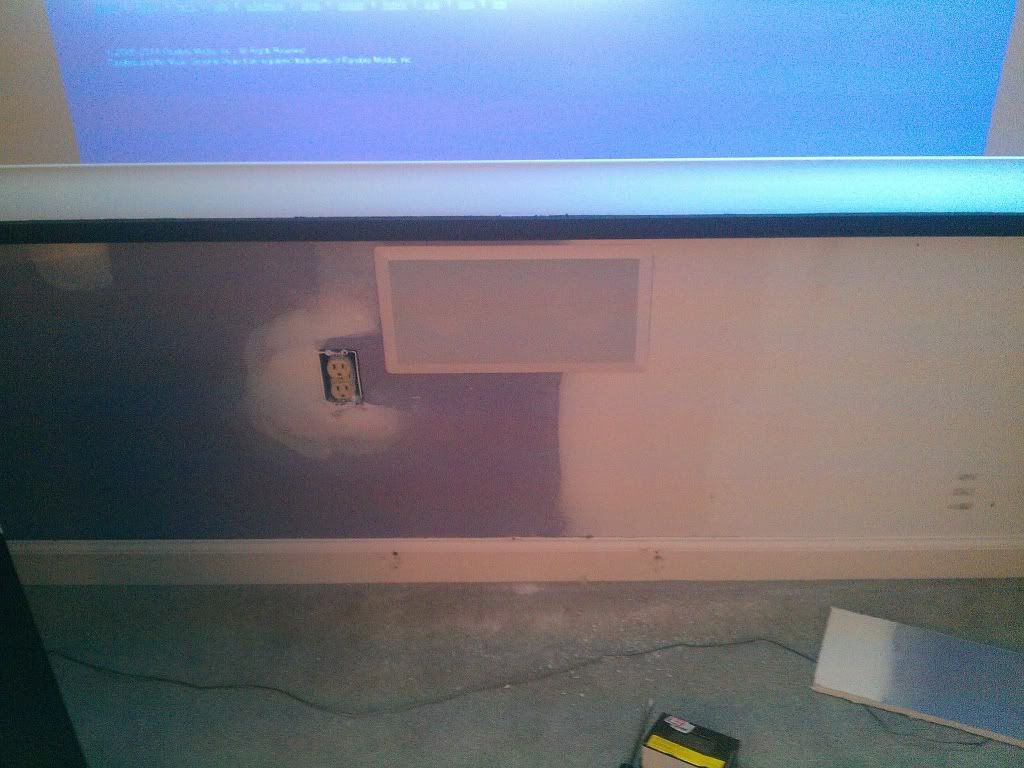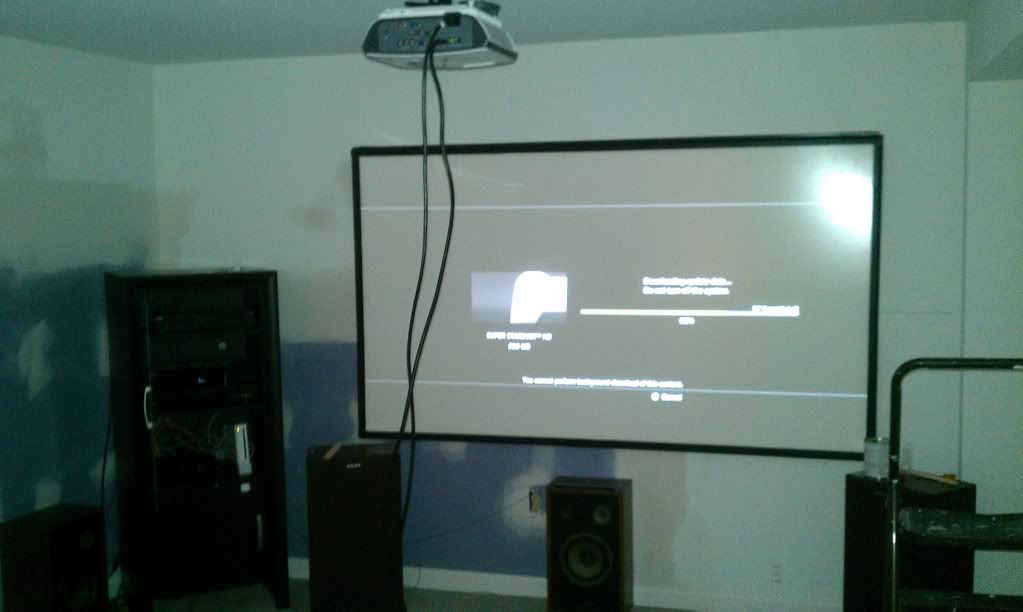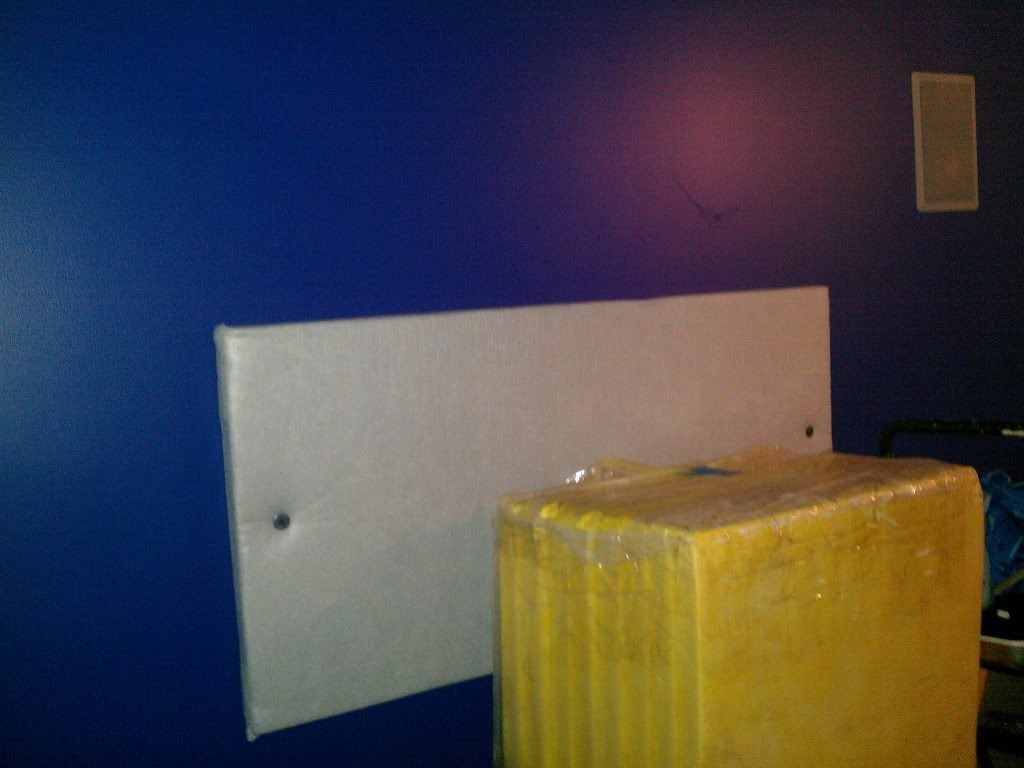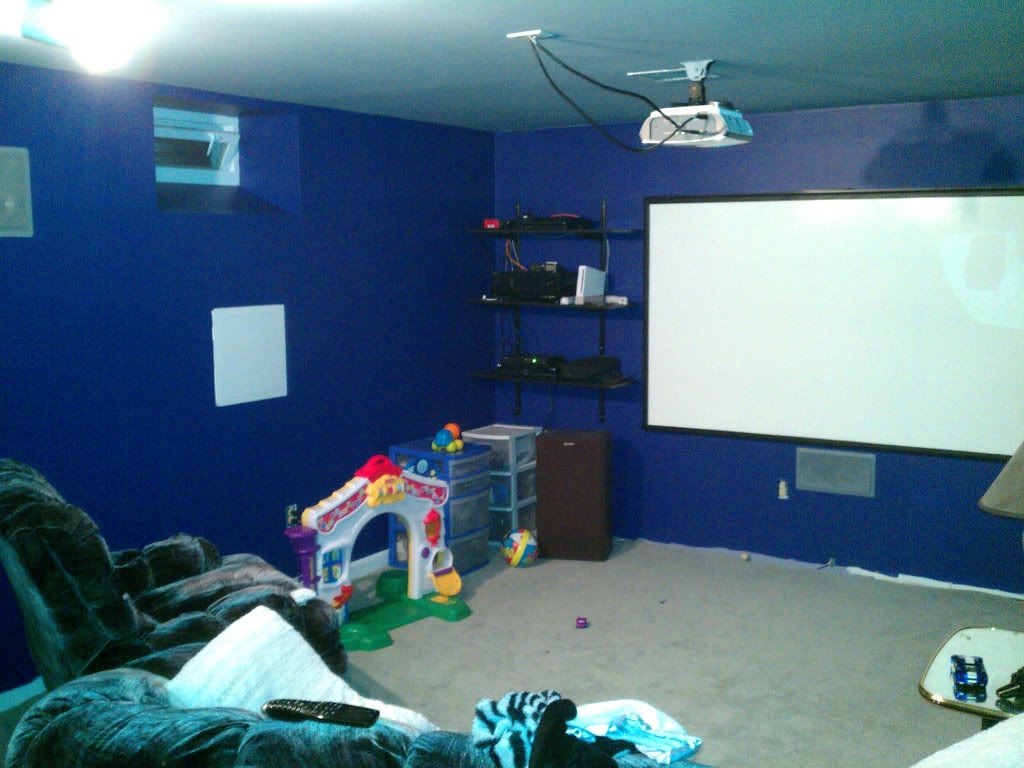 I only put up 1 panel so far, and have some Canvas print wall art coming to dress it up some, but I'm pretty excited so far. I will take better pictures when I get it more completed. I still have A LOT to do.
Let me know what you think. The awful wiring at the equipment is going to be hidden in wall, and the wiring for the projector will be covered by an acoustic panel. The floor trim will also obviously be replaced.