Discussion Starter
·
#1
·
Well, after thinking about it for about a week, I decided to finally mock-up something to help guide my vision. The result? Well...
I realized I still had about 2 months left on a SketchUp Pro license from a Drafting class last year, so I took full advantage.
Note: I downloaded all of the furniture, AV equipment, and curtains from the 3D Warehouse. I had only hand-drawn the "wooden" structure.
To recap: The initial idea was to build a pergola (though it's more of a 4-post canopy as pergolas are usually far more ornate with their woodwork) to create a "home theater." The main purpose of this is to avoid needing to mount speakers on a wall or from the ceiling since we are renters and putting holes in the walls usually means $$$ out of our security deposit. Now, one might justify that running the risk of losing $100 from the deposit is worth not having to go through the trouble and added expense of building such a structure, but I'm not that practical
It was modeled with nominal lumber measurements. The pergola measures 10'W x 10'L x 8'H. The pedestrian reference is 5'8."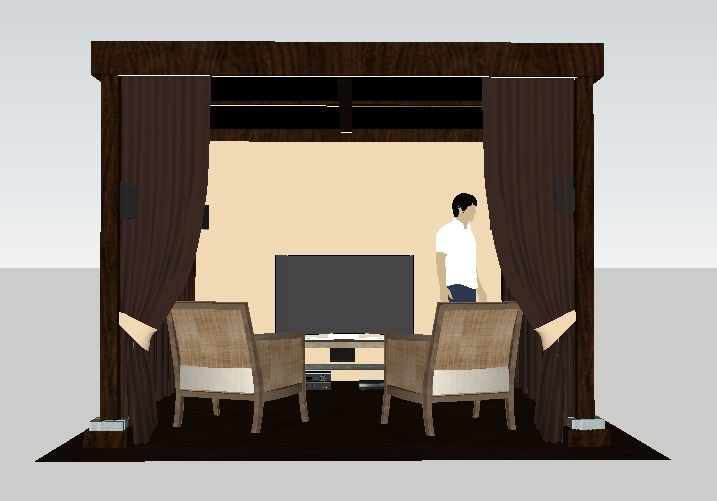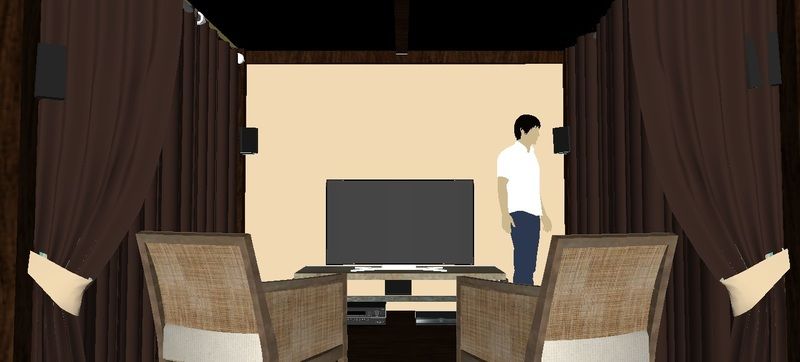 (Sadly, the rear satellites intersected the curtains and I was quite fed up with the Move tool, so they stayed)
This is the view from behind the TV, facing the front with the back wall removed. You can see the placement of surrounds better: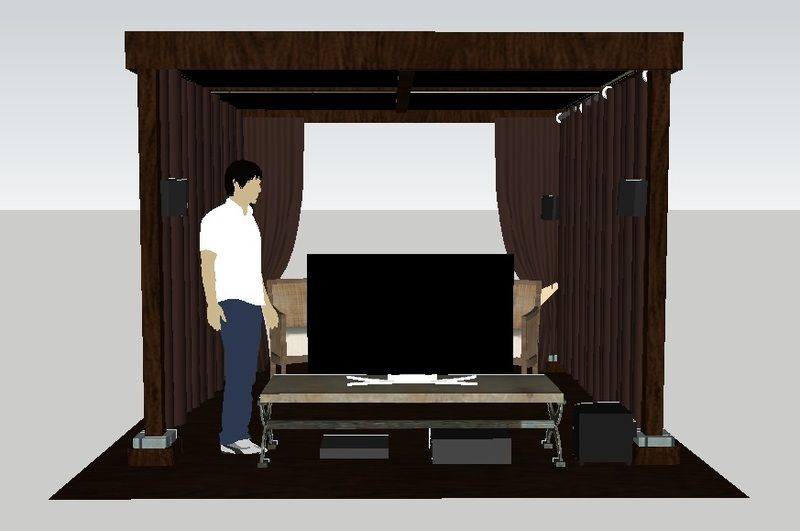 No, I do not intend to leave the AV equipment on the floor. I just really wanted a Restoration Hardware table in there since I'll likely never own one in real life!
From the rear, a little closer with the TV removed:
Looking down on the ~thergola~ from above: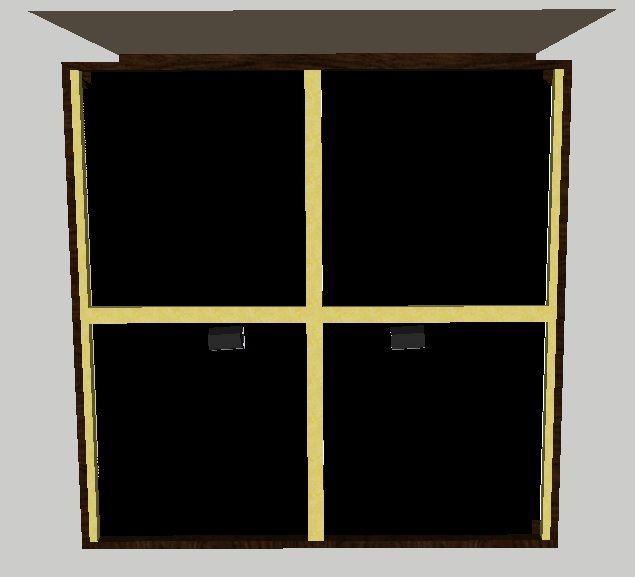 You'll notice two speakers - for Atmos of course - which inspired this whole rigmarole.
Design wise, this is pretty light. I'll be adding some 7" galvanized metal letters that spell out "C I N E M A" across the 2x8" that frames the top of the structure. They'll be modified with small LED's to appear to light up like marquee lettering. There's also a considerable amount of metal I want to add that didn't have the patience for in this render, like adding a 2" strip along the interior. Plus I plan to install some LED strip lighting along the 4 "squares" that make up the false ceiling, which is actually speaker grille cloth stretched over 2x2 lumber in 4 squares. This will hide the overheads and allow the LED's to illuminate subtly.
I doubt this will help anybody understand how I plan to put this whole thing together, but I took some x-ray shots to show the break-down of lumber and how it's assembled.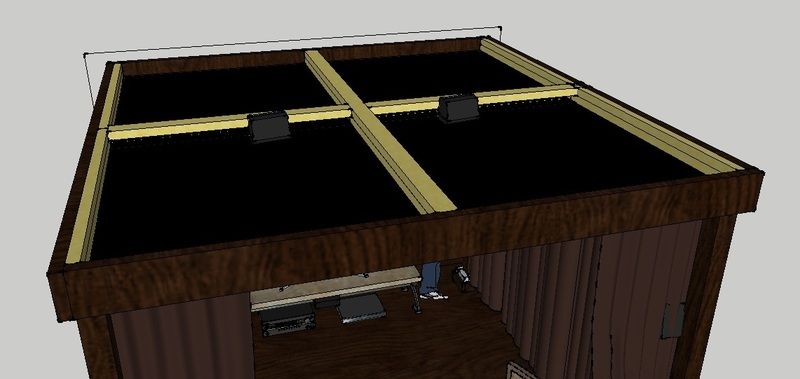 Forgive my insolence; the Draw tool is illusive and often conflicts with the eraser! Hence some missing faces here and there...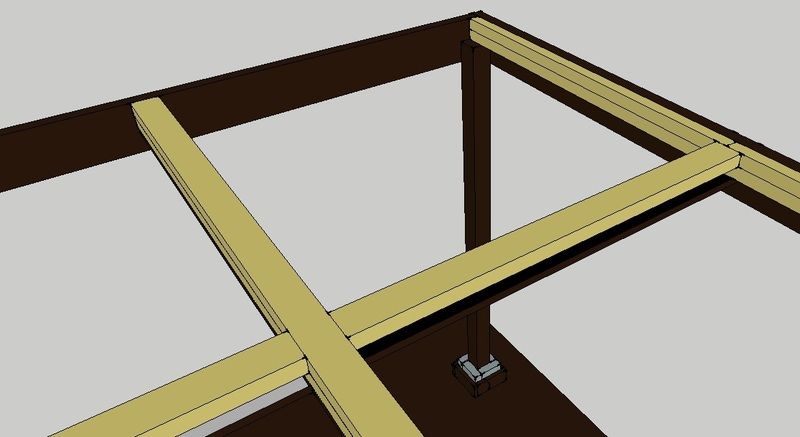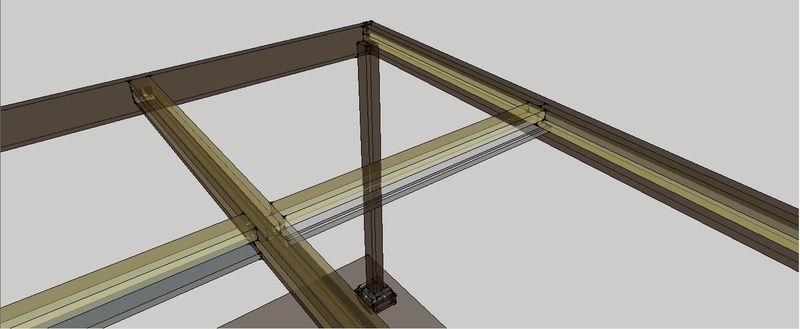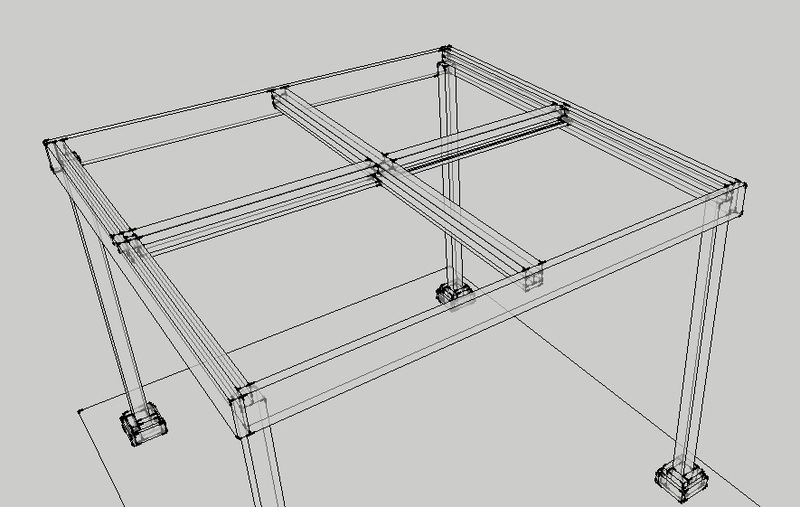 Once I had finished the structure and starting adding curtain treatments and furniture, I quickly realized how fast space was being eaten up. I figured a 10' box would be plenty of room to comfortably sit, stretch out, maybe have a few friends on pillows on the floor or get a sectional, but damn! There's barely enough room for just the two of us!
The primary materials were 4x4x8 posts for the legs, 2x8x10 for the upper framing beams, and the rafters were primarily 2x4 and 2x2, with 1x4 for decorative accents. I'm considering adding 2 feet in width and length to the box to make it a 12' cube, but I worry I'll need to either add struts or additional posts to support the added lumber.
The other concern I have is that I've currently got a 5.3.2 setup. In the model, I only have room for 1 subwoofer. Two in this space would be overkill...or would it? Any advice on how to implement at least 1 more sub would be divine.
Thoughts? Opinions? Feelings?
***Disclaimer: I have no professional building experience, minus constructing a few sets for my old community theater and building some haunted houses with friends. So....be nice?