Discussion Starter
•
#1
•
Well, I'm almost done. Decided that today's as good a day as any to document the build. This is what I've got so far:
Equipment:
1) Receiver - Yamaha RX-A3000
2) TV - Samsung 58" 3D plasma C8000
3) Amp driving presence speakers - Audiosource AMP100
4) Speakers - Front - BIC Acoustech HT75's
Center - BIC Acoustech HT-65
Side Surrounds - BIC Acoustech HT-8W's
Rear Surrounds - BIC Acoustech HT-64's
Front Presence - BIC Acoustech HT-8W's
Subwoofers - 2x SVS SB13-Plus
5) Blu-Ray Player - Oppo BDP-93
6) Game Console - XBOX360S, Wii
7) Streaming - Roku2 XS
8) Cable Box - Time Warner HD-DVR
9) Remote - Harmony 890 RF/Zwave (controls lighting)
10) Misc - 24port Gig-E switch, Tripp-lite power conditioner/UPS
11) Seating - 6x berkline motorized recliners (2 rows of three)
Regrets/Lessons learned:
1) Ended up having to spend $$$ to add a second HVAC unit to support the theater area.. uhh.. learned the hard way when it got colder and the wife cranked the heat
I planned ahead and added vents to the closet, etc.. but somehow didn't think of THAT!
2) Planned ahead and put in power/ethernet on the riser floor.. but the seating mostly covers them, making at least one of the receptacles useless.. oops.
3) Didn't leave a "lip" on the riser so now it's kinda hard to add rope lighting.
Some pics:
The theater is alone on the second floor.. over the garage, which is nice since I can crank the volume pretty high without bothering anyone else on the house.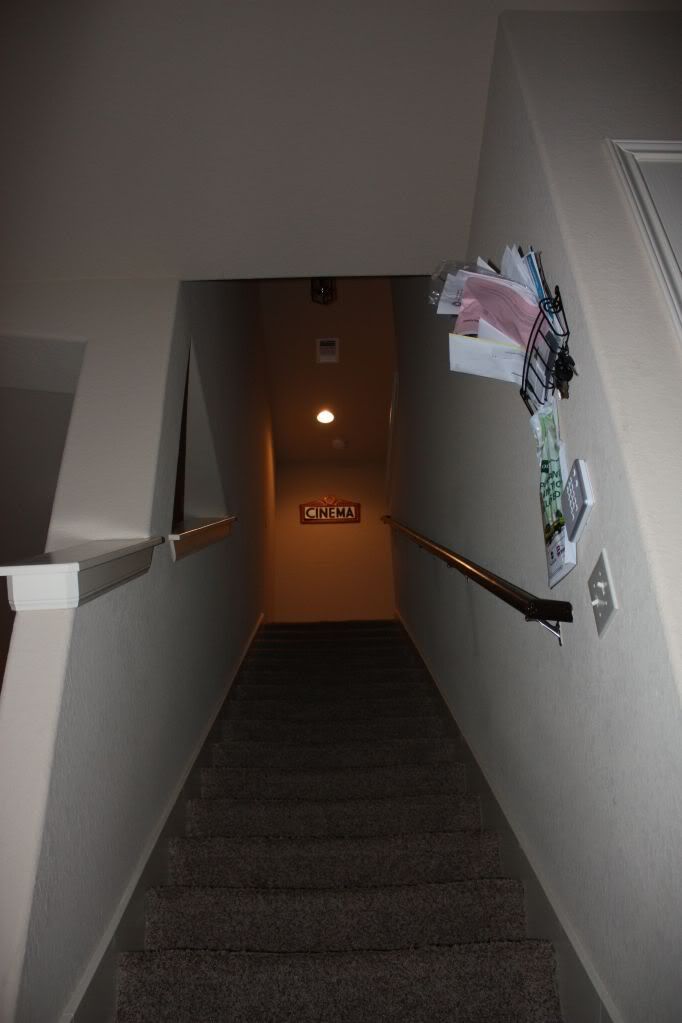 I did think ahead and added a nice fridge for my drinks and a popcorn/candy machine.. it's nice not having to come down for much. I even have a bathroom upstairs.
The front stage came out nice, just need to wait a bit before I can add the screen and projector. Not sure which size.. the room is 17w x 20l x 8h.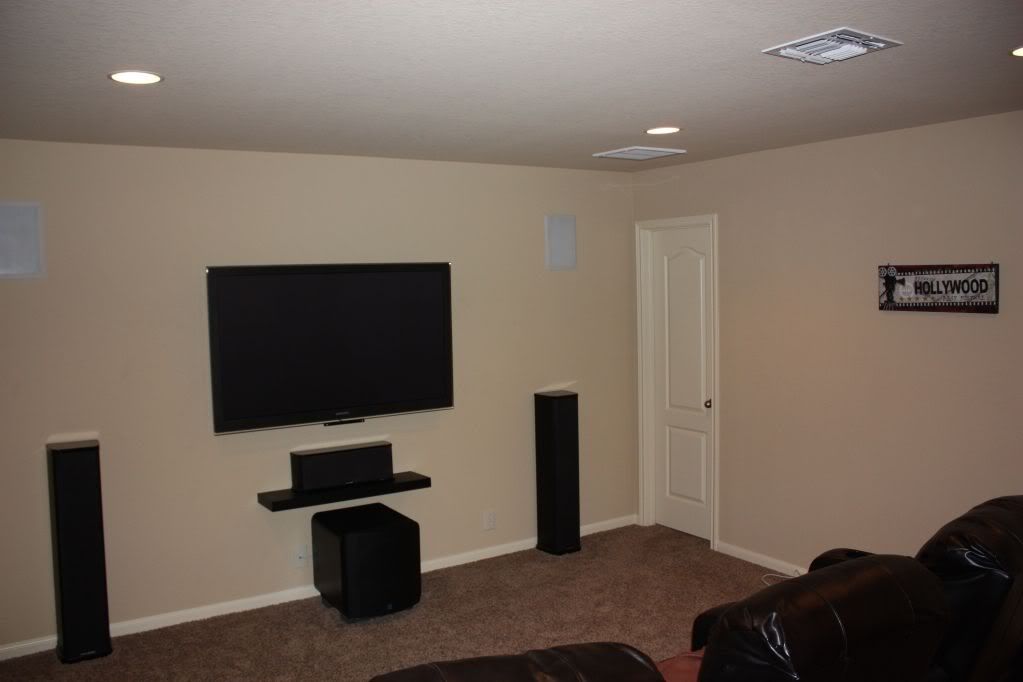 The builder stuck me with a real big, huge window right there.. it's annoying but I've managed to get good light control with treatments. However, I find that noise comes in through that window quite easily.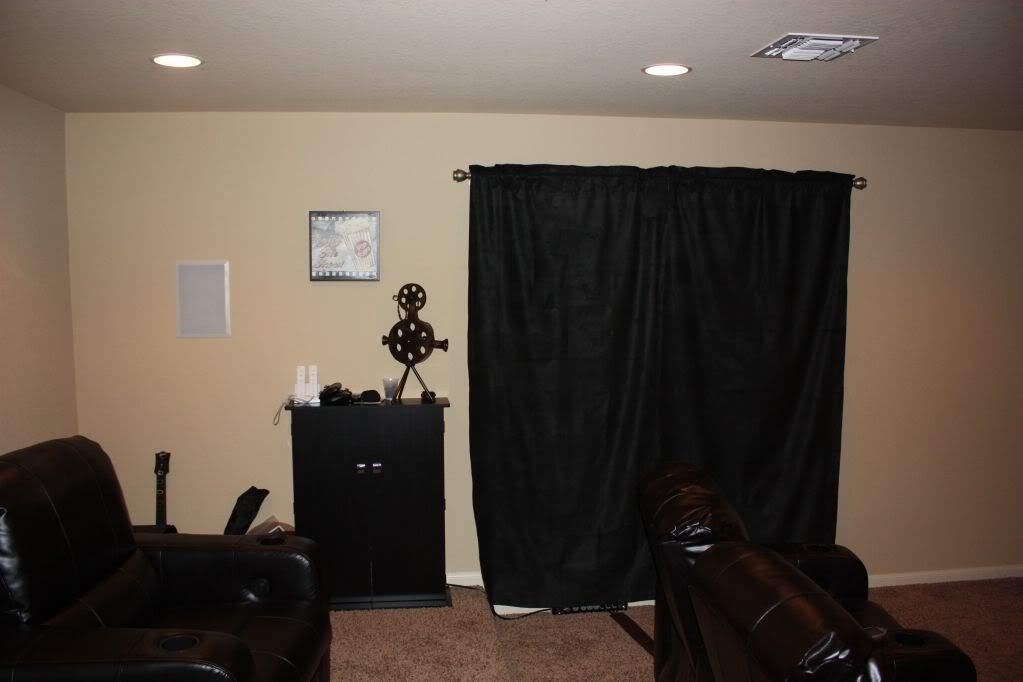 I tried to make the most of the available space.. there is an irregularity on the back wall that made it hard/not possible to get symmetrical placement for the rear surrounds. The second SB13 is back there on the riser.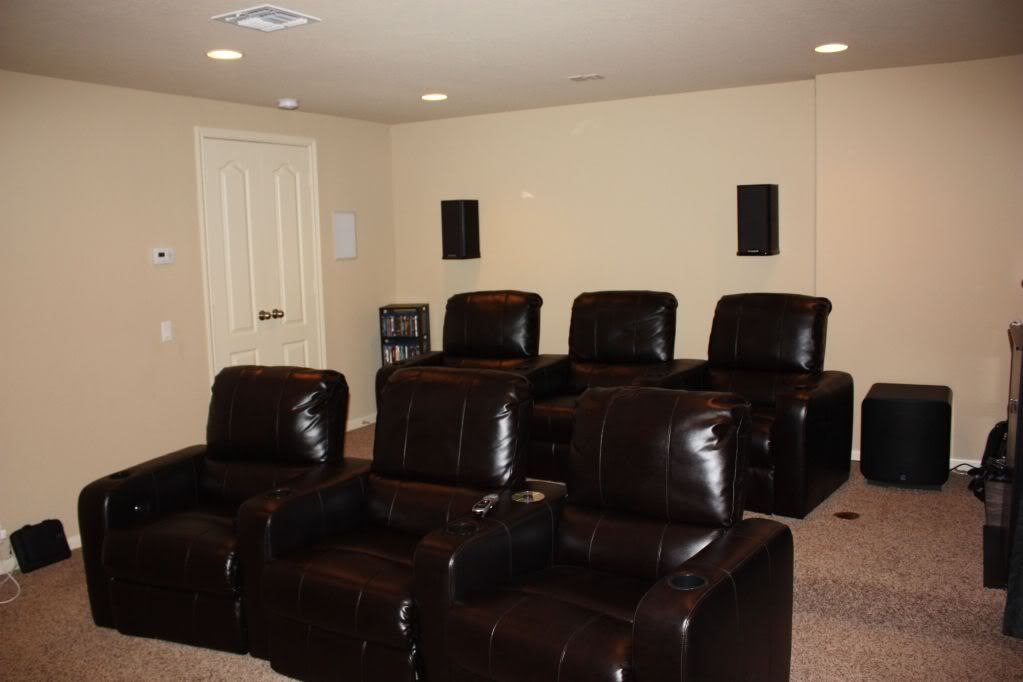 The equipment closet is right by the front stage, and it's 5x5x8, which is OK but kinda cramped sometimes when it comes to turning the rack over to do work.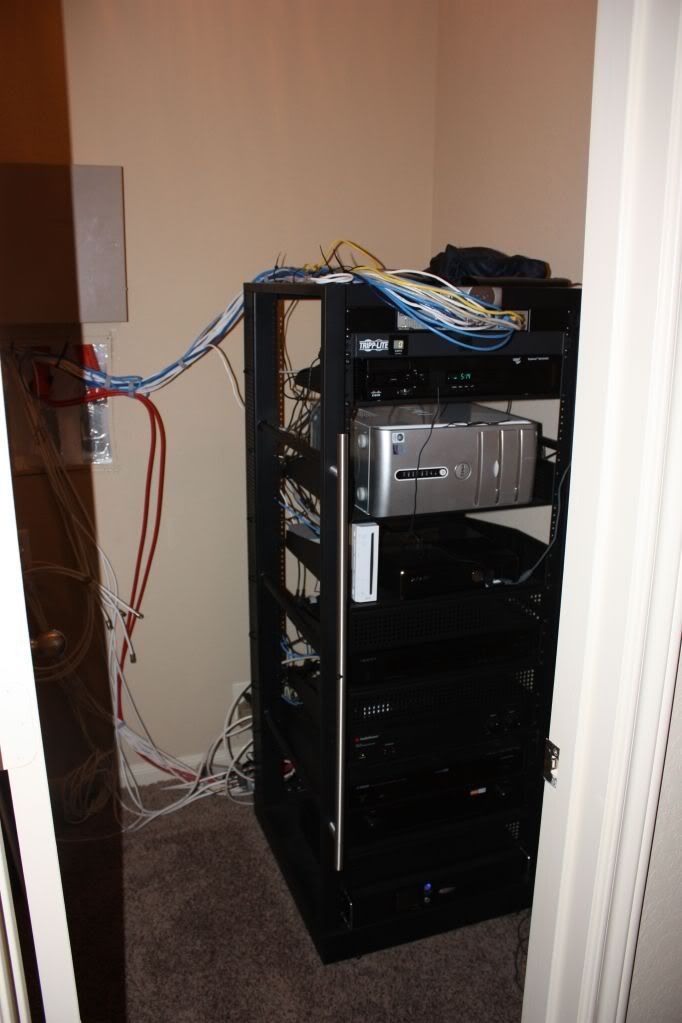 Closer view of the equipment rack: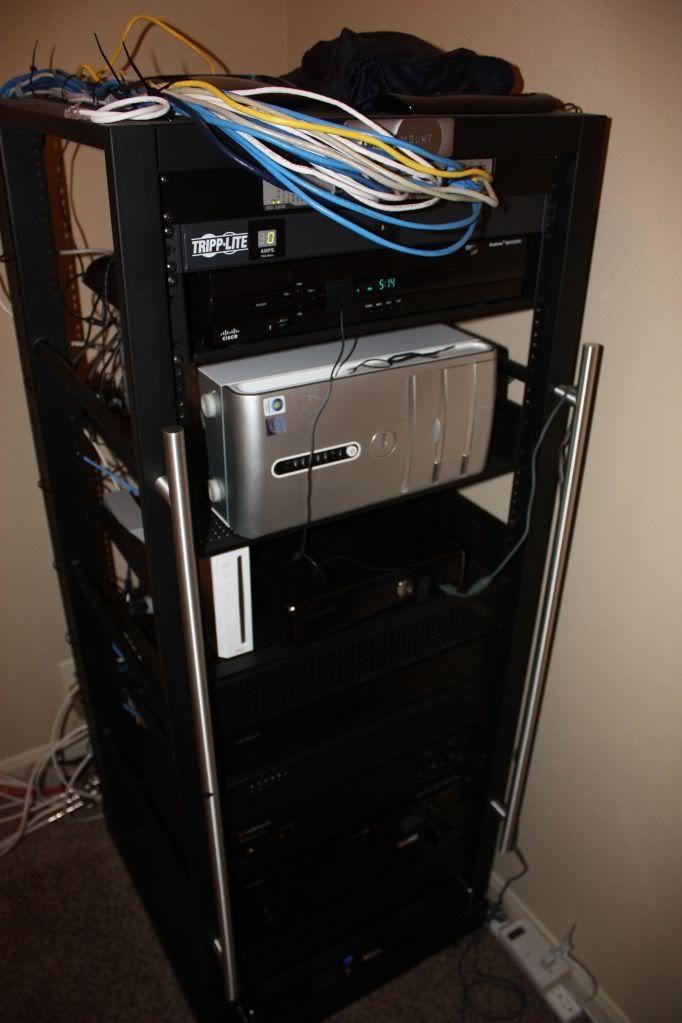 Different view of the seating area.. moved the movies over to that corner for now, but need to figure out a better arrangement.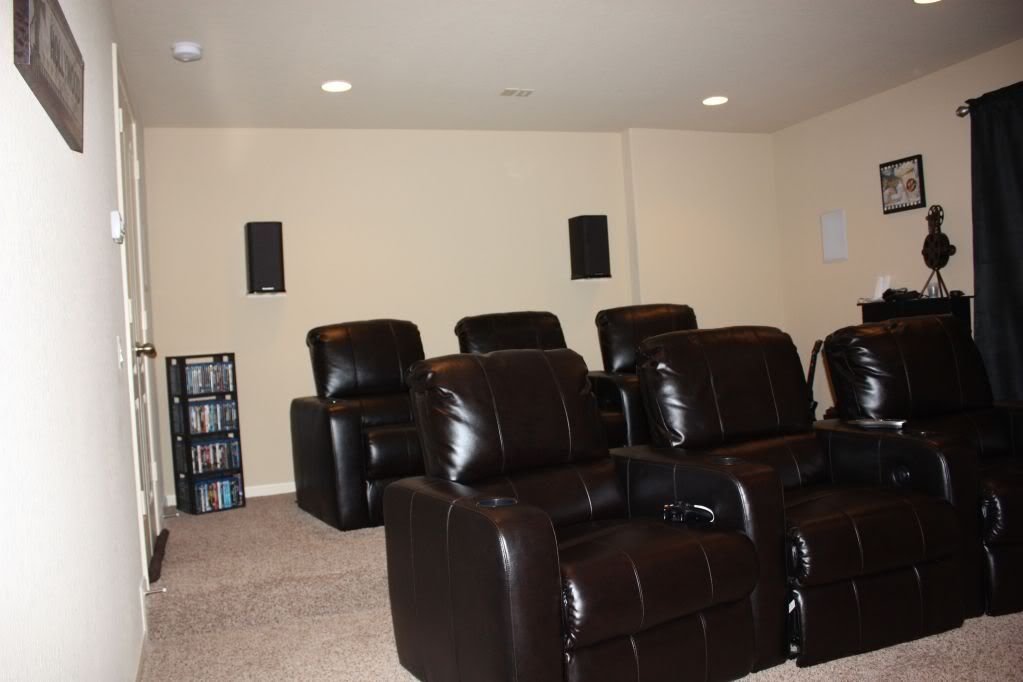 View of the entrance from the second row.. the door is a bit of a pain when it comes to sound leakage (thanks builder), but I have a guy coming in to retrofit some seals and stuff to see if we can improve the performance.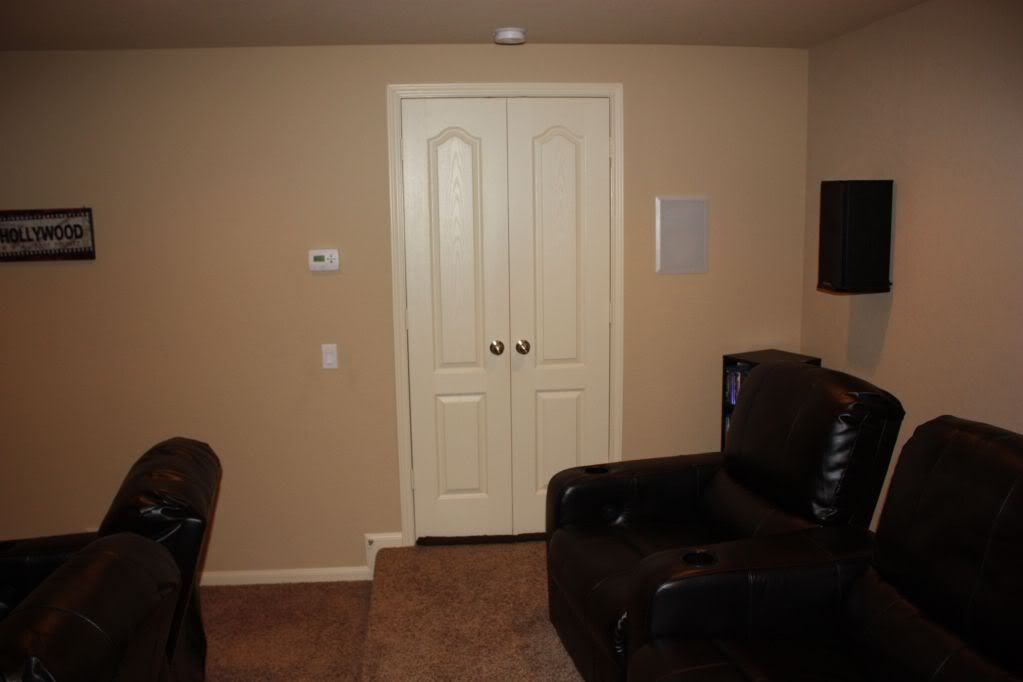 I keep the games, tools, and some movies in this other storage thing.. it works, but a better solution is needed.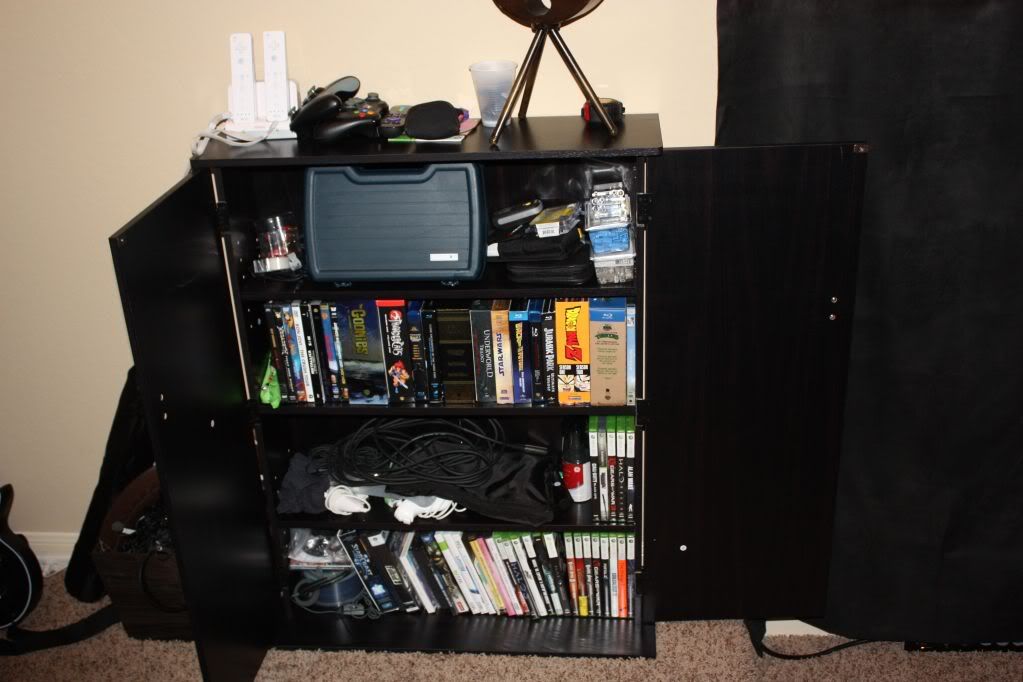 It's going to be pretty cool once I get it "finished", with the screen and other details.. however, to be honest, I've been enjoying it as is so much that some days I wonder if I should really go ahead.
Then I browse AVS... heheh