Discussion Starter
·
#1
·

Hello All!
Introduction
I am restarting my build thread since the one I originally started in August got deleted due to the AVS Great Crash of 2008.
Now, back on topic....
I wanted to thank all of the regulars in here for their build threads and all of the advice that has been dispensed over the years.
Of course, this couldn't happen without the poking/prodding/name-calling embodied by the Loganator's thread. Many of us have been Loganed since early this summer.. mostly to no real change in the status of our projects.
Room Description
Let me describe my space for a bit..
35 feet Long
21 feet (minimum) to 29 feet (maximum) width
10 foot ceilings
It is a walk-out basement with a steel exterior door and a pair of windows. When we moved in, it was partially finished with an under-the-stairs area for a closet, another closet framed in, a partially stubbed-in bathroom....and wires and ductwork hanging from everywhere.
It has 6 foot poured concrete walls on every side except the side facing outside and already had 2x6 pressure treated framing on top of the walls to bring the wall surface "flush" for easy finishing.
Requirements for the HT 3.0
What did I want in my basement HT?
1. A projector with around a minimum of a 120 inch screen.
2. Totally light controlled with full lighting remote control.
3. 7.1 surround sound
4. A bathroom.
5. A small wetbar/food prep area with sink, beverage cooler, kegarator
6. A stage/riser
7. Extensive sound proofing/isolation
8. Preserve the maximum ceiling height (my last HT only had 6 foot 4 inch ceilings...but that's how it was in Long Island, NY).
9. Dedicated electrical panel.
10. Outlets galore.
11. Full sound treatment.
12. (others will likely be added as I think of them!)
Equipment List
Projector - JVC RS20 --> Sony 1100
Anamorphic Lens: Isco IIIL on a Cineslide
Screen - SMX 130 inch Pro-Line Pro-Curve
Amp/Processor - Anthem D2v
Video Games: XBox 360, X-Box 1, PS3, PS4
Speakers:
1. Mark Seaton's Catalysts as LCR
2. Mark Seaton's Sparks as LR Side Surround/LR Back Surround (x4)
Subs: Submersive HPs x 2
Blu-Ray Player - Oppo BD105
Bar TV: Vizio 42 inch LED LCD
Bar TV#2: Sharp 52 inch LCD
Seating: 7 Berkline 090s with Buttkickers
Lighting: Lutron 6-Zone Grafik Eye
I've struggled with equipment choices for a while. I've gone through a lot of speakers over the last few years and demoed even more. I recently (during moving) got rid of half a dozen different sets (an ultimatum from my wife who doesn't share my interest!) and am down only to the set my wife loves: a 5.1 Rocket (AV123) setup. They are ok for the LR setup...but not what I want in my HT.
Picture of VERY ROUGH Floorplan (thanks to the heckling from RPhDrew).
Please note that the measurements are from memory and may not be totally accurate. I will check later...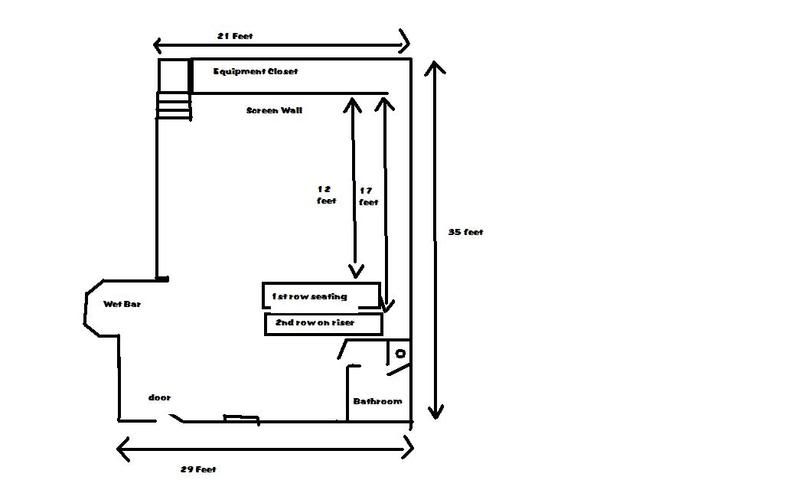 Screen Size and Seating Distances (Resources):
1. Recommended seating/viewing distances.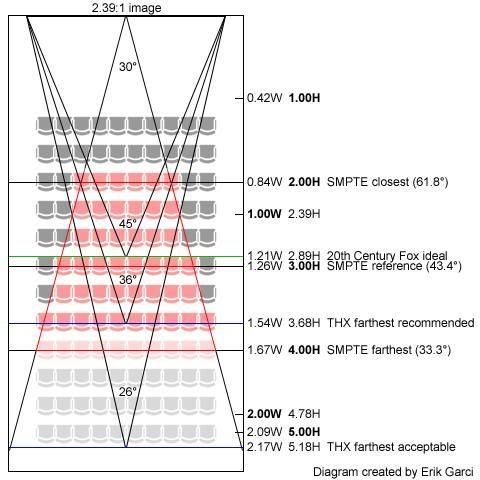 2. Excellent spreadsheet for calculating screen size/seating distances (very extensive).
http://carltonbale.com/home-theater/...er-calculator/