Discussion Starter
·
#1
·
I just sold my entire AV123 setup (well still trying to get rid of a pair of bookselves - RS150's) and am seriously considering going acoustically transparent screen with an LCR arrangment. I am thinking a DIY approach will net me the most bang for my buck and since the speakers will be concealed the appearance isn't as critical now.
LCR's
- I would love to get something going like the JTR Triple 8's and haven't seen anything in the DIY kits that resembles this. I don't have a boatload of cash so I need to be efficient with my money. I have a friend that is willing to build the cabinets so I am not worried about that. I would prefer pre-assembled crossovers but given big enough cabinets and a good layout instruction manual I could attempt crossover assembly to save money.
Any ideas for the LCR's? -
PICKED ECONOWAVEGUIDE DELUXE VERSIONS!
Courtesy Zilch at AudioKarma.org
eWaveGuide Deluxe Render
Finished Product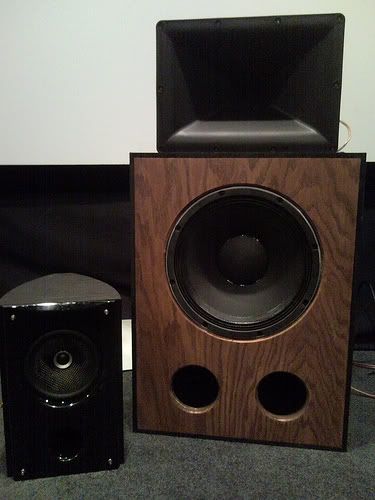 Subwoofer
- I see the current rage is the THT's so I think I would like to try one of these as well. Average cost is about $400, but I already have a spare amp channel so the cost is down to about $200.
Almost done with it!
Current Progress:
Going to base my build around BFM's Tuba HT sub so I don't think I need to or can post any pictures of the render. Once I start construction I will post a few pictures...it seems there are a million build threads for THT's so I will probably only post about it if I have questions and when I am done with it.