Discussion Starter
•
#281
•
Near Black Issues from poor factory Quality Control
Some LG OLED's have passed the factory QC (Quality Control) with near black clipping issues and shipped to stores, for these panels it will be required to adjust the Brightness to 55-56 or up to 60-61 (in worst case scenario) from the default 50 value for the near black clipping issue to be resolved.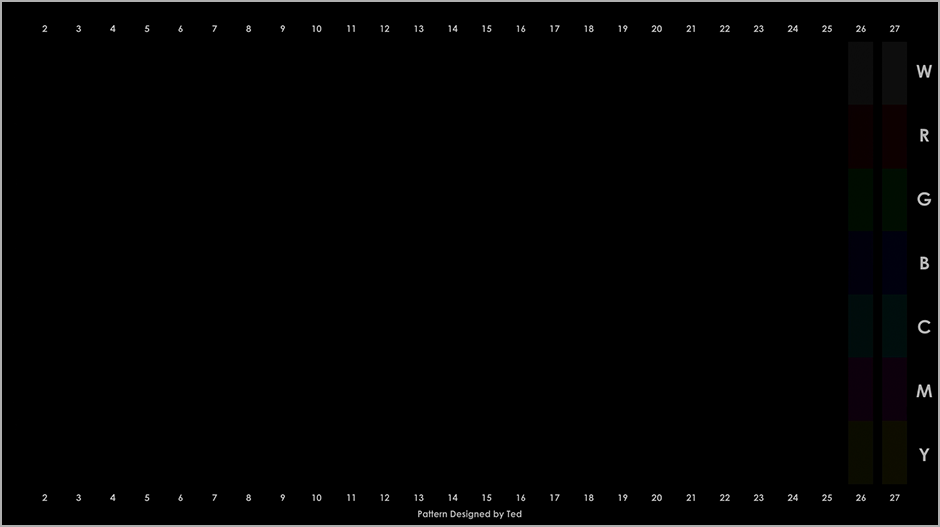 Also it will not work any service menu sub-adjustment related to Brightness when you will use internal 1D LUT capability.
By adjusting the sub-brightness in the service menu it will cause the 1D LUT points to be misaligned at near black, set Sub-brightness to default 128 value.
When you have such issues with near black clipping and you see that 1D LUT profiling can't resolve completely the problem (with Brightness @ 50 setting as required for internal 1D LUT to work) then you can skip using the internal 1D LUT completely and resolve the problem by adjusting Brightness control to whatever values you see that is not providing any clipping (while it will not raise your native panel black level) and then start the 3D LUT profiling measurements.
If you will skip performing 1D LUT profiling, select Warm 2 color temperature, Gamma 2.2 preset, Wide Color Space and the adjust Brightness/Contrast to the value you see that is correct for your TV. Perform also only 100% White (or 109% White) pre-calibration using RGB-High Controls only (keep one color channel at zero and reduce values from other 2 channels) while adjusting OLED Light you will control the luminance output (nits). Don't use RGB balance controls to adjust the Luminance output levels. After these pre-calibration adjustments you can proceed to 3D LUT profiling.
For expert users, its recommended instead of adjusting normal TV menu White Balance settings, to adjust only the White Balance values of color temperature from inside the TV's Service Menu only. The reason for that is because the normal menu White Balance settings combined with White Balance of Service Menu settings to work as offset from the native panel, and when you have active two controls which are performing the same job, this can make the internal processing algorithm more complex, so its better idea one White Balance menu to be used only to adjust from native panel response and not from both menus (normal TV + service) the same time.
White Balance settings of 'Warm' in Service Menu will adjust the 'Warm 2' preset of Normal TV Menu.
White Balance settings of 'Medium' in Service Menu will adjust the 'Warm 1' preset of Normal TV Menu.
White Balance settings of 'Cool' in Service Menu will adjust the 'Cool' preset of Normal TV Menu.
LG's factory pre-calibrate these service menu White Balance color temperature modes using a 80% Gray pattern with 6500K for 'Warm', 9300K for 'Medium' and 11000K for 'Cool'.
Use the EZ-ADJ button of Service Remote to access the LG OLED TV Service Menu, it will ask for a password, type '0413', navigate to '12. White Balance', and select the color temperature you want to adjust.
If you want to adjust for example the 'Medium' of Service Menu, start by setting the default 192 value to R-Gain, G-Gain and B-Gain and 64 value to R-Cut, G-Cut and B-Cut controls.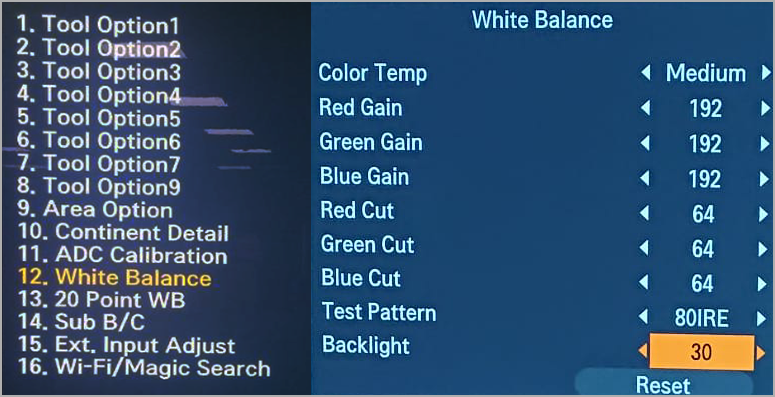 When R/G/B gain in the OSD is at 192 value, it means that the panel works at its Full Dynamic Range. In order to prevent saturation of Full Dynamic range and data, one of R/G/B channels need to be fixed at 192 value, for pre-calibrating the White Balance, lower only the other two channels.
Be careful with IN-STOP button, don't press it, because it will perform a complete factory reset, it will reset the TV's UTT (number of panel usage hours) counter which will affect the compensation cycle operation.