Discussion Starter
·
#1
·
This is kindof two different questions but they're related. Sorry that I made a somewhat similar thread earlier in the week, but I think this is a different enough subject.
I just moved into a new apartment that is lacking in overall square footage but still feels very open (for Manhattan) thanks to ceilings that are around 11.5 feet tall and enormous windows. This is a really rough floor plan, which is all I really have: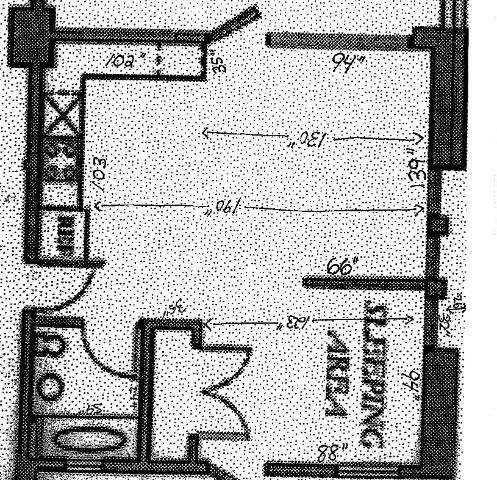 As you can see the entire place is about 20'x18' - the bathroom, and the space where sound actually matters is about 20'x11'.
So, sure, satellites make sense here (to everyone not on AVS that is), but I really don't want to resign myself to a system totally reliant on a subwoofer for bass,
and
don't want to pay extra for said system.
What I'd honestly like to do is go with two semi-low profile towers as mains, and then slowly mount large bookshelves in place of typical sattelites since I can afford the vertical space. I'd have 5.1 in the "living room" and an additional two bookshelves in the corners above the bedroom to use when playing music.
The only drawback I see, is that these would need to be mounted rather high, which is less than ideal for movies, but would it be passable to someone who only watches movies 25% of the time if angled correctly?
Here are a few more pictures to give you an idea of what I'm working with: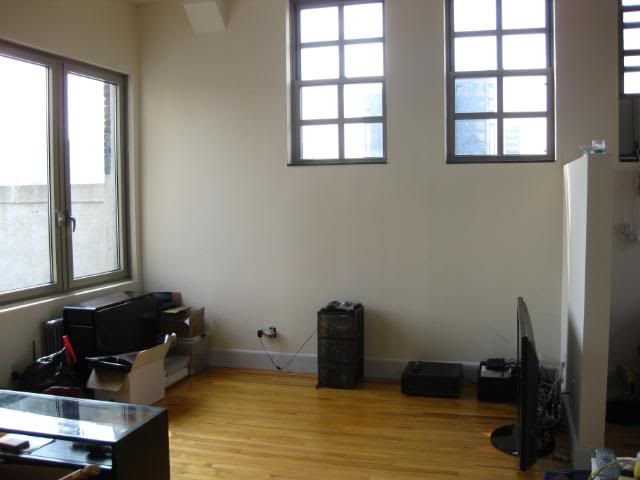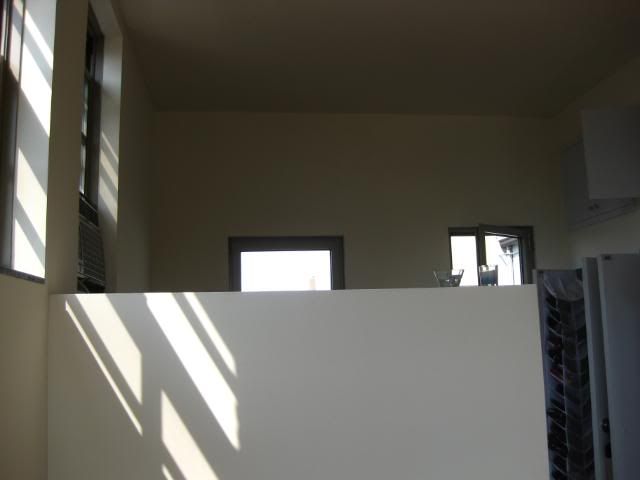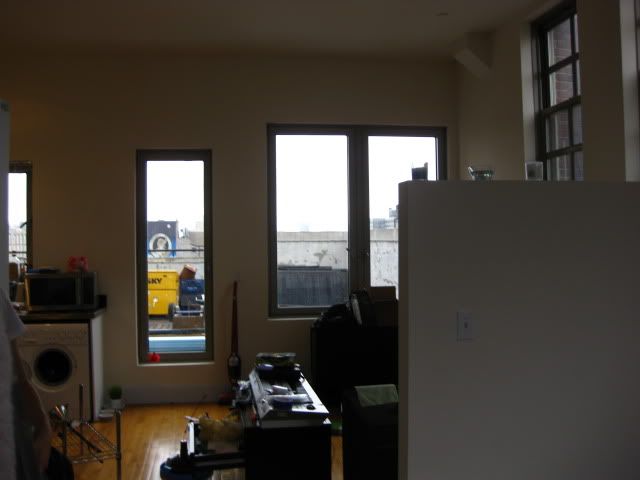 Second question/issue:
I've decided to settle on a decent 2.1 setup for now, since my budget is limited by the fact that I also have to actually furnish my apartment. I set out to spend $400 on a pair of mains, then it went up to $500, and then $650 when I ran into the Aperion 4T towers...At that price it'll be another month at least before I can even afford a subwoofer at $300-400 (looking at the HSU STF-02), and with bass being fairly important to me I'd really like to do a full 2.1 around $750 if possible. The other constraint is that given the size of my apartment, towers need to be rather small (I've looked at Aperion Intimus 4Ts @ $650/pr. and Energy Take TWRs at $400/pr.)
Ideal placement would actually be on top of the middle wall (bookshelves), but I don't know if that will limit the sound, which is why I'm looking to towers.
So ideally I'm looking for reccomendations of a pair of mains, bookshelves or low-profile towers, at around $400-700, that will be able to make up for the fact that the rest of my system may, in fact, be comprised of unimpressive satellites.
While I'd like to spend no more than $500, if the jump in performance is great enough, I can go up to around $700 since these will be the systems backbone.
Other factors that may be relevant:
-My receiver will be a Pioneer VSX-919
-Neighbors are not an issue, my apartment building is a remodeled linens factory with insanely thick concrete walls and floors. I have only 1 direct neighbor and have a large outdoor deck between myself and his nearest wall.
-I plan to spend about $500 every three months until I'm completely finished.
-The couch will be in the space where all that clutter currently is, and is fairly low, putting ear level at about 3.5ft.
Sorry if this seems like another "I have no money, and no space, but I want an awesome system" thread, but I promise that's not the case! Any help would be greatly appreciated, thanks!