I had originally hoped to have this build going full speed back in August/September, but hit several delays. Back on it now and figure throwing some progress shots up here may help motivate me to hurry up and finish. Clearly a lower budget and smaller space than most seem to post in this forum, but perhaps some will appreciate seeing a simpler, amateur DIY.
Room size is roughly 11.5x18x8 (front [screen end] of the room is 133" and the seating area is just under 12'). Screen size should be about 115". Have gone the Sintra route and hope to have it painted with silver fire by the end of next week.
The intention for the main carpet will be a dark red (two tone on the riser, separated with gold stair edging all around). Color combination was initially based on general vintage theater colors, though it reminds me now of Iron Man, so perhaps I'll throw in an Iron Man poster to make the connection).
Speakers are:
Fronts: Infinity Beta 40
Heights: Infinity Beta 20
Center: Beta 360
Surrounds: Axiom QS8 V4
Subs: HSU VTF-15H and HSU VTF-3/Mk3 (not sure if these will work well together or not).
Projector will be a BenQ W1070.
Unfortunately I neglected to take "before" photos, so this is the earliest one I have. Front of the room had a very large window and the back had a sliding glass door. I walled over them both with 5/8" drywall. I had considered doing some sound proofing for the wood panel side, but didn't want to lose any width (as I'm using nearly every inch I have to work with), and shouldn't have many issues here anyway in that regard. At this point I had already sprayed the ceiling flat black as well.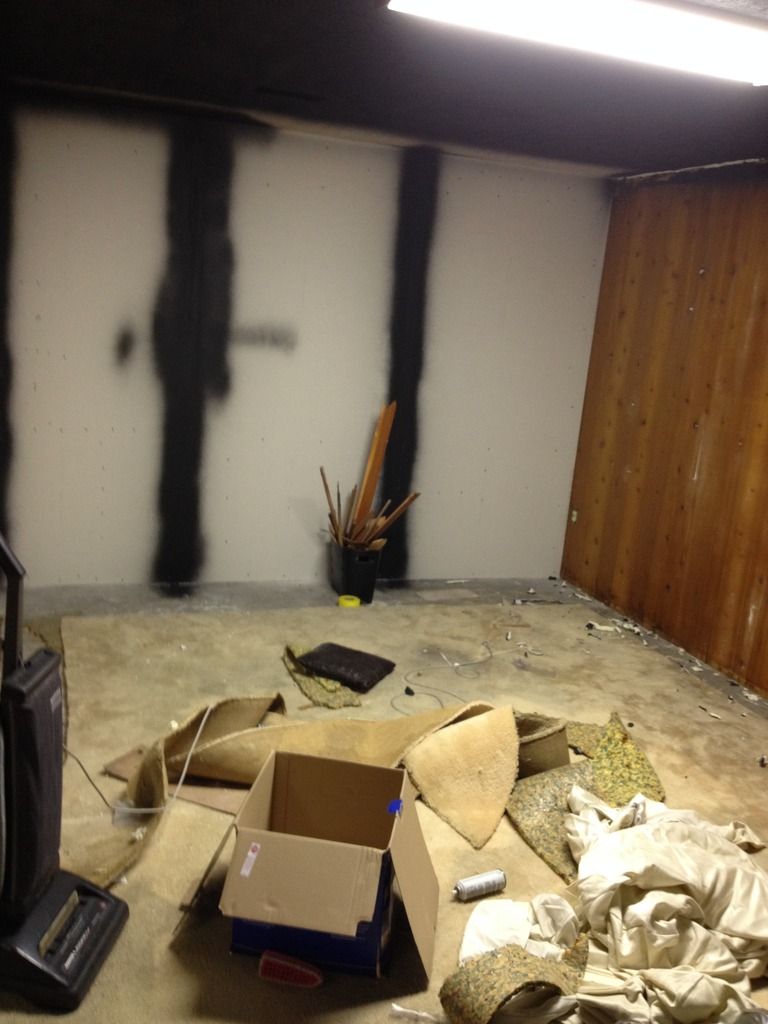 Ended up using the wood panel to make stripes similar to something I've seen in a real theater. Went with eggshell as a compromise on appearance/reflections. Ultimately will have gold crown moulding.
The stage base is 2 layers of roofing felt, and it's filled with sand. Front wall is covered with black felt.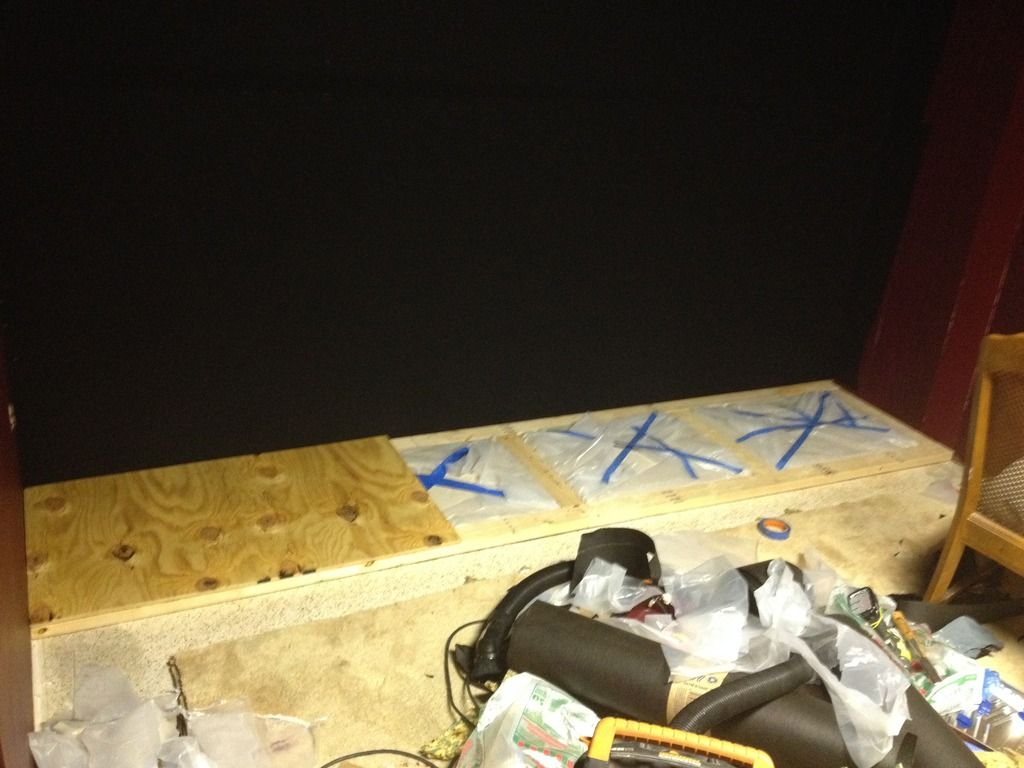 Covered in black velvet and started prep for custom speaker towers.
Initial gold trim work (I expect to have drapes over the door and am hoping it doesn't give me rattle issues as I like the look/function):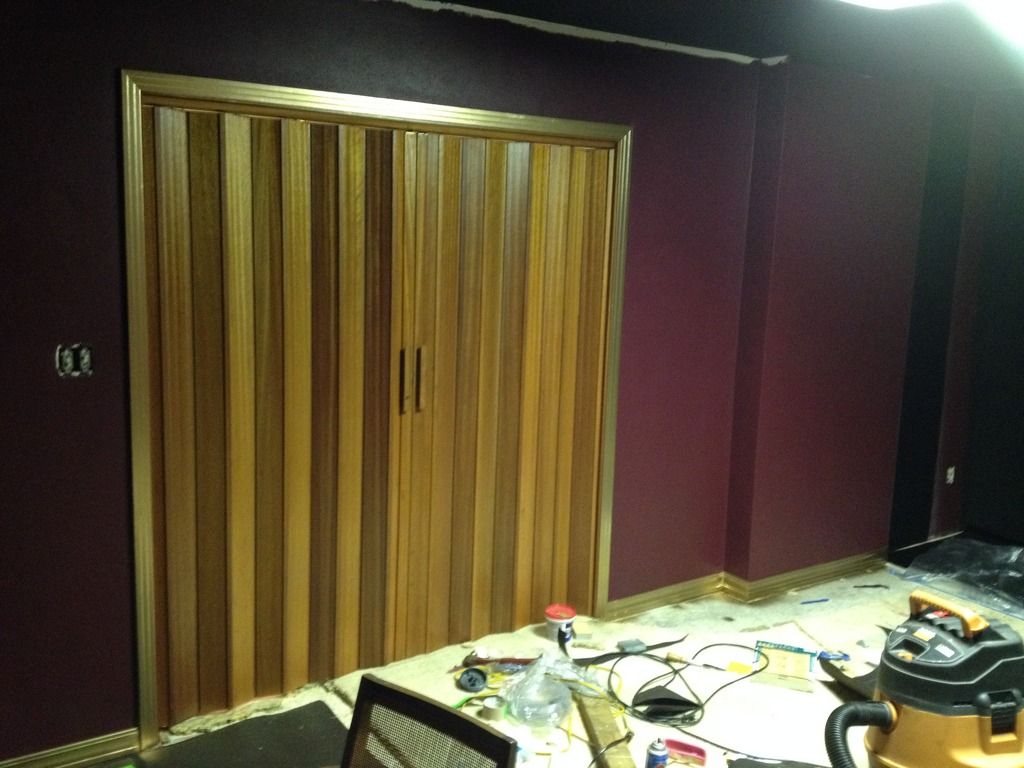 Riser (back wall will be completely covered with black velvet drapes, thus it will likely remain ugly, figuring the wall would be reopened if it ever came down).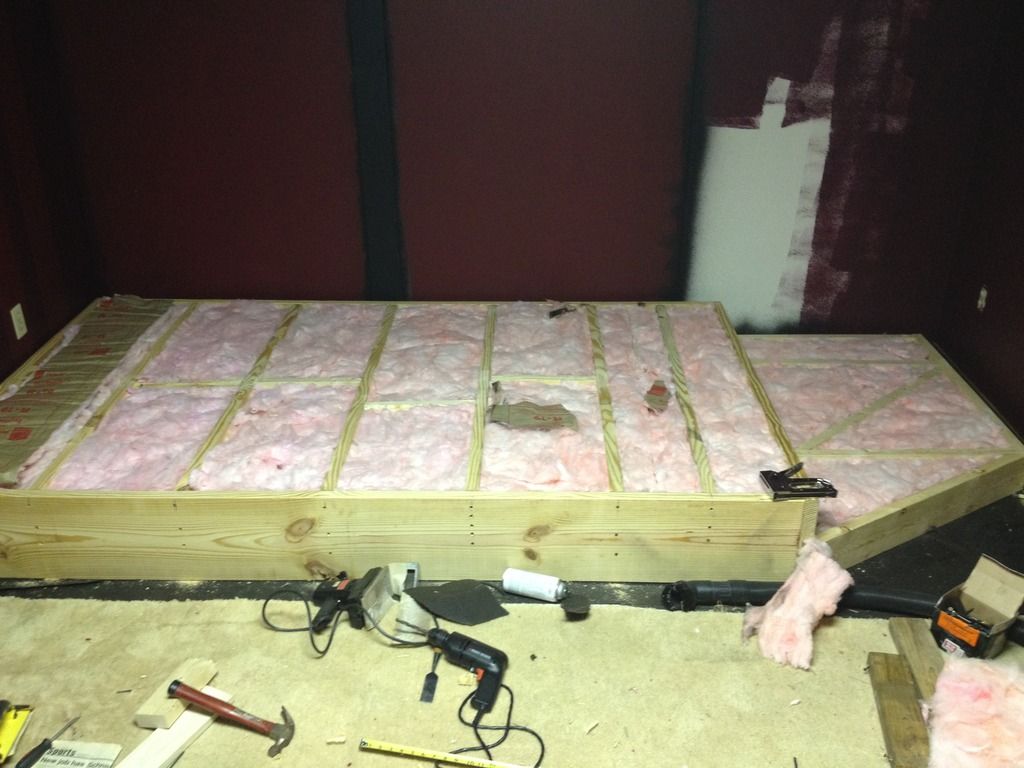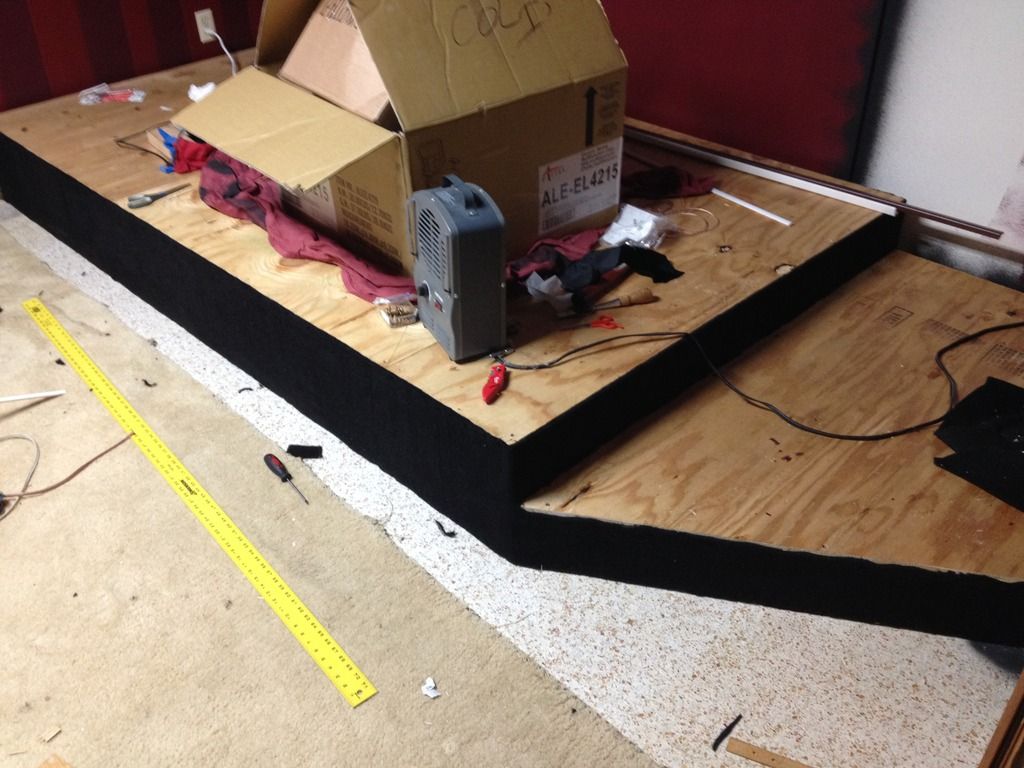 Made panels to cover the front ceiling with velvet (3 total):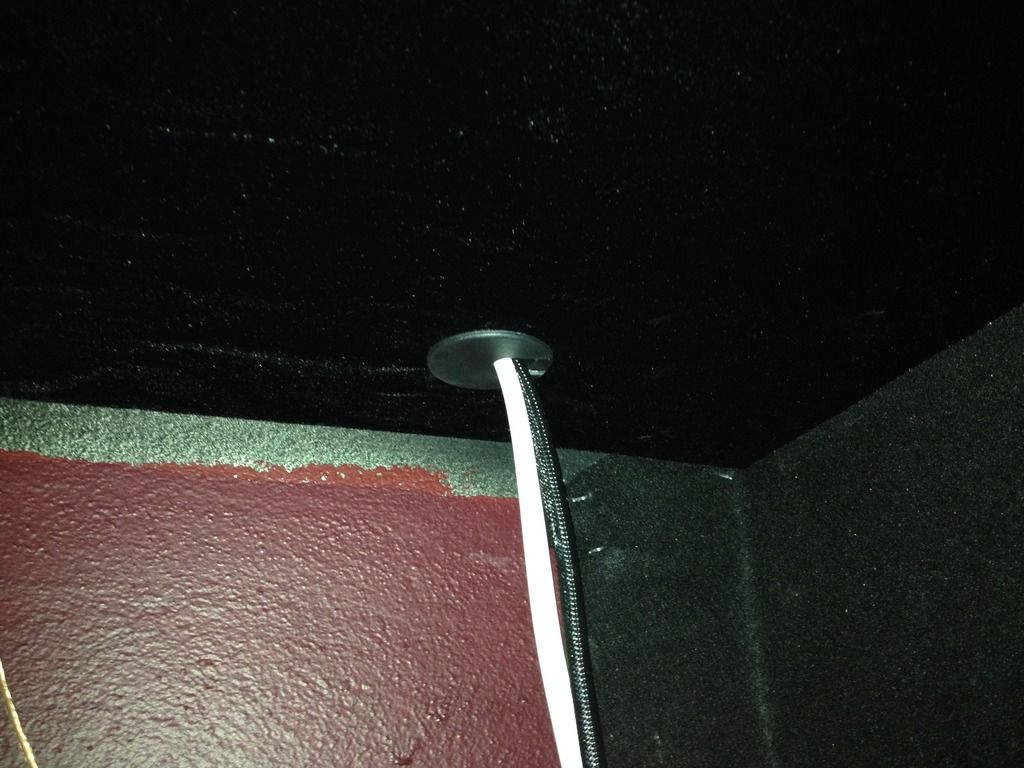 Modified the center channel grill with matte black spandex (same on the towers). I cut the metal out surrounding the tweeter area and separated the metal from the plastic back and used that to clamp the spandex down and glued it back together with JB Weld (trimmed away after the back photo was taken of course). Trying to keep as much stuff at the very front as black and non reflective as attractively possible. May wrap the cab with velvet.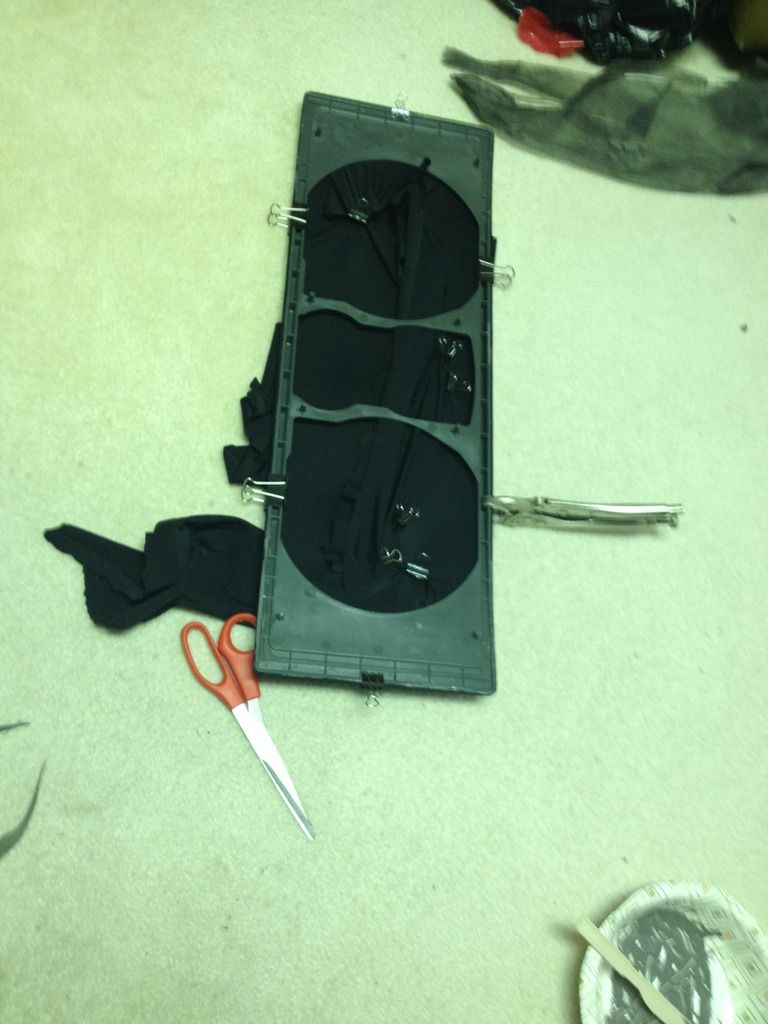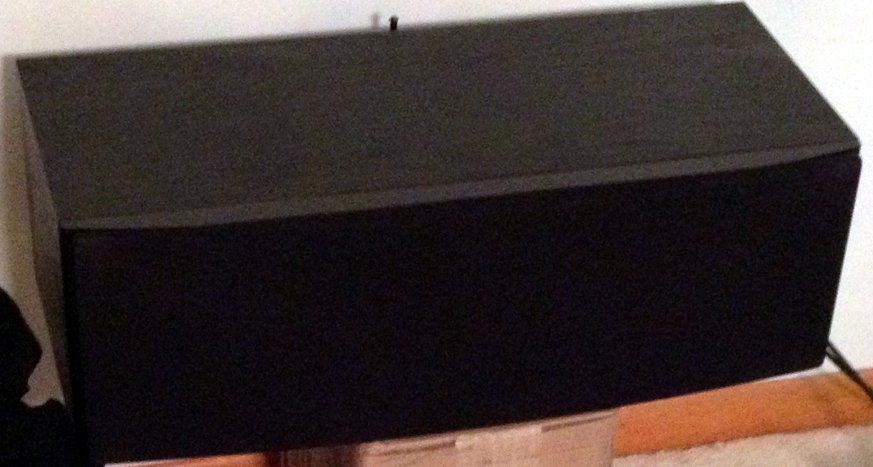 Rear Speakers. Wiring is going through the crown moulding channel and then through the wall.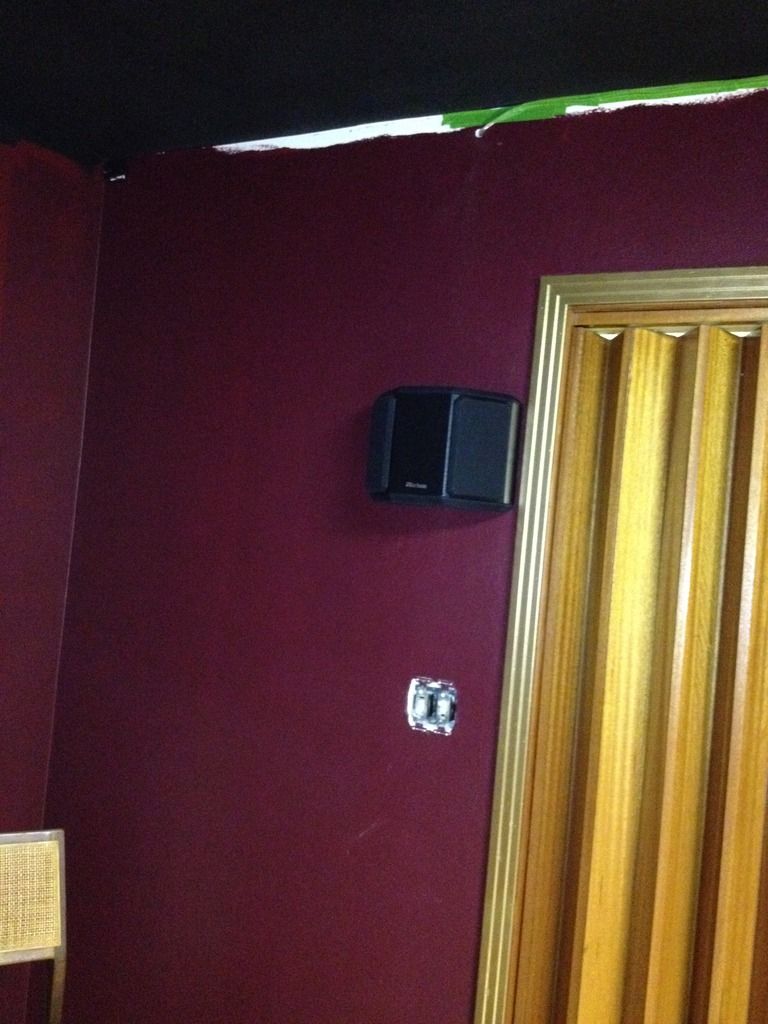 Towers coming together with shelves on the bottom and top (the low bottom shelf was merely to allow the speaker to be positioned close against the spandex face):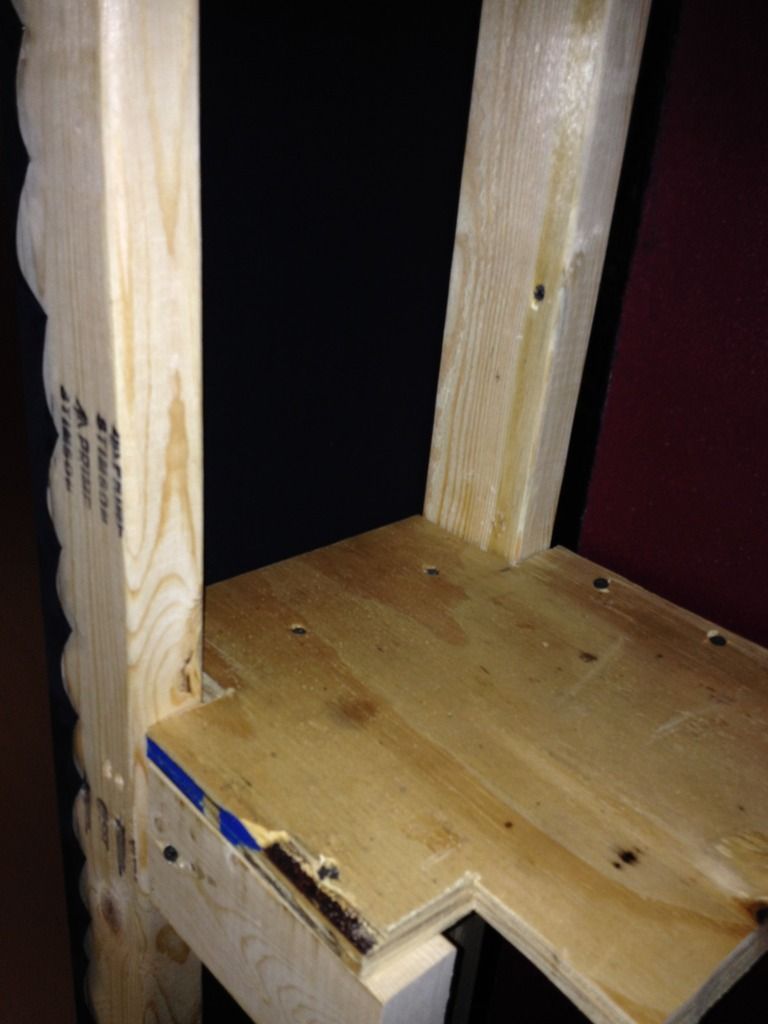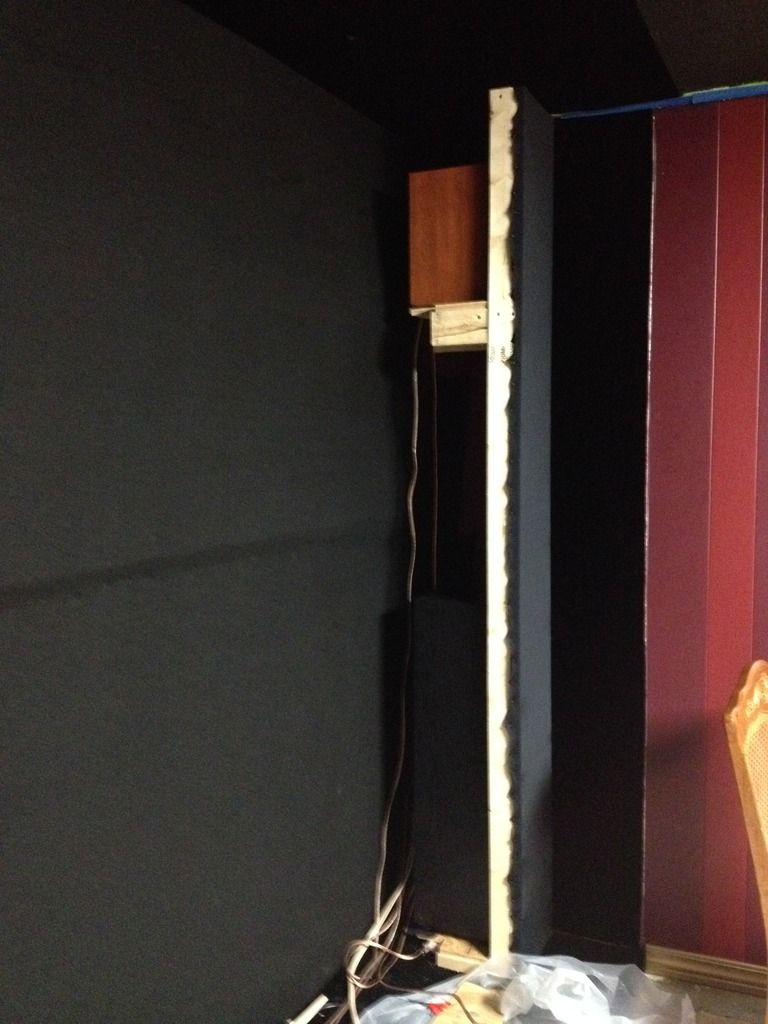 Left tower currently has velvet wrapped mouldings and the right does not (hard to photograph velvet to see the details). There will be mouldings at the front of the velvet ceiling and on the sides separating the velvet/paint, etc.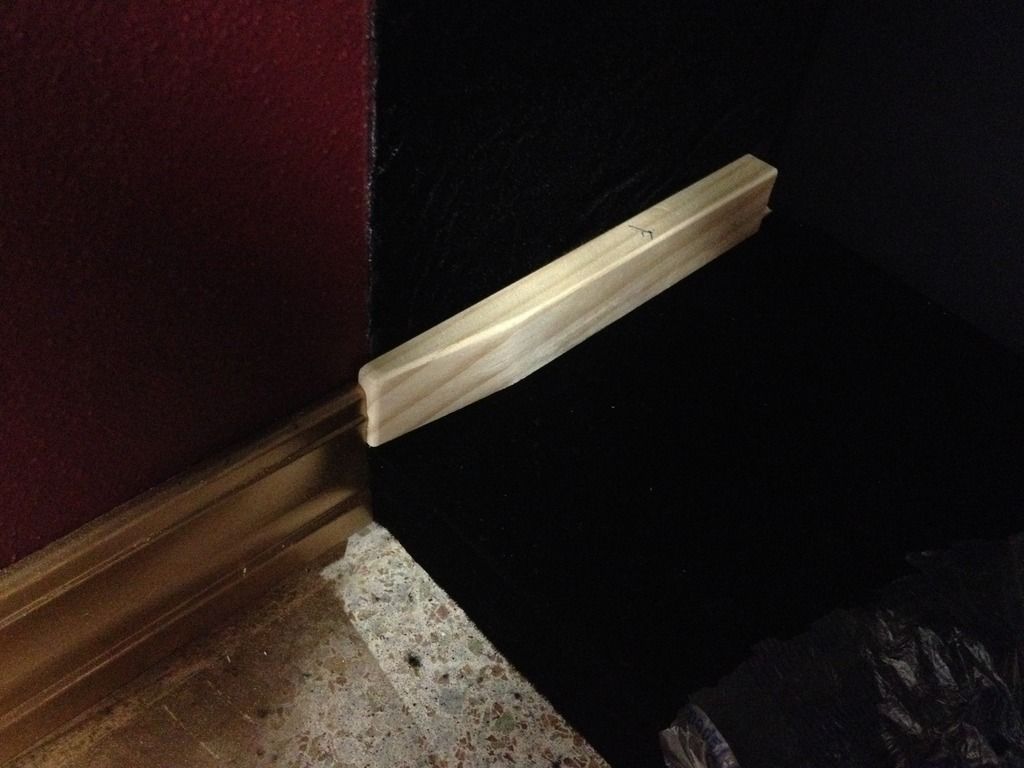 And the latest development is making an area in the garage where I can repair and paint the mounted sintra board (damaged during shipping). Will get some plastic sheeting, etc. before spraying primer. Should have about 1.5-2" of gap on either side of the outer frame from the towers once installed (screen as pictured is about 103" x 58", but viewable area will shrink slightly when framed).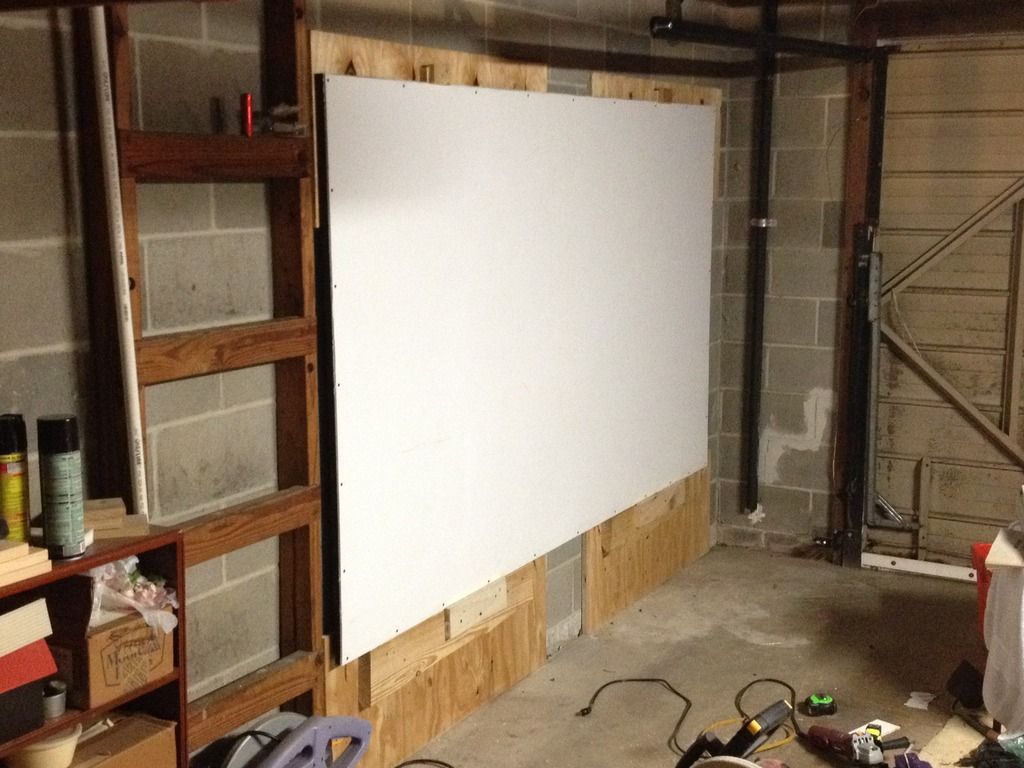 Planned seating is 6 Seatcraft Catalina (stock photo).