Discussion Starter
·
#1
·
I recently moved to Seattle and left my old DIY screen with my old house, it was time to get a new screen for my projector -- the image on the beige wall was just making my skin crawl. I priced out some pro screens but couldn't really handle the prices I was quoted -- though Jason was very helpful and friendly and quoted me what seemed like a very reasonable deal, it just was more than I was willing to spend.
Right up-front: I'm not a terribly handy guy. I can build a screen, I can swap out a garbage disposal, I can run some wire along a floorboard, but that's about it. I'm not writing this up as a pro "how-to" guide, but I thought I'd share my experience and what I did in case anyone was interested. I'm sure what I ended up with wasn't nearly as pro as a true professional screen, but it was vastly cheaper and I'm quite happy with how it turned out.
Anyways, since I'd made a screen before (canvas on a wood frame painted with matte paint from Lowe's), I figured I'd give it a try again. This time I wanted better screen material, so after looking around on the web I ended up picking the 140" grey material from BuildYourOwnProjectorScreen.com. Chris over there was very responsive on email and quickly sent out a couple samples for me to look at. I liked the look of one material and placed an order.
A couple days later it arrived in a nice solid tube along with the felt trim material, so I headed to Lowe's to pick up some wood for the frame. My room is a bit deeper than what I had previously, so I wanted to make sure that I maintained the same screen size -- roughly 9' wide. My projector is a JVC RS-1, so it's no light canon, but on the size/brightness question I tend to opt for size. The room can be completely light controlled, but in many cases won't be.
Anyways, I picked up two pieces of 10' (4x1/2") cedar for the top and bottom and two 12' pieces that I got cut in half, so basically four 6' pieces too for the sides and center supports.
We just moved in so there are boxes and crap everywhere, but I managed to clear out a space to work, and here's what I started with:
I have the projector mounted on a shelf on the opposite side of the room: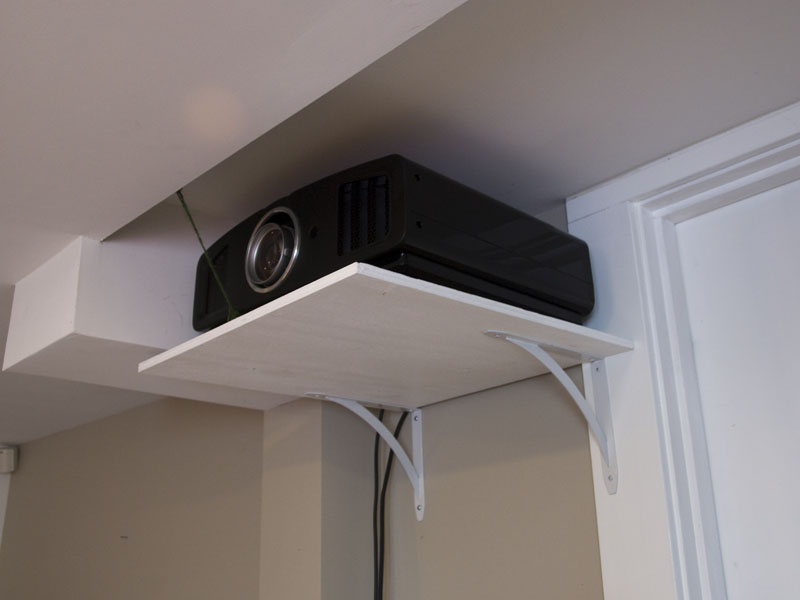 A closer look at the bracket: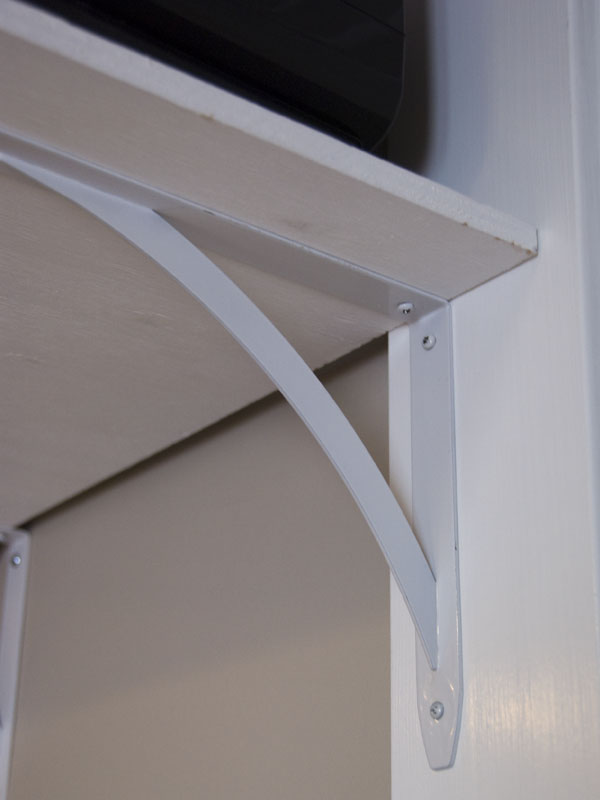 And the "safety twine" on the front of the shelf that makes me feel better about the shelf, though I'm pretty sure it's unnecessary: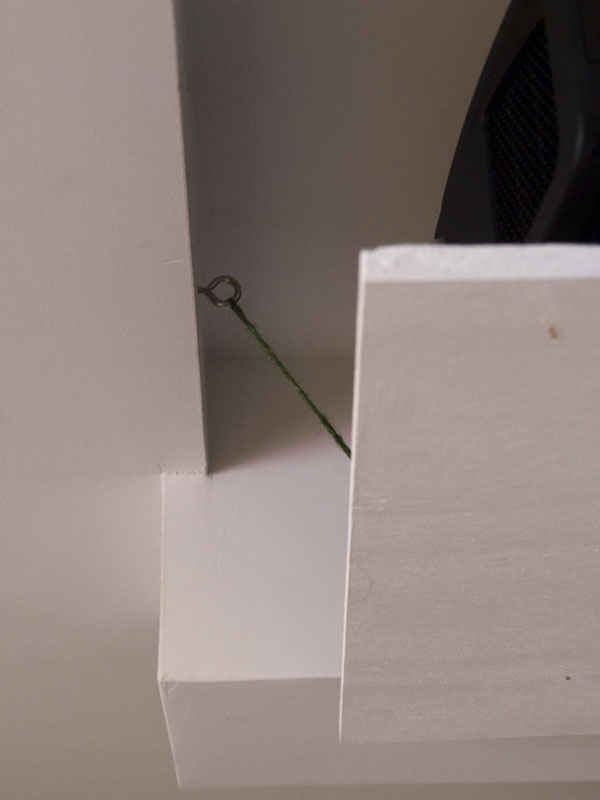 Anyways, back to the screen. I figured out where I wanted the picture to be, what size I wanted it, and measured it out. Turns out it was almost exactly 9' wide for the image, so I calculated out the 16x9 dimensions and measured the wood.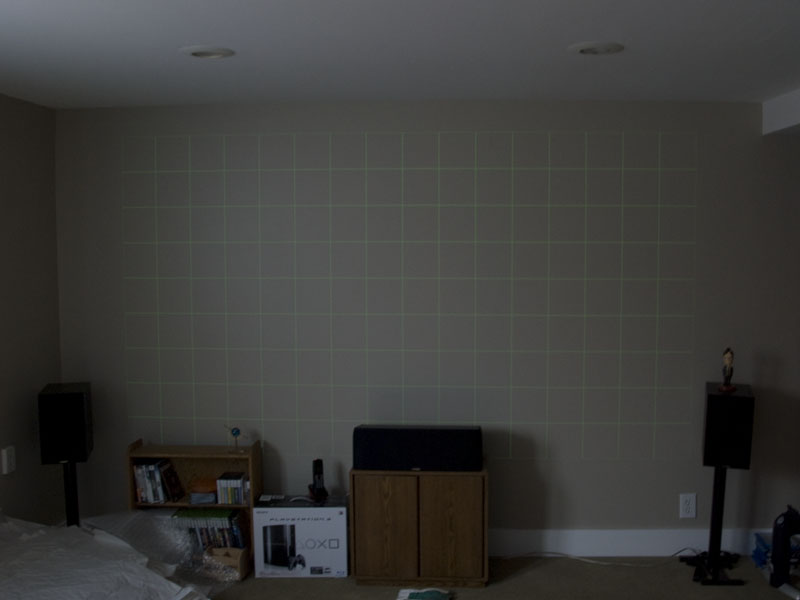 I bought a sweet miter box, and got cutting. I don't really know much about different types of wood (Lowe's only had cedar in the lengths I wanted), but I figure if they make furniture out of cedar, it's probably not flimsy crap. Plus it smells good.
Eyeballing my cuts, I appear to have avoided disaster so far. Though, I did accidentally cut one of the vertical sides a half-inch shorter than I intended, so I had to trim a half-inch off the other side. Oh well, I convinced myself that I meant to do that, because now I'll be splitting the difference between 16:9 and 1.85:1. Totally intentional. Yup.
Once I had all the wood cut, I lined everything up, placed the brackets on, and marked where the holes were going to be. I drilled small holes to make the screws go in more easily, though in retrospect I should have used a larger bit. I avoided cracking the wood, but there were a few times where it didn't sound happy.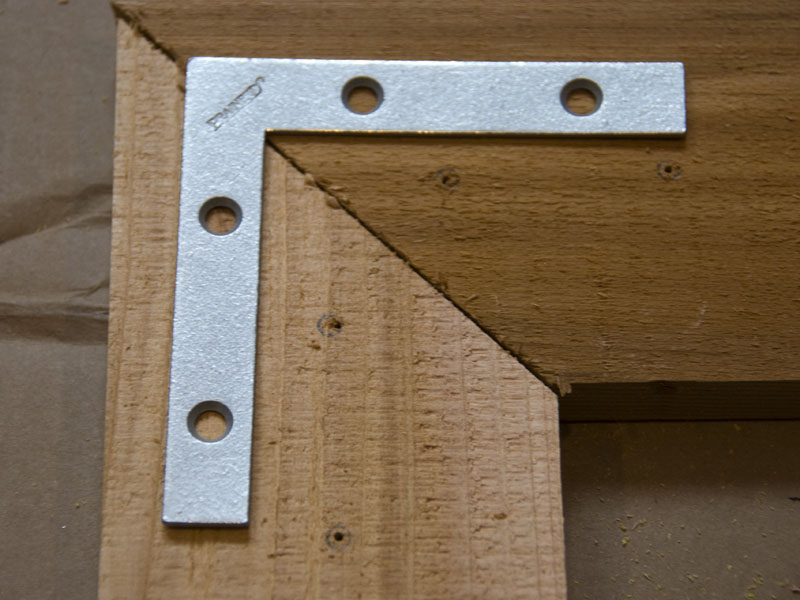 Also, if I had to do it over again, I'd probably line everything up, glue it, clamp it, and THEN mark/drill/screw the brackets in. As it was, I did it all at once, and the brackets tended to make the wood corners not completely flush -- they caused a little gap. I slathered it with wood glue and called it good.
The general plan was a rectangular wood frame and two vertical supports spaced evenly in the middle of the screen. That meant that the middle two supports were just normal 90 degree joins, so I measured, cut and marked those up for bracketing. I'm not convinced that mitering the corners of the frame is worthwhile -- maybe it was just my crappy bracketing job, but I sort of feel like just doing 90 degree joins with brackets would have been more flush and easier to pull off. Who knows.
One sore arm later and with surprisingly little swearing, the frame was done, it just needed to dry.
Day #2, the glue was all dry and the frame felt solid. I stood it up on front of the wall where it was going to go and it looked about right. It was also surprisingly light, which was good because it was unwieldy as hell.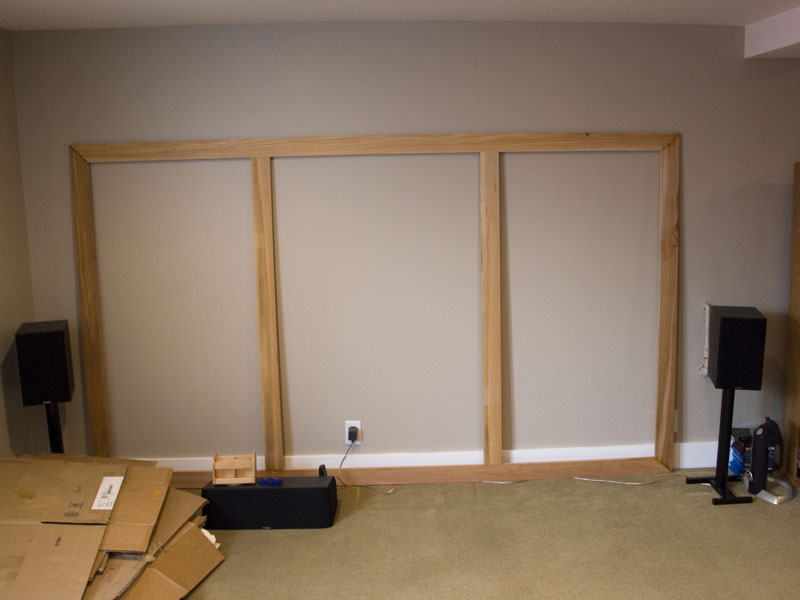 I took the screen material out of the tube and laid it flat on the floor. There's a little tile area by the doorway out and I didn't want to scratch the material, so I put down a couple old (but clean!) towels we had lying around.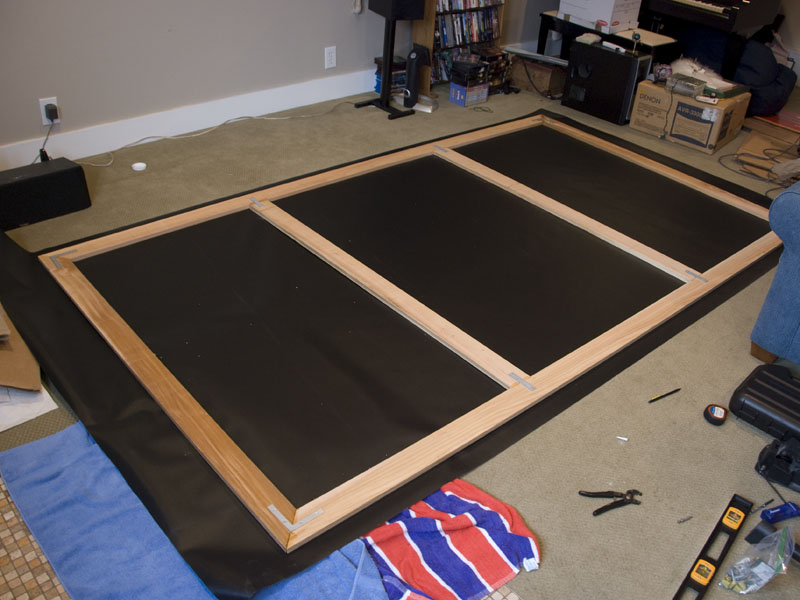 Though a little wider than I really needed, it fit quite well. I broke out my trusty staplegun and got to work. I first put one staple in the center of each side, then I alternated back and forth, doing four staples in the top (two left of center, two right of center), ditto for the bottom, then two staples in the sides (one above, one below). That worked out pretty well so that I got to all four corners at the same time.
I was worried that I'd have a huge bunch of material in the corner that I'd have to cut off, but I ended up just being able to fold it up neatly and staple it down. All those years of folding laundry finally pay off!
Now, they say you should "stretch" the material. And I definitely pulled, but I didn't detect much stretching going on. About a third of the way in the screen was looking awfully wrinkly and I was predicting disaster, but by the time I finished up I was happy to see that it was looking pretty smooth! I flipped it over and boom, it almost looked like a screen!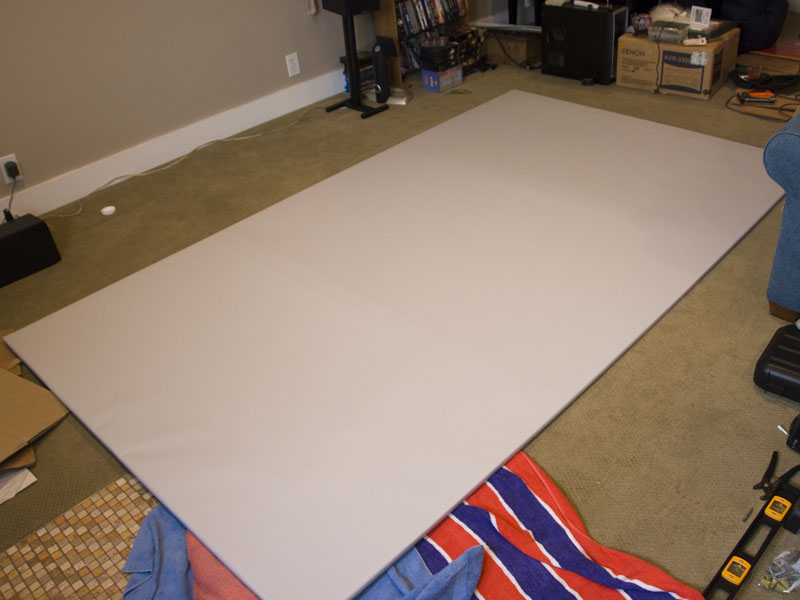 Next up was putting the border on -- I ordered the 4.5" felt border from byopj, which has a great adhesive backing. With the help of my wife I lined it up so that each strip covered the edge it was getting attached to, and carefully moothed it out as I stuck it on the screen. I thought the felt trim material was kind of pricy, initially ($55 + $10 shipping for a 4.5" wide 35' roll), but holy crap it was SO easy to put on and looks great, so IMO it was worth every penny.
All that was left was attaching it to the wall. I wish I'd taken pictures of this part but I totally forgot and sorry folks, I'm not pulling it off the wall just for that! Anyways -- and this is my own invention that I suspect some people will be appalled at -- I drilled a roughly 1/4" hole in the center of each of the support beams, not all the way through, and then put two screws into the wall (studs if you got 'em, 75lb drywall screw deals if you don't), leaving a half inch or so of screw protruding. Then, just put the screen on the wall, lining up the heads of the screws with the holes in the support beams (I drilled the holes at a slight angle so it'd catch properly). This has to be very carefully measured because it's a royal pain in the ass if they're off and you're holding your screen and they don't line up, but if they line up, it's pretty sweet. And, boom, screen on the wall!
The nice thing about this is that it does very little to the wall (just two screws) and ends up with a screen utterly flush with the wall.
Turned on the projector, did a little adjustment, and I'm done!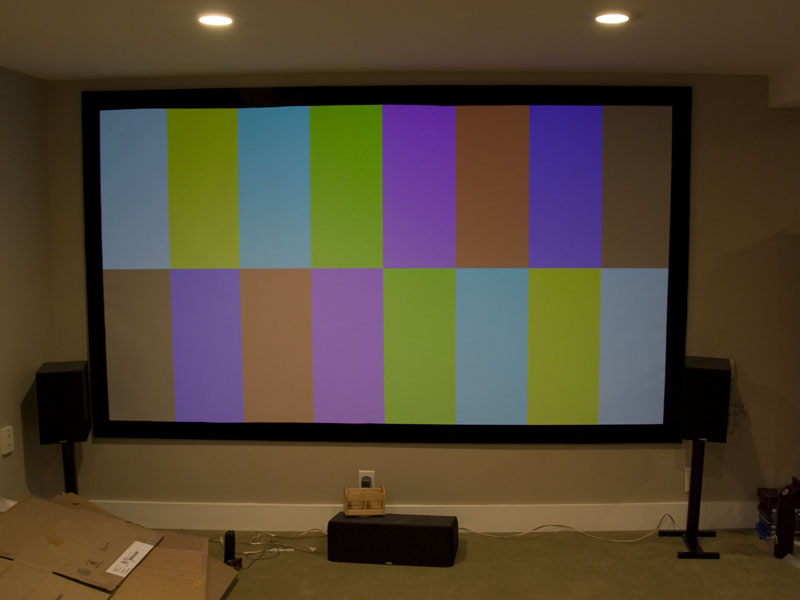 Overall I'm really happy with how it turned out and how the screen material looks. Supposedly it's a 1.1 gain and it definitely has a bit of texture and is slightly shiny, but I don't notice any hotspotting or sparkliness. Like I said, it's definitely not at the overall quality level of a Stewart screen, but it was a couple afternoons of work and $180 total in materials, which is hard to beat.
Hopefully this is useful/interesting to someone out there. If anyone has any questions or wants other photos or anything, just let me know!