Discussion Starter
·
#1
·
I've been posting pictures of my bar that I built in my basement adjacent to my open theater area in a couple of different threads and thought that I may as well begin my own thread. I am not going to give a lot of detailed measurements simply because my area will certainly differ from what others may have in their environment. I'll attempt to explain what I have done and why. I looked at many bar threads and plans and tried to keep mine simple and inexpensive.
I made my bar portable. Why? Simply because I may need to move it to get items in and out of my basement door. Believe me, it's stable and it slides across my carpet with ease. I just unscrew two bolt attached to the base cabinet and I can move it by myself.
As you will see from my pics, there is no blueprinted plan. I actually placed blue painters tape on the floor to see how the bar would impact on mobility in the room. I moved the tape several times.
I'm still adding items and changing décor frequently. I like my environment to be flexible; i.e. Superbowl parties, movie parties, etc.
The beginning;
Here you can see what the area looked like when we bought the house. The base cabinet I could use again, but those head knocker top cabinets had to go. They were narrow and not very utilitarian. They look great in the garage though! 
My research indicated that the bar should be 42 high from floor to top. Figuring that I would have a sheet of ¾ inch plywood for the top base plus and estimated ¾ inch of whatever I decided for the finished top of the bar. I had them cut both plywood sheets to 40.5 inches. This gave me four 40.5 by 48 inch sheets out of the two eight foot long sheets to make up my base.
This shows the long dimension. My base is 7 feet long by 4 feet wide with a 2 foot return.
This shot shows the 4 foot section of the base and the ¾ plywood top.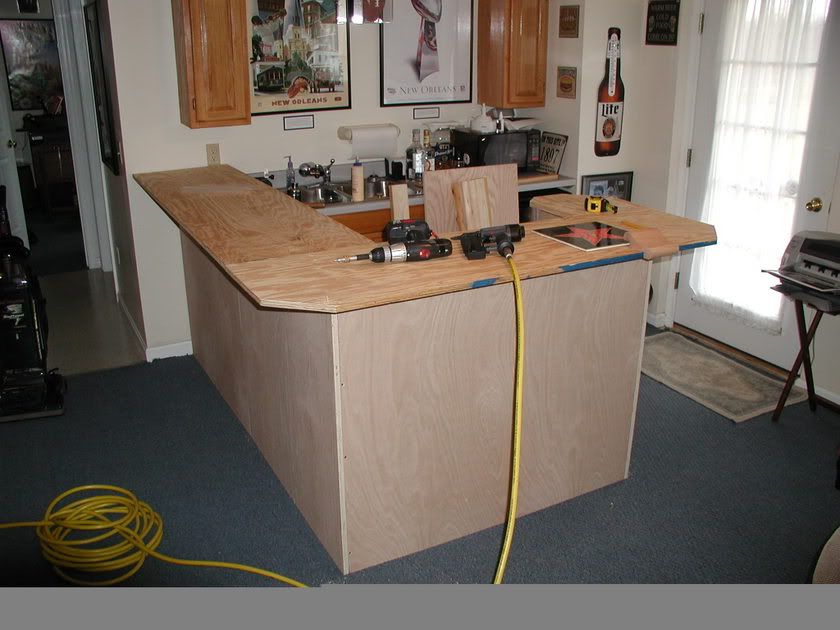 This shows the return and you can see the back of the bar that I used 2x4s to bridge the plywood sections.
How the unit will relate to the half of the basement room.
The beginning of the application of the bar railing. I love this stuff. It drove me crazy, but it looks good and is very comfortable. The chair is there to check the height, but it was several inches shorter than our final chairs. So why did I bother? Because I was thirsty!
Long side with railing application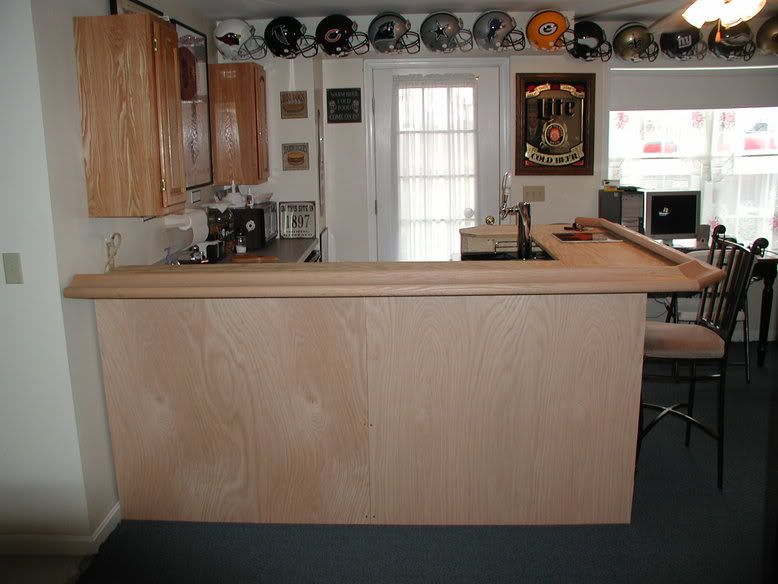 Return side