Discussion Starter
•
#1
•
Hello Everyone,
Well I have a little time so I will update on the progress. First, all the construction is DIY and the equipment list is below.
Receiver: Onkyo TX -SR605
SD DVD player: Sony 5 Disc (need to check model #)
Game System: XBOX 360 and Modified XBOX 1 and PS2
Media Center: Xbox 1
Sony PS3: gaming and Blyray
Speakers : All JBL Venue series
2 X Stadium 3-WAY 8" Dual Speaker
1 X Voice 2-WAY 5" Dual CC Speaker
2 X Balcony 2-WAY 4" on wall speaker
1 X SUB 12 12" 500w Powered Subwoofer
Projector: Mitsubishi HC 4900 1080P
Screen: DIY Blackout Cloth 86" wide
Updated photos. Not 100% complete, but close. Thought I would put these in the beginning. Some panorama shots.


Hello everyone. I have decided, like so many others, to track my Home Theater build here. This is my first build and I have to thank all of you for the amazing amount of information on this site. anyway on to the Project.
Beginning Summary: We bought this house in June 07. It already had a finished basement built for a live in nanny. We have no use for this and I have decided to convert one of the finished basement rooms into a home theater. I have always wanted to do this (with my other houses) but never had a chance. Anyway, some constraints
1) build with cost savings in mind
2) do not overhaul the basement
3) Re-use as much material as possible from any tear down
4) Keep my wife out until complete
I posted some designs a while ago, but here is (for the most part) the one I decided to go with: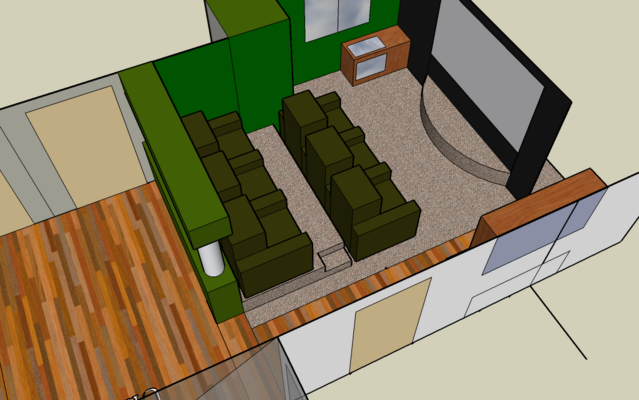 This is the basement room before any work: