Discussion Starter
•
#1
•

***EDIT 1/4/2014
Some newer photos taken with Canon T3i.  Still learning the camera but these are better than the previous set.  
Picture from doorway entering Theater.
Entering the Theater with lights on
Similar photo with less light
Similar photo a bit over exposed so you can see everything a bit clearer - but colors are off.
From just behind second row seating.
From directly in front of center of screen facing seats.  In the back right you can see the fabric door I built to conceal the A/V rack.
Angled shot from the front.
*** EDIT 8/2/2012
Some Finished Photos

***Edit 8/21/2012  
Equipment List
AV Rack Equip:
Main Receiver - Pioneer VSX 1121
Secondary Receiver (used as amp) - HK AVR 120
Home built HTPC
Probox DAS - 8TB
PS3
XBOX 360
APC-UPS  
Speakers:
LCR - Aperion 3 X 5T Intimus Towers
In wall side surrounds - 4X Home Theater Direct HDW65
Rear Surrounds - 2X Aperion Intimus 4BP Bipole  
Projector:
Panasonic PT-AE8000U  
*** EDIT 8/17/2011
Some dimension changes. Also changed design of acoustic panels.
*** EDIT 4/23/2011
Editing the first post to start thread with final design decision. Had gone through several designs and this my friends is the THIRD "Final" design
. Once complete, I will use this first post to summarize the final product and of course final photos.
So Here it is the Third and "final" ...final design... subject to change without notice.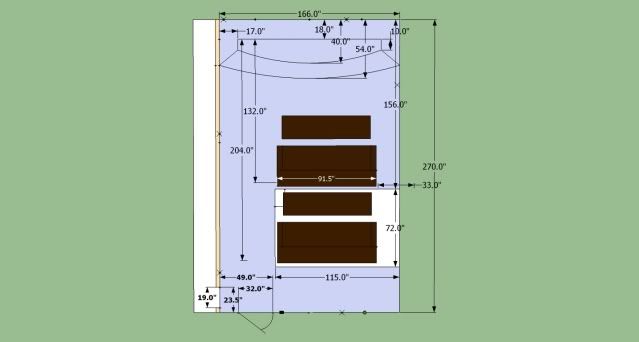 Electrical Layout:
Screen size: 120" wide 2.35:1 AT Screen
Sound: 7.2 surround
Equipment list: (Reserved as this may change)
Color scheme: Burgundy and Tan (subject to change)
Final Pictures: (Reserved)