Discussion Starter
·
#1
·
Hi,
Just got a brand new house (i.e. house is being built) and the builder is giving us the option to prewire 5.1 or 7.1 speakers in the ceiling. I have very little knowledge about surround sound systems and wanted to get your opinions.
Here is the setup of our living room. As you can see, it's pretty open and the sofa will be against the wall.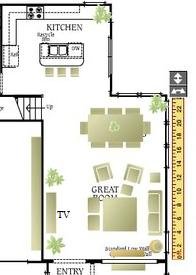 Would it be a bad idea to go with a 7.1 setup since the speakers won't be a couple feet behind the sofa?
I also read that it's not a good idea to put the front speakers in the ceiling, so is getting a prewire installed a bad idea all together? Can someone suggest a good alternative that's easy to install/setup if I choose not to do the prewire upgrade?
Thanks!