Discussion Starter
·
#1
·
The catch? I'm only 18.
My parents are building a new house. They've decided that I'll live primarily in the basement throughout college. As I currently have a very small, very bad tube TV (see below) I was planning on upgrading to a flat panel. But then I realized that I've got the space for something more. What better way to do it than with a 720p projector and 5.1 surround?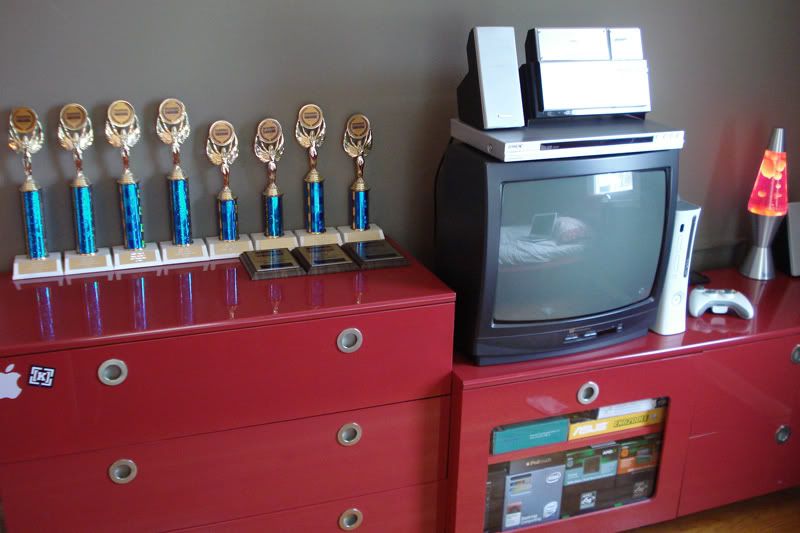 There's only one catch. For now, I make $11.82 an hour part time. While I don't have very many expenses (in fact, my dept to my parents is the only one) I don't have 5k+ to do this "right". That's the kind of person I normally am, but since this is a relatively low priority, I'd like to keep things under $1.5k. I work at Best Buy and we get some pretty cool accommodations, which are reflected in my component choices. They include the following:
Mitsubishi HC1500 with ceiling mount and 3 year service plan (for bulb replacements) - $940
Klipsch Quintet III 5 piece surround sound system - $200
Klipsch SUB-10 sub woofer - $160
Pioneer VSX-918V-K - $220
I will have the proper window treatments as well. Sound will be provided through an S/PDIF optical cable from the PC to the receiver.
My HTPC will consist of:
Intel Pentium Dual Core E2160 @ 3.2GHz
Gigabyte GA-EP31-DS3L
2x 2GB Corsair XMS2 DDR800
Antec NSK4480 with 380w EarthWatts power supply
250GB Samsung SpinPoint SATA
Samsung DVD-RW
Lite-On BD-ROM
EVGA 8500GT
Windows Vista Ultimate 64-bit
So do you have any suggestions (components, execution, etc.)? I'm really not set on the receiver but it seems that it'll suit my needs well.