New Magnavox HD DVRs MDR877H, TB560HP, TB560HS
Funai, a 56-year-old Japanese electronics company, plans to release 3 new HD DVRs in the 4th Qtr 2016 under the Magnavox brand name (licensed from Philips). All 3 will have multiple HD tuners and Guide. These new Mags will be the "2nd-draft" of the next-generation recorders
we requested from Funai in 2011
. The 1st-draft are the currently selling
MDR865, 867 and 868
:
These new Mags will be:
MDR877H/F7, with 2 HD tuners, 1TB HDD and DVD burner. An upgrade to the currently selling dual-tuner HD DVR MDR867H which has two digital-only OTA/cable tuners.
TB560HP/F7, with 2 HD tuners and 1TB HDD.
TB560HS/F7, with 6 HD tuners and 2TB HDD.
Recording capacity can be expanded with external HDD-Flash/Thumb (EHDD-FT) drives. They will also have AV inputs, a no-fee EPG, WiFi, pause/rewind live TV (buffer), Home Network Media Server, DLNA Sync (watch room-to-room), DVR Link (recordings from all DVRs available via single menu), and more.
Features of TB560 models: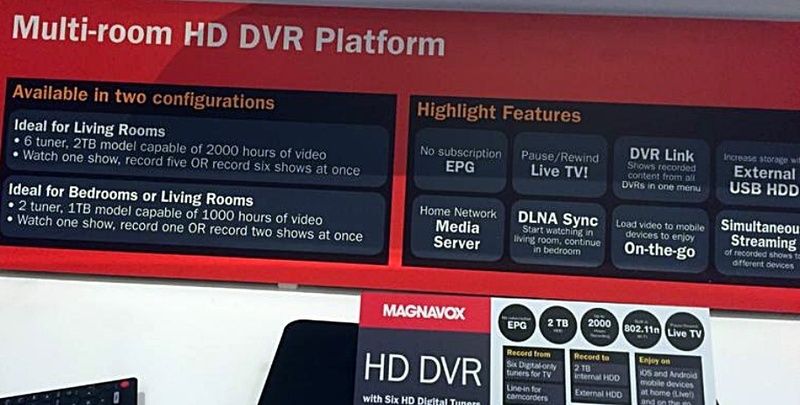 Articles with
very
prelim. info:
I have to commend Funai for their early marketing/advertising of these new products... VERY unlike them! We had virtually NO advance notice for any of the previous 9 generations of SD recorders, and only 4-weeks advance notice for the "1st-draft" HD units (865/867/868).
Unfortunately, advance notice is a double-edged sword: the earlier the notice the more
FUD
before anyone gets their hands on an actual unit... this time, with at least 9-months notice, it will be an interesting ride, to say the least.
Obviously, since these are still in development, many things are not known for a fact and, if "known," may change in the next 9 months or more... unless they decide to release them sooner!
Click any thumbnail for slideshow with larger pics (from articles above):