Discussion Starter
·
#1
·
I had a good day at the pawnshop. But first, a warning from the Honorable Order of Kentucky Colonels, I am proud to be a member of their storied and exalted ranks and 200 year heritage of cantankerous yet patriotic Kentucky men and women saving Yankees from their own folly. Here is the required warning from the Surgeon General of the Order:
*********WARNING*********** " THIS IS A LONG, RAMBLING AND SOMEWHAT WANDERING MONSTER OF A POST.***************** as in; "Colonel John tells a good yarn but that b*stard could talk the ears of a mule."
Beginning of actual post:
Someone pawned an 8 piece brand new out-of-box LG 500 watt stereo receiver/dvd/multi-format system... but they hadn't gotten much, since they were missing one of the smaller speakers. Receiver, subwoofer (bi-amplified but not self powered) am/fm, remote digital and standard analog inputs for aux, turntable, even has built-in ipod remote capability. no more then 4 months old per the shipping tag on the box.
Ahhhh but sadly, they LOST a speaker. Ooops. Pawn guy said no - but then gave them probably $20.
90 days elapse - comes out for sale - price with tax for 7 pieces? (retail discount is $299.99 new) $53 SNAG
Wow.
Now - this is the newest version, with the ultra-contemporary (think Bang-Olufsen) (if not spelled right hell i'm OLD) chassis, NO external cooling fins OR VENTS on the TOP (how??? - the next one in the series pushes 1000 watts!) but this is the slim one - about 1" thick, modern art/gloss black... and is a total power output champ by my old-school standards at a 500 watt (rated) for all 6 in a 5.1 dual-amplifier setup powering one subwoofer and 5 satellites (center + 4). How do they do this WITHOUT GENERATING ANY APPRECIABLE HEAT? Magic I guess - or ceramics. Anybody know? That's question number ONE
It is really, really cool both to the touch as in no heat, and to look at. It is art. and - it weighs like 2 lbs. Cool. Glad I bothered to live to be 50 suddenly.
Here's the only closeup of a similar LG - mine has a round volume knob (all smooooth and shiny) at the right end. Cool, huh?
I'm an old-school pot-smoking unrepentant hippie-type with a 31 year old PEACE SIGN and REAL HIPS (hair said goodbye about 20 years ago) So here I am, a reclusive, eccentric, successful old cranky dude, *think Lebowski type* who has one hobby, which is relaxation.
Ah, relaxing. I like it so much I went pro a few years back. All I do is hang out, cause trouble, protest war and... listen to tunes. Nice. Proves something - as I bet you a penny I'm happier taking a **** then George W. would be if he won the lottery - and we're like, nearly the same age, man.
Piss cups and preemptive wars my ass you hypocrite. (puff) Anyway - back to THE TOPIC.
SO - I have a HOUSE full of systems, as the only SCIENCE class I took on my way to a M.S. in economics and media studies was the physics of STEREO systems.
On to the question -
If I am correct, my 4 yes 4 small but top-end JVC gold series 8 ohm surround REAR channel mini speakers will be incredible - as wired in parallel they magically become 4 ohm twin-speaker modules (think bose acoustimass). Incredible and hardly ever played at any real volume, these were the REAR pairs of a 1st gen high-end JVC system, in genuine walnut cabinets. I'm hoping they will work WONDERFULLY as my front Left and Front right in parallel-wired pairs, I'll put a mount on to attach them that rotates - then aim them like Dr. Bose' acoustimass blocks.
Here's the Bose setup:
Here they are - but mine are the "gold" series so the JVC is in Gold instead of silver on the grills. They look awesome and sound great - I currently power all four of them with a super cheapie chinese mini cd system in our guest room.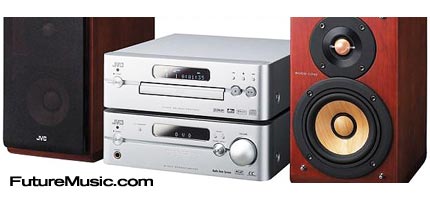 If they weren't cool enough already - I learned when I searched for the image that the finish is created by SOAKING THEM IN REAL JAPANESE SAKE! OMG! Could it be possible? Perfect for my lifestyle in every POSSIBLE way.
Are there any pitfalls here? I'll simply have these gorgeous real-wood (but smallish - about 10"X6.5"X4" so about 13.5X10X4mounted together allowing for .5 of a well insulated adjustable mount connecting each pair...., and I can aim them as you do the bose units - to match the room.
(for those unaware of the physics - wiring in parallel cuts ohm ratings by the number of speakers you wire, thus with two 8 ohms they magically become 4ohm - per paired set. Each channel feeds two speakers - just like Bose does on their minis.
Any thoughts? I am furiously hoping this will turn a magic LG new-tech amplifier system into an incredible home-theatre barn burner.... as why not just parallel my four medium sized but ugly Kenwood high-end 8 ohms in the back, spread them around the room... and combine both centers (JVC/Kenwood) as well - making it a directionally adjustable 10 speaker array, so it will be 10.1 - counting the subwoofer!~
Hey - Something must be wrong about this - but the math works, and by massively underdriving these midrange/treble satellites and center speakers my sound quality should be sparkling, yes?
PLEASE give me honest opinions - charm is for cereal boxes. If this is an idiots plan TELL ME.
Col. John Redbear Edward Charles Hubertz
(Kentucky Colonel, y'all)
Fort Wayne Indiana
"Yes Madam, you are correct, I am intoxicated; but I should point out that YOU are ugly, and I will be SOBER IN THE MORNING"
(Winston Churchill)