Looking for advice from the AVS community.
First some background - I am an old school home theater enthusiast. I have been in the hobby since the 90s - my first big home theater purchase was a CLD-D704 in 1996. I was a regular on the alt dot video dot laserdisc newsgroup when the WWW was in its infancy. I spent $2300 on a 50" three-gun Mitsubishi CRT rear projector. I still have 500 or so LaserDiscs though I almost never watch them any more (except some music discs). I've had systems for years. Young punks don't know how good things are right now!!!!
My current basement setup is 7.1 and I love it; the performance is really amazing to me. It is in a section of a large finished basement rec-room that is open to the bar and pool table areas. I am budget minded; I like deals and I am not a stickler for high end - Some of my gear came from Facebook Marketplace, Craigslist, and even Thrift stores.
For reference.... Gear is as follows: Speakers are Polk Audio Monitor 50s for the main L/R fronts, matching CS1 center. Rear speakers are the front/rear L/Rs from a Polk RM7500 5.1 speaker system. Projector is an Epson 2045 (1080P, 3D - I
LOVE
3D), screen is a 110" Elite Screens SB110WH2. Receiver is a Marantz SR-5007 which is *just barely* powerful enough for the room; I've had much more powerful receivers here in the past.
Subwoofer is a dual 15" driver infinite baffle manifold behind a return air vent, driven by a Vestax VDA-1000. This sub is more than adequate for the room. Building another sub for the front would be pretty much out of the question.
My rear speakers are high on a wall modelled after a movie theater.
Not to scale view of the room.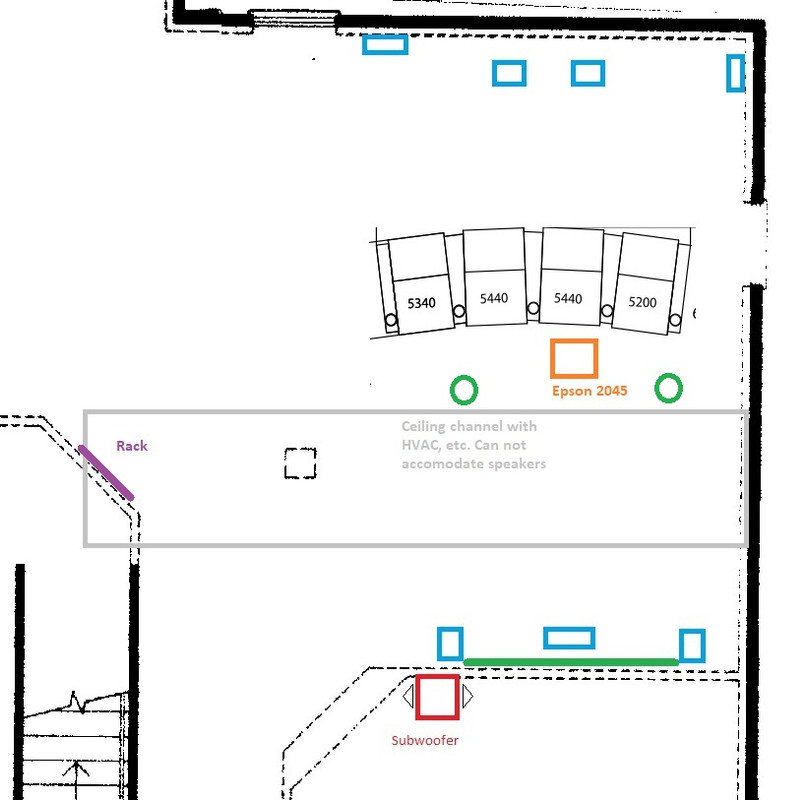 Some super wide angle pictures from my phone:
Rear speakers and stuff: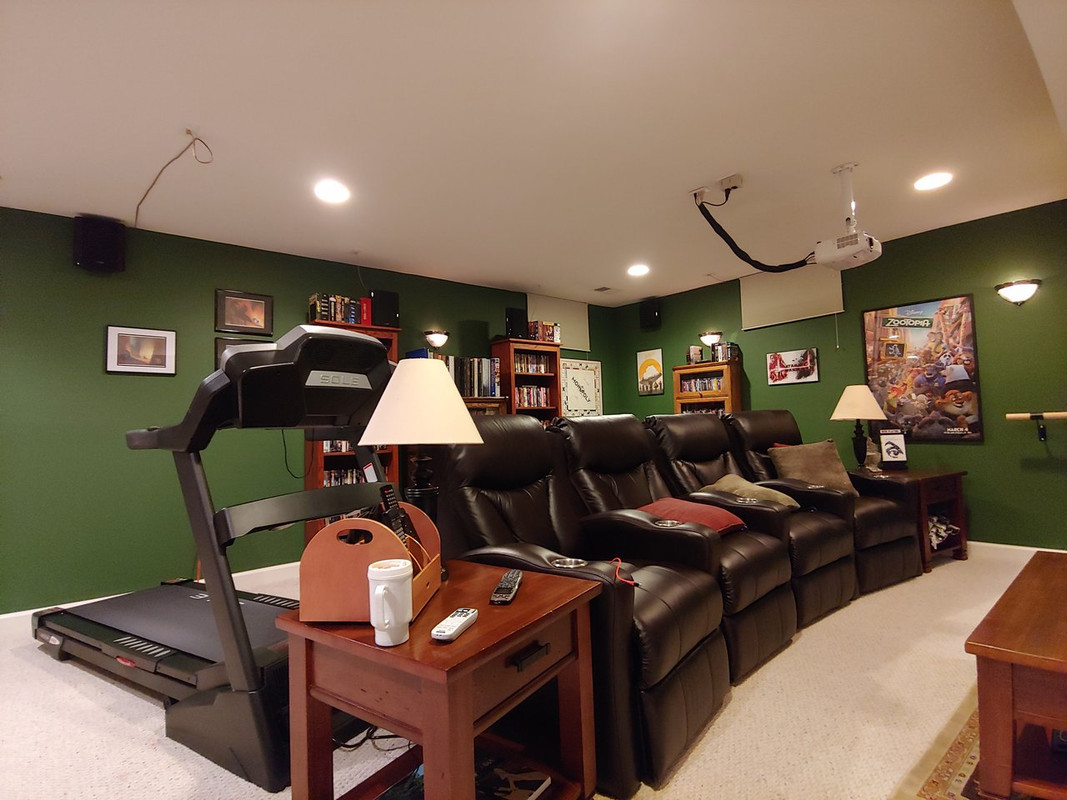 Front: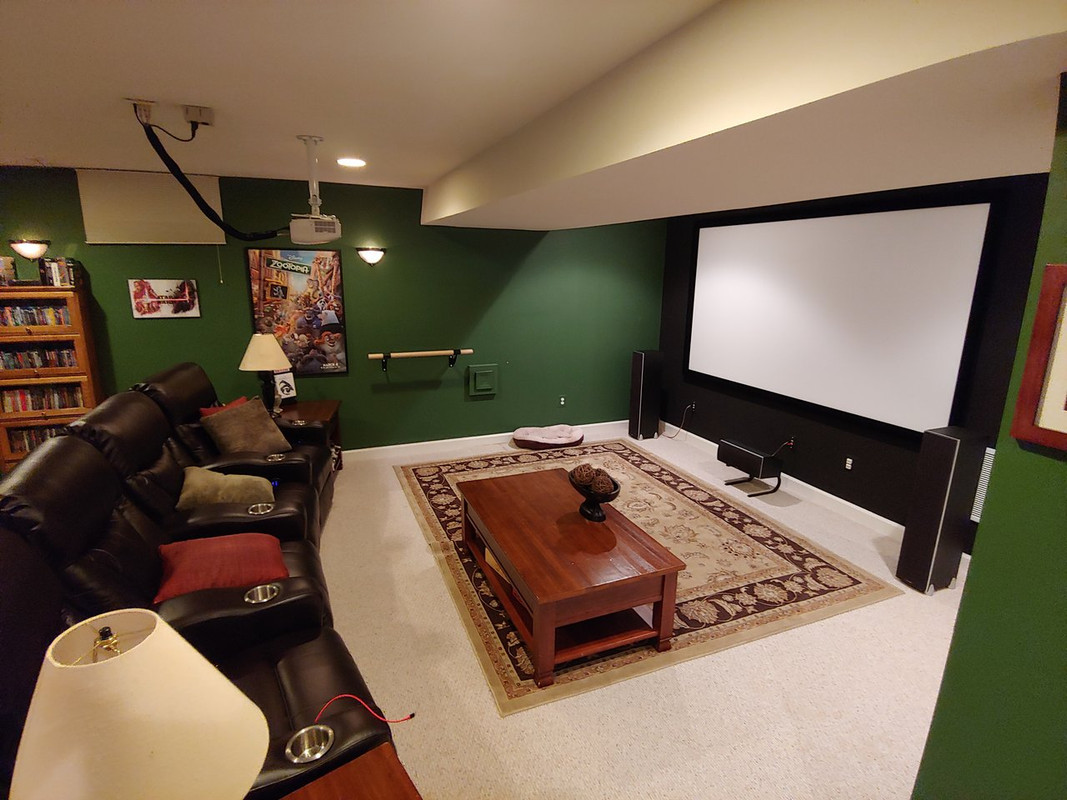 I am thinking of replacing the receiver with a newer Dolby Atmos capable receiver. I can easily install speakers in the ceiling in this room - elsewhere in the basement I have already done so (above the pool table - connected to the L/R front pre-outs of the receiver here). I can't install speakers in the large ceiling channel - it's full of HVAC, plumbing, etc., however I can easily install ceiling speakers elsewhere.
My thinking is I'm not sure how much I would get from four ceiling speakers given the large physical channel in my ceiling, and the fact that my rear channels are already mounted high in the rear of the room. I don't know enough about how the height channels work in Atmos which is why I'm asking for advice here. I think that installing two speakers directly in front of the ceiling channel would possibly be the best installation of Atmos in this room.
The green circles in the top picture above would be where I would install for a 7.1.2 system. I think if I installed two more behind the seating area they would just blend with the rear four, and if I installed them in the front above the main L/R I wouldn't even notice them because they'd be too close to the screen and the front speakers. Am I on the right track?
Looking again and noodling ... .... I could install front speakers
on the front wall high up flanking the screen
instead of in the ceiling... Kind of like the old style Yamaha "height" speakers - Would Atmos acommodate that?