It would have had a more elaborate military/zombie theme to it but I dumbed it down to keep it easy at home. Hope you all have a great Halloween!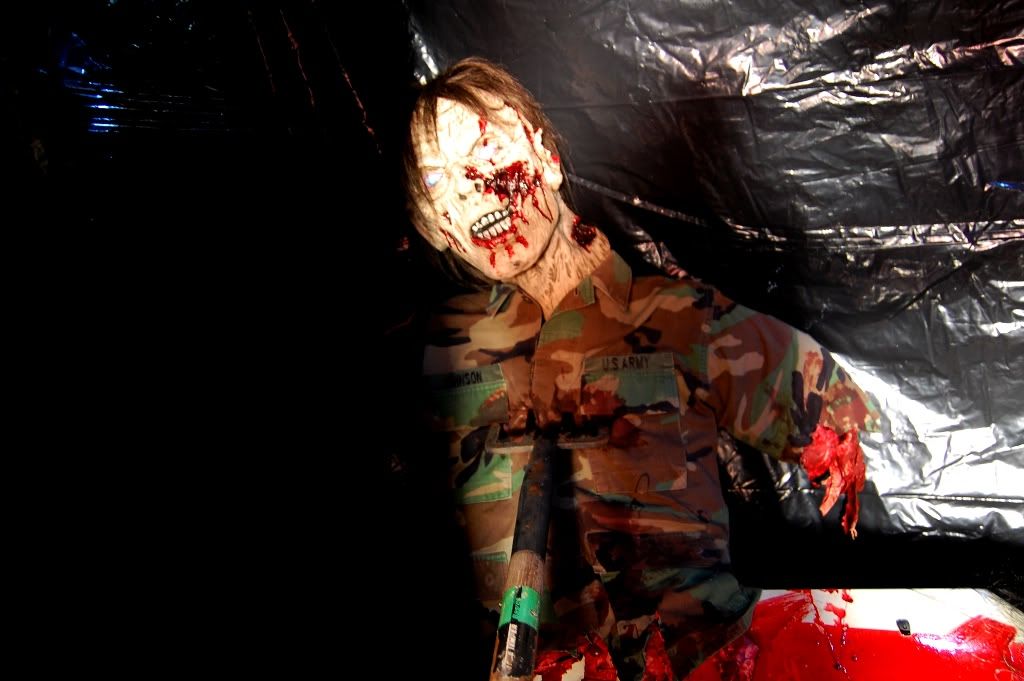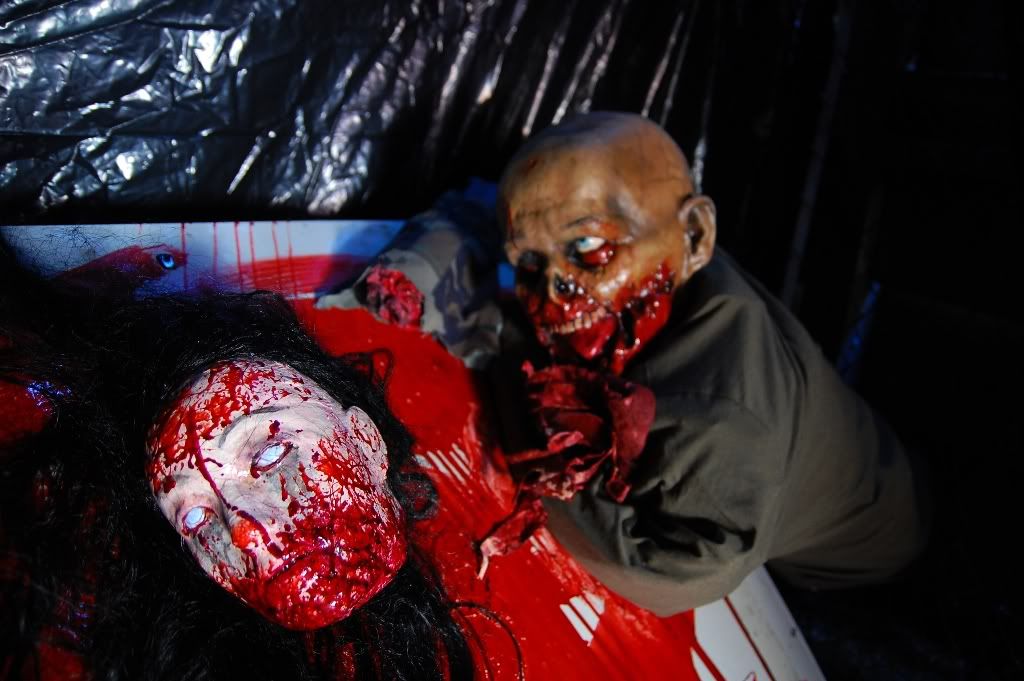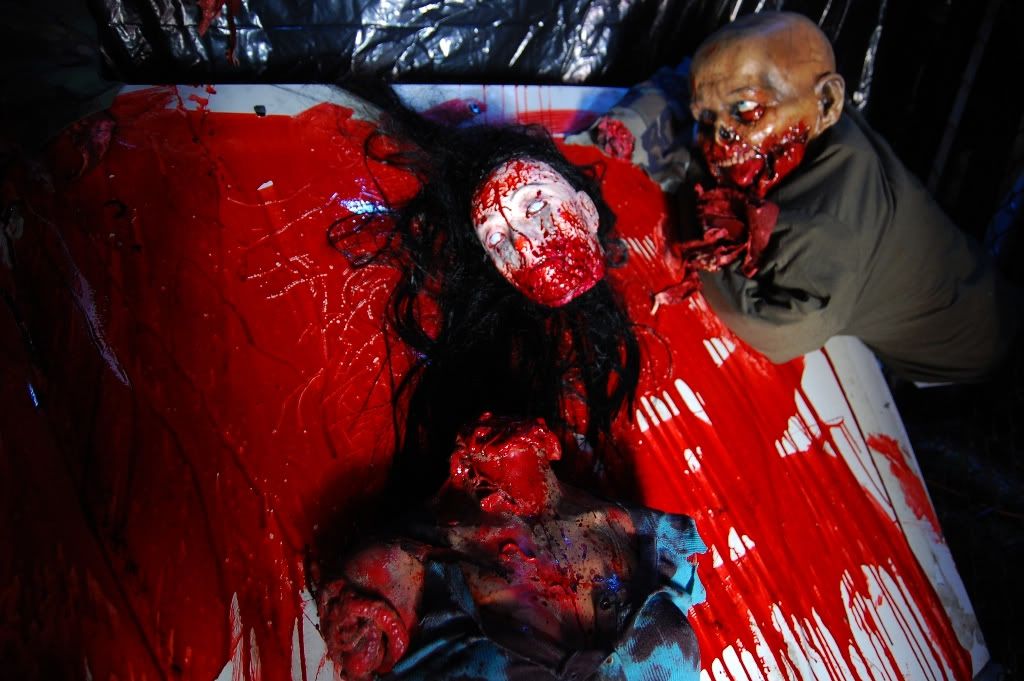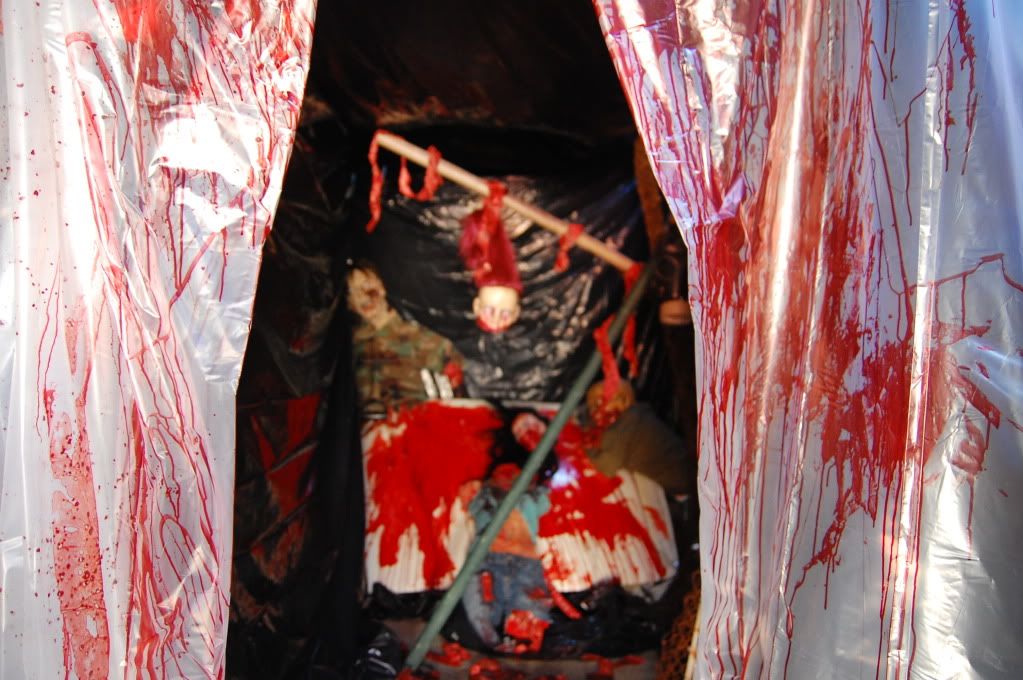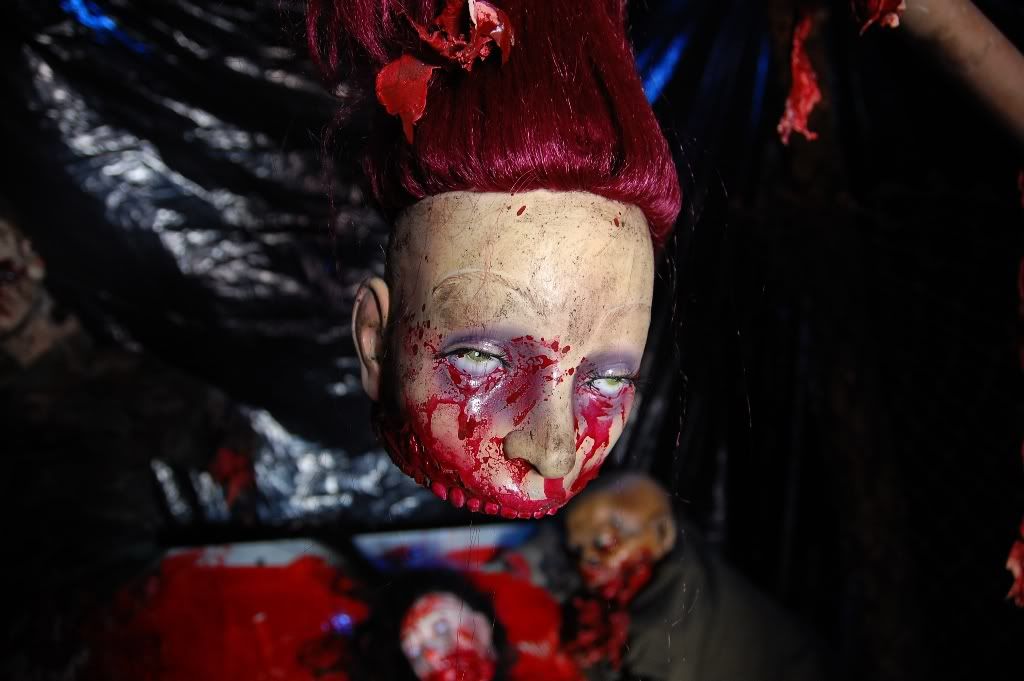 Ok, so here is my final list, I hit 42 this month!!! I have to say I think I've had more fun with it this year than any past. I feel like I really had a good mix of new release rentals, region locked imports, foreign titles, new to theaters, and personal favorites. Now for a few awards
:
Biggest disappointment:
Wrong Turn 4: Bloody Beginnings
Better with age:
The Exorcist
Best foreign language:
The Silent House
Lasting impression:
Antichrist
Most disturbing scene:
The "dance scene" from Calvaire (The Ordeal)
and last but not least the most fun I've had with a horror film this month:
The Loved Ones
The List:
October 1st:
The Human Centipede:
3 stars -
Fairly original but a little light on the gore and fewer scares than I would have liked. Still the creepy German doctor makes up for the other shortcomings.


Isolation:
2.5 stars -
Not a bad little creature feature... good atmosphere and cinematography but not enough victims and the creature was a little unimpressive. Overall this had a lot more potential than it delivered but was still worth a watch.
October 2nd:
I Spit On Your Grave (2010):
3.5 stars -
I've never seen the original so can't compare but this is a solid [email protected] revenge flick. I have a few gripes that took this down from a solid 4 star rating but wont spoil for anyone who hasn't seen this. The [email protected] scene is pretty brutal, up there with LHOTL remake but the payback is pretty hardcore!
October 3rd:
Cold Fish (Tsumetai nettaigyo):
3.5 stars -
First off this is not a horror movie, I'm not sure why I thought it was but am thinking the trailer must have been mixed in with other foreign horror trailers I was watching at some point. This falls between drama and thriller and while it was a bit slow to get off the ground once it did it was quite a ride. The final 20 minutes were BRUTAL with enough gore to make up for the almost 2 hours of mostly dialogue.
October 4th:
Scream 4:
2 stars -
Felt more like a comedy for the most part, just hard to take serious really. I enjoyed parts of it and the locale (Santa Rosa, CA) recaptured some of the original charm but otherwise it felt rather disjointed and the plot or motive was just pitiful.
The Possession of David O'Reilly:
1 star -
Not much to say about this really. It tried to be a shaky cam film presented as if being filmed by one of the characters but it wasn't. The plot was predictable and it took no time to build any of the characters or premise.
October 5th:
The Silent House (La Casa Muda):
4 stars -
This is definitely not something that will appeal to the masses but I really appreciated what the director did with the single continuos shot. I do have complaints that I wont voice for spoiling it for others but the claustrophobic atmosphere and camera work really added to my enjoyment of the film. I also like the way everything was wrapped up with the closing scene post credits.
Dream Home (Wai dor lei ah yut ho):
4 stars -
I really enjoyed this slasher with a unique twist on the genre in the way it told the story flashing back to fill in the history. Some dark humor and solid gore earned this little gem a solid spot in this months line up!
October 6th:
Yellowbrickroad:
1 star -
I guess this really deserves no stars because it is my first ejected title this month. After an hour I just couldn't stand to hear me tell myself "this is so stupid" once more. The trailer looks decent but expect disappointment.
October 7th:
The Loved Ones:
5 stars -
Fantastic movie from the first frame to the last. Exceptional performances all the way around but Robin McLeavy as Lola was amazing... scarily convincing psycho chick! Not a lot of "scary" moments but plenty of tension and discomfort blended with excellent pacing and a very fitting score/soundtrack to back it all up!
The Relic:
4 stars -
I reviewed this one last year so all I'll say is it is a great creature feature with a healthy blend of CGI and good ol fashion prosthetic creature creating. Too bad we see such an over use of CGI instead of blending like this these days.
October 8th:
Sweeney Todd:
5 stars -
I can't really say anythin I've nod said in years past about this movie. One of my top five favorite films of all time. Brilliant music, brilliant performances, brilliant transfer... Tim Burton at his best!
Hostel II:
3 stars -
As much bad press as I heard about this I really expected it to suck but it was ok. A little light on the torture from what I expected but still not a bad follow up.
October 9th:
Boo:
1 star -
Everything about this was bad... highschoolers try to spend a Halloween night in an abandoned hospital where bad things happened... blah blah... bad writing, bad acting, bad everything... avoid it.
October 10th:
The Lost:
2 stars -
First off this is NOT a horror movie, more like the biography of an overly emotional psychotic teen. The movie started off strong but really dragged until the last 15-20 minutes. It included a scene towards the end that had my thumb on the eject button because it bothered me but I finished watching it. The lead character Ray was played very very well, scarily convincing but all in all the movie did not fit the "horror" genre, was a bit dull for me and the last 5 min or so didn't sit well.
October 11th:
[REC]:
4 stars -
Fantastic Spanish zombie film with a nice twist on the "virus" origins. Good shaky cam work that created claustrophobic feeling throughout. Manuela Valesco as Angela is a nice perk
The audio track is pretty aggressive for a horror movie, plenty of scares from all 5.1
My only complaints: the ending was a bit Hollywood, it could have been longer, and the deleted scene with the nail hallway should have been left in.
[REC]2:
3.5 stars -
The only thin that held this one back was the parallel footage from the teens. It took me a bit out of the film and I thought it was rather distracting. Overall this was a solid sequel that dove more into the origins of the virus and had some better close ups of a few bloody zombie faces.
October 12th:
Suspiria:
4.5 stars -
Although I've seen this classic before this was the first time on bluray now that I'm region free
Although the bluray has some flaws it is still a pretty obvious upgrade on all fronts. The soundtrack, set design, and lighting create a mood for this film that is awkward yet artistically evil at the same time. Love this film.
October 13th:
Calvaire (The Ordeal):
2 stars -
This is a Belgian film with a couple pretty solid psychological horror segments that begs the question: "what.... the.... [email protected]#$!" It was rather hard to feel much sympathy for the victim because he was such a moron and a sissy. Overall the film kinda flatlined when it should have climaxed and there were too many missing elements regarding the villagers. I wont say more for sake of spoiling but it had much more potential than it delivered unfortunately.
October 14th:
Husk:
2 stars -
This one actually had potential to be more than another flop After Dark film. Some teens are forced to crash near a corn field by crows splitting on the windshield and find out the scarecrow has plans for them. This had some decent atmosphere but just not enough substance to make sense of the back story and too many holes in the rest.
October 15th:
The Thing (2011):
4 stars -
Just saw this and enjoyed it even going in skeptical being such a huge fan of the 1982 version. I would like to have seen about 40% less CG and more of the "real stuff" and this did not recreate the atmosphere Carpenter so brilliantly created but I thought they did a good job of connecting the two films and really enjoyed it. My only real complaints are that it did not bring anything new to the story but in Hollywood fashion just elaborates on the original and:

Warning: Spoiler!
(Click to show)
Spoiler  
Warning: Spoiler!
(Click to show)
If the ship could start up and leave why the hell didn't the Thing leave 100 million years sooner? Also I thought the Norwegian set charges to blow the ice from it??


Even in light of these gripes if I really enjoyed it and think watching both this and the 1982 version back to back would flow very well.
House of the Devil:
4.5 stars -
Great film! second time viewing since release but really enjoyed it both times. You can really tell this director is someone who gets horror. Takes time to set the stage, set the mood, and build to something worth while. My only complaint is that once it finally got going it didn't let up to give the viewer the suspense roller coaster.
Antichrist:
3.5 stars -
Wow, what a freakin weird movie. I don't even know how to classify [email protected], drama, horror... not sure but it was very very well done with breathtaking cinematography and outstanding performances. Definitely a film worth checking out and open for much discussion afterwards.
80's HORROR WEEK!
October 16th
The Shining:
5 stars -
Not much I can say about this one that has not already been said. Simply put: Masterpiece!
October 17th:
Pieces:
2.5 stars -
Probably more stars than it deserves but it is such quality cheese you can't help but lurv it


October 18th:
Re-Animator:
3.5 stars -
First time viewing this one and what fun it was! I'll be getting a copy of this on blu when it comes out for sure... gore galore and a good bit of dark humor as well, really enjoyed this one!


Pumpkinhead:
3 stars -
I've seen this more times than I can count but still love it. Good ol bumpkin creature feature!
October 19th:
Prince of Darkness:
3 stars -
First time viewing, not a bad 80's horror flick. Lots of familiar faces too! I enjoyed the story but felt like it was building to a slightly larger climax than was delivered. Still very enjoyable though!
October 20th:
Dark Night of the Scarecrow:
3 stars -
Another solid little 80's flick that I'd never seen. Again some familiar faces but fewer scares than I needed to take this to the level it had potential to be at. Fewer accidents would have been good
October 21st:
The Serpent and the Rainbow:
4 stars -
I remember seeing this for the first time when it was originally in theaters when I was a young teen and it scared the hell out of me. Really a well done film that is almost ruined by a terrible "boss fight" cheese-ball ending. It did enough right in the rest of the film to be rounded up to a 4 star. The dream sequence in the beach house is still a fantastically creepy scene too!
October 22nd:
Creepshow:
4 stars -
Campy, classic, and original, love this one! The meteor story with King is the only one I don't really care for. Crate monster FTW!
The Thing (1982):
5 stars -
One of the best horror films ever made IMO. A great example of Carpenter at his best and an art of creature creation that I would love to see recovered and reinvented in the current CGI Hollywood world.
[end]80's HORROR WEEK[/end]
October 23rd:
Dawn of the Dead (2004):
4 stars -
Funny thing is when this came out I probably would have only given it 2.5 or 3 stars but as many horror films do with me it has aged well. I do prefer slow moving zombies but Ving Rhames + Sarah Polley + great gore + a dash of J. Cash = way too much fun!
October 24th:
The Descent:
5 stars -
Another movie that I loved the first time I saw it but even more with age. Fantastic claustrophobic atmosphere and plenty of gore to spare. I love the non-theatrical ending as well, it's the only way to watch it. I have the AUS bluray and it is an exceptional transfer, I even prefer the more robust DTS-HD MA track to the US PCM.
October 25th:
Atrocious:
3 stars -
Rented this from Vudu tonight and mostly enjoyed it. This is a Spanish film done in the shaky cam style. It started out interesting but started losing me with it's somewhat flat direction and shallow character development. The pacing just felt generally off as it didn't really flow, it went from 0-60 with a blink. That said once it was going it did have some good moments of great tension and a few good jumps. Ending was decent and while it may sound like I'm kinda down on the movie I did enjoy it and would recommend it for a rental. At only about 75 minutes it's worth the time.
October 26th:
Noroi: The Curse:
3.5 stars -
This is a Japanese flick filmed in a Blair Witch style of interviews that are being put together to establish a story. The style and story of the film are both effective albeit a tad slow but solid in development. I would have rated this higher if there had been more of a climax but this is the type of film that does more up and down than gradual ascent. That said I really enjoyed it and definitely got the hebbie jebbies more than a few times. Another solid installment from Asian horror cinema and worth checking out!
October 27th:
The Exorcist:
5 stars -
Although there are plenty of other horror films that are worth a 5 star rating in my book this film is the pinnacle of perfection in horror cinema as far as I'm concerned. Nearly 40 years since it was made and it is still one of the scariest films created. I have zero gripes with this film and consider it completely flawless.
October 29th:
House of 1000 Corpses:
4 stars -
This has become a favorite Halloween flick for me. Not sure what it is but hits a sweet spot for the season. RZ had some good sets and atmosphere and who doesn't like fried chicken and gasoline!
Wrong Turn 4: Bloody Beginnings:
1 star -
More like negative 5 stars for this steaming pile of pig crap! Where can I even begin? I guess it starts and ends with the writer who should be burned alive with every copy of this film. This is what's wrong with Hollywood filmmaking. A few tid bits of decent gore but everything else was so bad I'm pissed I even bothered. The only Wrong Turn film that is any good is the first one. YMMV.
October 30th:
Halloween (2007):
3.5 stars -
I really like this remake regardless of the hate it gets. I think RZ took on a big risk to do this and it really succeeded in many ways for me. It made Michael Myers scary again, it brought some brutality and gore back to the franchise, really a lot of great things going on here. The problem that keeps this from a 4.5 rating for me was the overcooked white trash cast and script, it was all celebrated to the point of overkill, tone it down a few notches and would would have been a real winner.
October 31st:
Trick 'r Treat:
4.5 stars -
Four interwoven stories told in a very Creepshow esq fashion, fantastically fun with great atmosphere, dark comedy, and Sam! Instant classic!
Halloween (1978):
5 stars -
This is the iconic film for this night... the music, the mask, the characters, it is all fantastic and will remain a timeless classic in our house.