Official owners thread for the LG CineBeam HU810PW/AU810PB, MSRP's of $2,999 and $3,999.
Note: Having owned this PJ for almost a year I would have to say think long and hard before purchasing.
LG simply doesn't support this product and has not released a firmware update of any kind since launch. Customer support for issues is terrible.

HDR and Tone Mapping are not working properly with HDR being way too dark making many scenes unwatchable. LG doesn't care. The PJ also can't properly do 24p causing judder which you may or may not be susceptible to. Likely also an easy fix via firmware.

Out of the box this beamer is so blue it is ridiculous, in any mode, and not fixable without calibration of white points. Believe the native white point is closer to D93k than D65k.

SDR can be really, really good in this PJ once calibrated but it is not for the faint of heart. But once calibrated SDR looks phenomenal.

HDR can be made to be pretty decent using Calman Autocal, though for this PJ Portrait barely supports it and good luck getting answers to questions on it. Plus to get it decent you effectively have to stop using DTM which was a huge selling point of this PJ and works really well to not clip/crush highlights, but crushed shadow detail severely as a result. Pretty easy to fix by LG by incorporating a slider that adjusts the low end of the EOTF curve, but again LG has no interest in supporting this PJ.
Now, if you have a MadVR setup, a meter, and Calman for Home LG, this PJ can shine. Or, if you don't care about reference and just that your picture "pops" or don't really care about HDR, this PJ may also be fine for you.
/rant
HDFury thread Dedicated to this LG:
LGHU/AU810P and HDFURY for Dolby Vision LLDV
Calman for Home LG dedicated thread for this PJ:
LG Projector HU810/AU810 Calibration discussion (Calman...
@Mark Henninger
overview of the HU810PW
LG is on a roll when it comes to releasing new 4K DLP laser projectors. The company has announced the

CineBeam HU810P

, which will be exhibited virtually at IFA 2020. This projector is aimed at the home entertainment market and LG states it will include an Iris mode that has presents for Bright Room Mode and Dark Room Mode with automatic room brightness detection. The company says this projector can even hold its own in a dedicated home theater.

View attachment 3089474

CHECK PRICE

The light source is a dual laser design (R/B) with a 20,000 hour rated lifespan. This LG is spec'd at 2700 ANSI lumens and Dynamic Contast and Dynamic Tone Mapping are on the feature list. One interesting capability is Auto Calibration II software, which LG says gives "results that were previously only possible with professional picture calibration".

An important capability for a home theater projector is lens shift and zoom, which allow you to match the projector image to the screen without scaling and digital keystone. The HU810 has a 1.6X zoom lens that offers vertical +/- 55%, horizontal +/- 22% shift.

This projector supports WiSA for reliable low-latency uncompressed surround-sound. It also has smart features built-in so it can stream on its own.

"Our new CineBeam projector performs equally well with bright or dark scenes, elevating picture quality and enhancing the viewing experience to a whole new level,"

said Jang Ik-hwan, senior vice president and head of the IT business unit of LG Electronics Business Solutions Company.

"There is currently no other product like it on the market today, a demonstration of how LG continues to deliver innovation that improve lives." Key Specifications

| | |
| --- | --- |
| Projection System | DLP |
| Native Resolution | 4K UHD (3,840 x 2,160) |
| HDR | HDR10, HLG, Dynamic Tone Mapping |
| Light Source Type | Dual Laser (R/B) |
| Light Source Life Time (High Brightness) | 20,000 hours |
| Brightness | 2,700 ANSI Lumens |
| Contrast Ratio (Full On / Full Off) | 1,000,000:1 |
| Noise (Typical) | (High / Mid / Low) 30 / 28 / 26 dB |
| Lens Shift | Vertical + - 55%, Horizontal + - 22% |
| Zoom | x 1.6 |
| Screen Size | 40-300 inches |
| Throw Ratio | 1.3 - 2.08 |
| Speaker Output | 5W + 5W Stereo |
| WiSA Ready | Yes |
| Bluetooth | Yes |
| Dolby ATMOS Compatible | Yes |
| Net Size (W x D x H) | 337 x 410 x 145mm |
| Weight | 11kg |
| HDMI | 1 HDMI 2.1 / 2 HDMI 2.0 |
| USB Type-A | 2 USB 2.0 |
| Platform | webOS 5.0 |

We are committed to finding, researching, and recommending the best products. We earn commissions from purchases you make using the retail links in our product reviews. Learn more about how this works here .
The CineBeam AU810PB model comes in black instead of white, and adds, as per Projector Central:
Of the two, only the AU810PB comes WiSA ready; as with compatible LG TVs, plugging in a third-party WiSA transmitter to one of the projector's USB ports allows it to throw up to 5.1-channel audio wirelessly via the high-resolution WiSA standard to compatible powered speakers. It also adds an auto-calibration function compatible with some versions of the popular

Calman calibration software from Portrait Displays

, similar to what's offered on LG's better panel televisions. Beyond this, the AU810PB comes with some extra control options: an RS-232C port, a 12V trigger jack, and IP control via its wired RJ45 network connection. It also boasts a two-year parts/labor warranty vs. the one-year warranty offered on the HU810PW. We've tagged our review under the HU810PW banner on the thinking that most readers are interested in this lower-priced model, but you can assume my comments apply to both models except where noted.
Current Reveiws:
AVS - Mark Henninger:
Finding the right home theater projector is a balancing act. The considerations are many, from brightness, contrast and resolution to lens quality and placement flexibility, and incorporating so much more. A successful projector model is one that is adaptable to a wide variety of residential...
www.avsforum.com
Projector Central:
The LG HU810PW—and its sister projector for custom installations, the AU810PB—combine excellent performance with impressive pricing for a laser-based projector certain to garner the attention of home theater enthusiasts.
Projector Reviews:
The LG AU810PB is a 4K DLP Laser Smart projector with a suggested retail price of $3999. Find out more here!
www.projectorreviews.com
CNET:
This laser-powered LG has an impressively bright, colorful picture with one major flaw.
www.cnet.com
Note, CNET's black level/contrast claims seems to be an average of the unit and no where near indicative of this units capabilities, see comment in this review:
wccftech.com:
LG has been quietly working on a projector that, on-paper, aims to take the industry by storm. When we received the LG HU810PW (well, technically the AU810PB) sample in our lab, we couldn't have been more excited to review it. You see, LG's HU810PW isn't like other DLP projectors – for it...
wccftech.com
Do you have any thoughts on the recently released cnet review? Author stated contrast is quite bad and image looks washed out compared to even the UHD30, not a projector known for contrast.


Well depends on what mode you are using the projector in. Cinema calibrated or bright? The thing you have to keep in mind is that this projector does not have 1 contrast setting (unlike all other projectors). Each iris level has a different contrast setting. Usually higher iris = lower contrast.

CNET author is using bright mode for their contrast measurement and analysis - which isn't really fair. Note their measurement for blacks is 0.418. If you look at our table, this roughly corresponds to our measurement of 0.370 on bright mode and a contrast of 554.
Post calibration and in cinema mode contrast increases to 3450 which is excellent for a 150 inch image. The reason why they have a worse black level in the same bright mode is because they used a 102 inch screen (while we used a 150 inch) which will once again make the blacks worse (since this is a 2700 lumen projector and the closer and smaller the screen, the brighter the light leakage). The nits of this projector can easily support a screen of up to 300 inch - at which point blacks should be amazing.

Secondly, the CNET author is also mistaken in the "Black Level" setting. For some reason LG has named that inaccurately and it actually corresponds to HDMI Full Range or Limited Range (0-255 or 16-235) and has nothing to do with brightness/contrast. It should always be set to AUTO. LOW if you are using YCBCR or Limited RGB and HIGH if you are using Full Range / Studio RGB. If you accidentally set the wrong setting thinking this is about brightness/contrasts as the LG description says - your blacks will either get completely crushed (lowering contrast) or get washed out (lowering contrast).

All that said, the projector does not have the best black levels in a DLP (which would be the HT5550) because of the lack of a dynamic iris. Even the BenQ HT 3550 has better blacks due to the presence of a dynamic iris. But LG does have the most color lumens and the brightest picture with great calibrated contrast and that is just as important a metric as black levels.

TLDR: It beats the UHD30 in calibrated mode quite easily but it does not beat the Sony VPL-VW350ES. If you want great black levels, do not get this, get the HT 5550 (in the same price range). If you want a TV-like picture with the best highlight performance that will blow you away - then feel free to get this. You can also fix the black light bleed using a dark or negative gain fabric without compromising the highlight performance.
Tear Down:
Seit einigen Wochen macht LG in der Heimkinoszene von sich reden: Mit seinem neuen Modell "HU/AU810P", der auf den einprägsameren Namen "Forte" bzw. "Forza"
Sound and Vision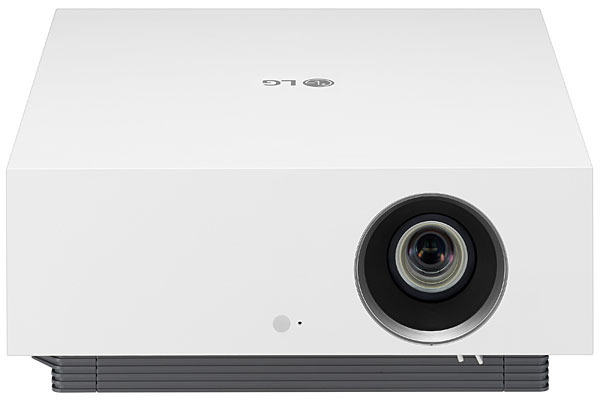 Performance Features Ergonomics Value

www.soundandvision.com
Video Reviews:
Chris Majestic (compares it at a high level to his Epson UB5050)

PJ Central

Ekki Schmitt [select english translation]

and his 1.5 hour seminar on the LG