Discussion Starter
•
#1
•
2011 Samsung D 7000 series is now available.... and boy does the spec sheet show some muscle.
7000 Series
60",55",46"
Edge-lit LED/LCD TV
1080p
15,000,000:1 Dynamic Contrast Ratio
Real 240Hz Refresh Rate
SRS TheaterSound
15Watts x 2 Audio Channels
Built-in Bottom Speakers
Built-in Wifi
Blutooth emitter
Features:
Smart TV with Samsung Apps and Internet Browser
2D & 3D in Full HD 1080p
AllShare
Wide Color Enhancer Plus
Ultra Clear Panel
ConnectShare
BD Wise
Game Mode
Anynet+
1 Tuner PIP
Clock & On/Off Timer
HDTV Tuner
Micro Dimming
4 HDMI Including a PC HDMI, and a ARC audio return HDMI
1 Component Inputs (Rear)
2 Composite
3 USB 2.0 Ports
1 Optical Digital Audio Output
1 Audio Out Mini Jack
1 DVI Audio Input
Dimensions
1.2" Depth
0.5" bezel
Weight
35.5 lbs. Without Stand
41.0 lbs. With Stand
QWERTY Remote voucher, or with depending on date of manufacter.
Out of the box, this thing is super slick, ultra sexy, wicked looks to it. The screen sucks up most reflective light. After turning it on.... well the magic begins. As some of you know this replaces my 55C7000 TV that had major banding issues and pixilated Blacks with horrible digital noise. And Right off the bat this D7000 doesnt show any of the Flashlighting, or clouding in this TV that was ever so present in the C series.
It did have a Blue push that needs correcting, and the backlight was super high out of the box. Here is just a quick uncalibrated settings from human eye in a dimly lit room.
Pics: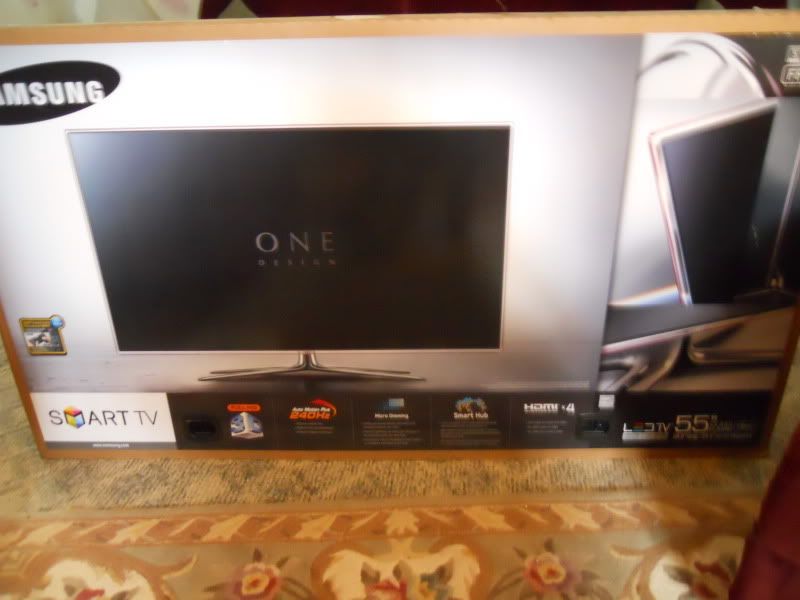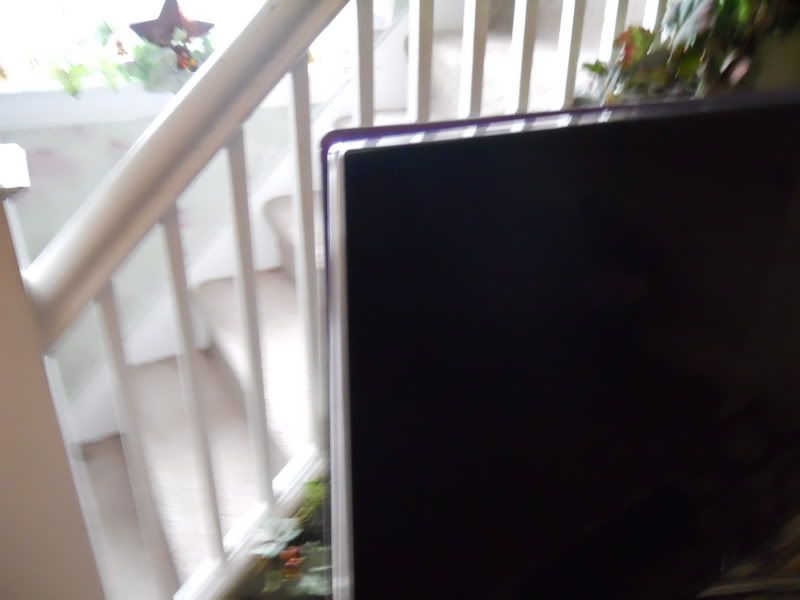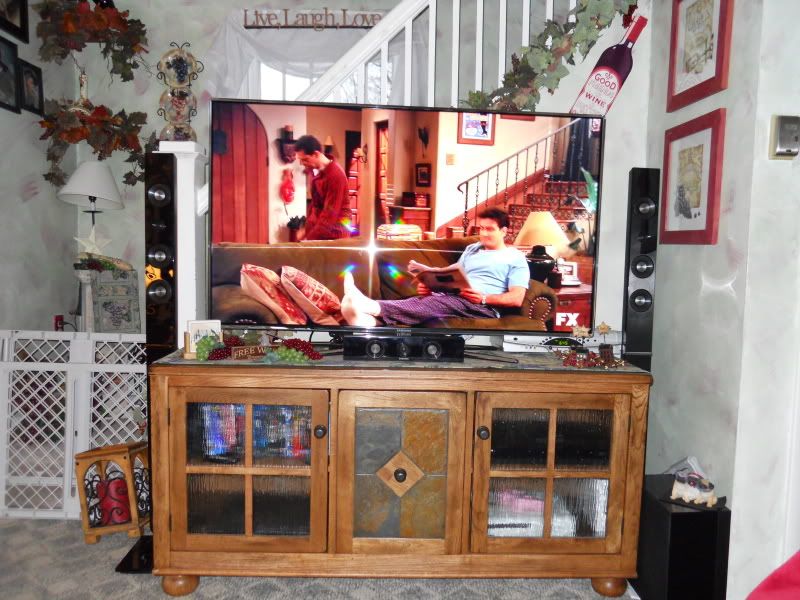 WINNING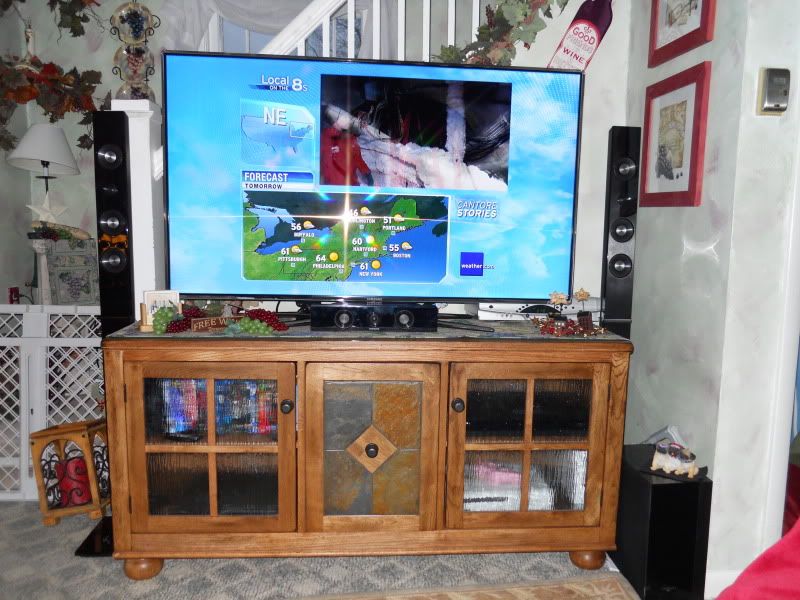 updated: tv settings
Picture Mode: Movie
For more true to life color:
Backlight: Changed to 10
Contrast: 98
Brightness 46
Sharpness: Changed to 13
Color: Changed to 50
Tint G 50/R50
Advanced:
Black Tone: Dark
Dynamic Contrast: off
Shadow Detail: 2
Gamma : 0
Expert Pattern off
RGB only mode: off
Color Space: Custom
Red (58-2-0)
Green (0-58-9)
Blue (7-0-54)
Yellow (48-53-7)
Cyan (0-54-58)
Magenta (56-4-45)
White Balance:
R-Offset 20
G-Offset 24
B-Offset 24
R-Gain 19
G-Gain 26
B-Gain 25
10p Whitebalance
Itvl R G B
1 5 1 -2
2 2 0 -1
3 0 0 -1
4 -2 -3 -3
5 0 -2 -3
6 1 1 -4
7 2 3 0
8 1 2 0
9 -1 2 2
10 0 1 1
Fleshtone: -1
Edge enhancement: off
Motion ligting: off
xvYCC: off
LED Motion Plus: off
Picture Options:
Color Tone: Warm2
DNF: off
Mpeg NF: off
Automotion plus : Clear
Standard Mode Settings for more color pop:
Picture Mode: Standard
Backlight: 11
Contrast: 98
Brightness: 42
Sharpness: 11
Color: 50
Tint: G50/R50
Advance Settings
Black Tone: Dark
Dynamic Contrast off
Shadow Detail: 0
Gamma: 0
Color Space: Custom
Red (58-2-0)
Green (0-58-9)
Blue (7-0-54)
Yellow (48-53-7)
Cyan (0-54-58)
Magenta (56-4-45)
White Balance:
R-Offset 20
G-Offset 24
B-Offset 24
R-Gain 19
G-Gain 26
B-Gain 25
10p Whitebalance
Itvl R G B
1 5 1 -2
2 2 0 -1
3 0 0 -1
4 -2 -3 -3
5 0 -2 -3
6 1 1 -4
7 2 3 0
8 1 2 0
9 -1 2 2
10 0 1 1
Flesh Tone: 0
Edge Enhancement: Off
Motion Lighting: Off
LED Motion Plus: Off
Picture Options
Color Tone: Standard
Digital Noise Filter: low
MPEG Noise Filter: Auto
HDMI Black Level: Low
Auto Motion Plus: clear
ISF Calibrated Set
(for use with a 303 panel)
Movie mode
Backlight 10
Contrast 80
Brightness 45
Sharpness 15
Color 47
Tint 50/50
Advanced Settings
Black Tone off
Dynamic Contrast off
Shadow Detail 0
Gamma 0
Expert Pat off
RGB off
Color space Custom
Red
Red 53
Green 0
Blue 0
Green
Red 0
Green 64
Blue 0
Blue
Red 1
Green 2
Blue 85
Yellow
Red 52
Green 52
Blue 0
Cyan
Red 0
Green 55
Blue 55
Magenta
Red 47
Green 0
Blue 65
White Balance
R-Offset 25
G-Offset 25
B-Offset 24
R-Gain 12
G-Gain 25
B-Gain 31
10p White Balance off
Flesh Tone 0
Edge Enhancement off
Motion Lighting off
LED Motion Plus off
Picture Options
Color Tone Warm2
Digital Noise Filter Auto
MPEG Noise Filter Auto
HDMI Black Level (Greyed Out) Normal
Film Mode (Greyed out) off
Auto Motion Plus Standard