XGIMI H1
This is a revised review of the H1 as some of the pictures went missing and many new things developed over the past year.
1. Introduction - Packaging/Exterior
2. Remote and wifi control
3. Built-in Android system
4. Bluetooth control / Power usage
5. Input lag / Android gaming
6. Smart functions and features
7. The bedroom wall/initial samples in daylight and night/High gain reflection screen test
8. Compared to the Epson TW5350s
9. Compared to other projectors (Benq W1070/LG PF1500/LG PF1000u)
10. Compared to PC monitors
11. Compared to a TV
12. Speaker comparison
13. Netflix
14. 3D
15. Conclusion
SPECS AND DESCRIPTION:
What features are available?
True 1080p projection quality, 300'' display capability, 3D support, 2D-to-3D functionality, optical zoom function, bluetooth speaker, 35˚ (vertical) and 30˚ (horizontal) keystone correction, Android operating system, streaming ability, plus a bluetooth remote control with an embedded gravity sensor cursor.
What is the uniqueness of the technology?
Unlike a traditional LCD projector, H1 uses LED technology. The lifetime of an LED bulb is much longer and is far less likely to overheat than a typical projector bulb. H1 is much smaller and more portable than a traditional projector. Compared to standard Pico projectors that only support 1080p, H1 projects true 1080p physical resolution. H1 also has a higher lumen count than most Pico projectors. H1's 3D functionality and its vertical and horizontal keystone correction capabilities are more advanced than any other product in this market.
Will there be updates to H1 in the future?
Yes - the Android OS will continue to optimize and update over time.
How does H1 integrate with other connected devices?
Other devices (smartphone, PC, tablet, laptop) can be connected to H1 with mirror display. TV boxes and gaming consoles can be connected through H1's HDMI port. Hard drives and thumb drives can be connected through H1's USB ports.
Does H1 have an app? Which phones does it work with?
We have an app (XGIMI Assistant) to control and manage apps on H1. This app is compatible with iOS, and Android.
How does H1 connect to the XGIMI Assistant app?
The device and H1 must be connected to the same wifi network, then connected via the XGIMI Assistant app.
TECHNICAL SPECIFICATIONS
OPTICAL PARAMETERS
Product Classification:XGIMI H1 Home Projector
Display Technique:0.47"DMD RGB-LED
Lens:High light transmission coated lens
Speciality:3D
Luminance (Brightness):900 Ansi Lumens
Luminance uniformity:98%
Color gamut: more than 120%NTSC
Contrast:10000:1
Standard resolution:Full HD (1920×1080)
Compatible resolution: 2K / 4K
PROJECTION PARAMETERS
Projection ratio:1.39 - 1.5 :1
Optical zoom:1.1x
Off-axis:100%
Keystone correction:Vertical: +-35 degree, horizontal: +-30 degree
Projection method:Forward/backward/hang from ceiling
SYSTEM PARAMETERS
CPU:Mstar 6A928 Cortex-A17 Quadcore 1.7GHz
GPU:Mali-760MP4
RAM:3GB DDR3
Storage:16GB eMMC
System:GUMI base on Android 5.1.1
Mirroring Display:Airplay/DLNA/Miracast
Input / Output
3.5mm speaker jack
USB 2.0
USB 3.0
Optical fiber port
Ethernet port
Power jack
HDMI 1
HDMI 2/ARC
ELECTRICAL PARAMETERS
Noise: less than 30Db
Power dissipation:80-130W
Power:AC100-240V, 50/60Hz
CONNECTIVITY
WiFi:Duo 2.4/5GHz, 802.11a / b / g / n / ac
Bluetooth:4.0 BLE
PROJECTION SIZE:
Specs, reviews and known issues will continue to be updated here.
YOUTUBE AND ONLINE REVIEWS:
* One of the first review of the H1 (SOURCE: fanboynation). It's only 30 seconds but his writeup can be found
here
:
* A user's take on setting up the H1 (SOURCE: curious george):
* Harman/Kardon speaker test:
* "H1 Actual Image Projection" - This was one of the earliest preview of the H1.
* Laurent Willen's excellent long term review:
link
* H1 - The king of LED projectors (Gadget Vu). This is one of the best review of the H1 with everything from unboxing, picture and sound tests, comparison to the XGIMI Z4 and the LG PF1000. It's in Russian but you can turn on the English subtitles.
UNOFFICIAL TESTING:
* H1 lumen test from a comparison with another projector (X1 - source is
here
and
here
):
IN THE MEDIA: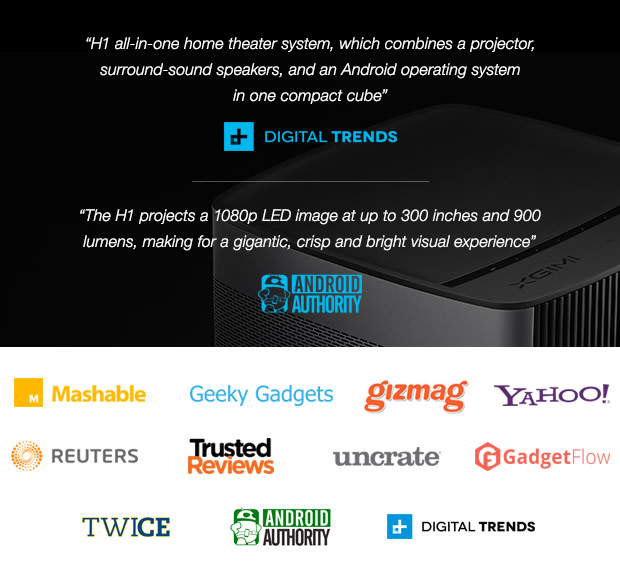 TIPS AND GUIDELINES:
* XGIMI support
* Curious George (H1 setup)
* Sobietech's excellent support section for the H1 on their
website
with plenty of documentation.
* Sobietech tutorial on Google Play Access and Kodi
* Sobietech tutorial on Soft Keyboard for Text Input
* BvukaGames has an interesting take on setting up the position of the H1
KNOWN ISSUES:
* Netflix is currently only supported in 720p resolution, however someone may have found a software hack to enable a higher resolution
here
:
* Google Play was not available out of the box (XGIMI using a different app called APTOiDE which is similar), but this guy may have found a way:
https://youtu.be/czvBuX_56ww?t=823
* It cannot read Apple formatted storage devices so you will need to format them to exFAT, FAT or NTFS. Credit to
Bap
.
* Cannot read from an external blueray/DVD drive via USB.
* Remote has a built-in microphone but it doesn't work for the international version of the H1 (only for the domestic version). This is software/firmware matter so it will depend on the company or the mod community (ie. XDA) to to try to get this to work.
* If you're using the Youtube app in the H1 you'll have access to 1080p resolution provided that the video is already available in that format, however it is possible to try 2K or 4K streaming if you use the web browser. The performance however is dependent on your internet/network speed, if they're not fast then you'll just see a lot of lagging.