Discussion Starter
·
#1
·
Hi all,
I've been researching the possibility of using a pair of omni-directional speakers for the surround channels on my future 5.1 system someday. Very often dipole speakers are recommended for the surrounds, however, after digesting the purpose behind using dipole and bipole speakers, it occurred to me that often they are missing directional queues due to not firing any sound directly at the listening position (dipoles pointed at the front/back of the room but not pointing directly at the listening position) or missing some reflected ambience from not having any sound firing to the front and back of the room (bipole pointed directly at the listening position).
I, myself found a speaker, the old Optimus LX-5 II speakers, giving a bit of a hybrid with direct sound from the midrange/woofer, and ambient sound from the dipole tweeter. The results are fantastic. It's more ambient than a direct-fire monopole bookshelf speaker and a much "meatier/thicker" sound than the 'hollow' effect that dipoles give (which are typically pointed away from the listening position). The direct and diffuse sound is good but it could still use a bit 'more' ambience.
So, after much thought, I've come up with the idea of auditioning omni-directional speakers as my next step. Here is what I've been finding:
B&O - Beolab 5 - Expensive, expensive, man, expensive, can't afford this.
http://www.ultraaudio.com/equipment/...n_beolab_5.htm
BIC - "Sound Span" TPR series speakers (*Vintage 70's - used)
JVC - Omni-directional surround speakers only with full systems. (TH-series & G8-1E models)
Kenwood - Omni-7 - Not available in the United States and not currently being made at all, and still, they are not very efficient.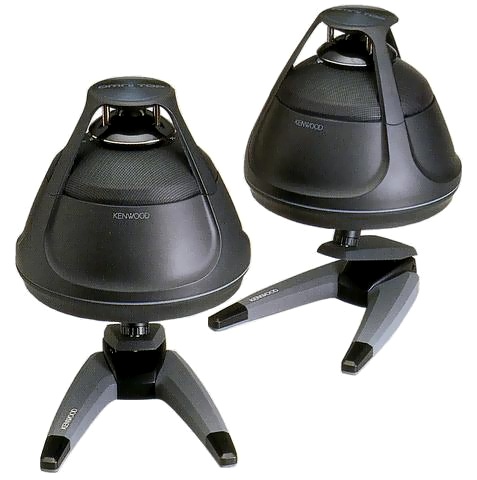 German Physiks - The PQS-100 - Ridiculously cool, ridiculously expensive. Perhaps if I ever win a lottery or a big jackpot here in Vegas.
OHM Walsh omni-directional speakers (*Vintage 80's - used) They are too expensive brand new, but perhaps would be perfectly fine using the older models being sold private party.
The bottom line is that omni-directional speakers are often either an expensive HiFi gimmick or a small speaker which won't get loud enough to be usable in a high output home-theater.
I've also thought of using Magnepan MC-2 strip speakers but again, they're likely not going to be able to produce enough SPL/dynamics to be worthy.
So, there seems to be a dearth of choices in regards to omni-directional speakers intended for surround use and these very speakers are the optimal type for this duty. Anyone have additional ideas/products to add?