Discussion Starter
·
#1
·
I have been searching for a while now looking for a budget oriented option to build for mains and a center. I have been looking for some higher sensitivity speakers without blowing the bank. I would like to stay around $500 start to finish for mains and center. I originally had my mind set on some line arrays but was quickly talked out of it since a decent setup would be well over my budget. So i then looked at the econowaves. Im thinking these may be a good option for me and are well within the budget.
I would use these drivers
http://www.parts-express.com/pe/show...number=295-320
and
http://www.parts-express.com/pe/psho...number=264-270
since there is an optimized crossover for this setup already.
I havent seen to much negative feedback on them other than in the upper FR some dialouge may be harsh? Specifically the S's. I would like some feedback from anyone who has built them and what they could compare to. The only horn tweeter mains i have ever heard is the Klipsch and i love their sound.
One other question i have about the econowave's is how sensitive are they to boundry's around them? Meaning if i used one as a center channel could it be built into a TV stand with equipment racks on both sides of it? Kind of like this horrible sketchup lol.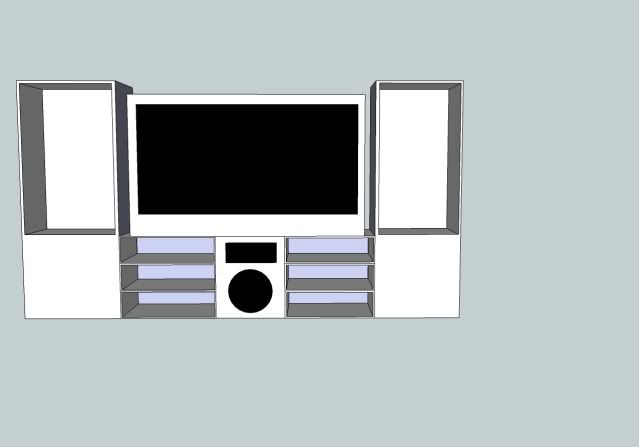 Im just looking for the biggest and best sound possible for my money(arent we all). If there's any better options out there for my money i would appreciate any suggestions. I have eliminated the TriTrix, Zaph aluminum MTM, and a few other designs since im not so sure theyll be able to go much louder than my current speakers before distortion creeps in and takes over.