Discussion Starter
·
#1
·
This is Panasonic's 3D BD player and so far, it is unique for all the 3D BD players announced. It will have two HDMI outputs instead of just one.
The purpose of the second HDMI output is to make integration with existing 1.3 receivers easier/possible as long as you are willing to use your 3DTV to switch video for 3D.
Here is a picture of the back of the BDT350: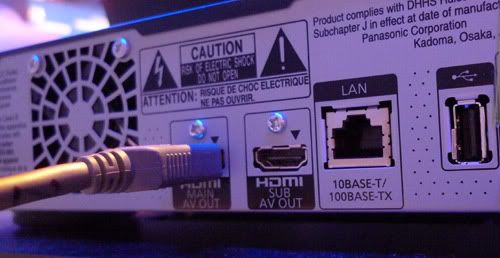 I sent an email to Panasonic to ask for a clarification of the two different HDMI connections on the back of the BDT350 3D BD player.
RE: But I have questions about it [T20100227006LS010Z68359]
Thank you for your interest in Panasonic products.
The Panasonic DMP-BDT350 will allow you to send the high-bandwidth 3D video directly to the display (TV) and the audio directly to the AV receiver via HDMI on seperate connections, one of these connections will give you the option of HD Audio only, so you are correct on this issue.
Please check on our website
www.panasonic.com
for further updates and availability of these units We hope this information is helpful to you. Thank you for contacting Panasonic.
On February 27, 2010 at 12:00 PM, Lee Stewart (edited - my email address went here - has my real name) wrote:
I have a question about the up and coming BDT350 3D Blu-ray player. On the back of the unit, there are two HDMI output connections labeled MAIN and SUB.. Is my understanding of the output of each correct?
MAIN = 3D Video + HD Audio
SUB = HD Audio (TrueHD, DTS-MA) only - no 3D Video
Thank you for your time and consideration in answering my question. I look forward to your response.