Discussion Starter
·
#1
·
Hello good sirs,
I just recently decided to get into the home theater world and would like some suggestions for a 5.1 speaker set. Here's a picture of the living room I want my system in. For now take a look at my impressive piece of art (in paint)!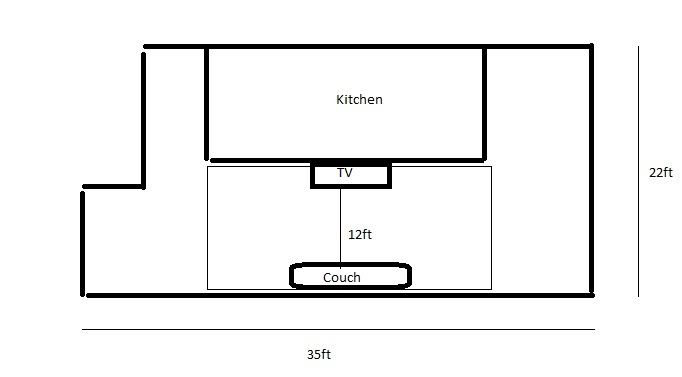 The area I want my home theater is in the box below the kitchen area. For that specific area, I'd say the size is about 16x12.
Note there is a thick wall separating the kitchen and that area.
Anyway, on to the good stuff. As of now, I have a Yamaha RX-V667 receiver which I managed to get for an awesome price.
The TV will be against the wall that is separating the kitchen and my viewing area. The couch will be on the opposite wall from the TV.
For now, I'm considering the Energy Take Classic 5.1, or maybe the MartinLogan MLT-2.
I'm not limited to just these two though so any suggestions that would be appropriate for the size of my room would be really awesome as well. Mind you, I want to use this for gaming and movie watching experiences!
Anyhow, thanks in advance!