Discussion Starter
·
#1
·
After a bit of a hiatus, enjoying my growing family and a multi-purpose rec room set up we are moving again and I will be lucky to have a dedicated room again. Well, that is the good news. The bad news is that it is smaller and near the kid's bedrooms. Oh, and its a square.
The house is new construction in the Houston area and we came along late enough that the builder will build it their way and I'll most likely immediately demo it and start again. If I take the easy way out I will just re-work the door and add drywall and green glue. Given the proximity to the kid's bedrooms I think I am more likely to guy the room, add clips and hat channel all around, insulate and double drywall with green glue (plus treat ceilings and floors). Its attic above, so I am not sure if I need to pull the ceiling down or just double that part up.
Assuming I do the full treatment my finished dimensions will be around 13' 3" by 13' 7". I am thinking one row of recliners, 4-5 seats spanning the back of the room and leaning towards a scope screen with either CIH or CIW masking panels and maybe the new epson with lens memory. I'd like to do an AT screen but I am not sure I have the room to get the fronts behind the screen. In the past I noodled with using some of the speakers meant to flank a flat screen as wall mounted which would keep the space behind the screen around 5 inches or so which may work out. I am thinking 5.1 - because the seats will butt the back wall (thus 7.1 would be lost) but I need to read up on the changes people are doing with Atmos (?) and the like.
Here is a layout of the floorplan (before I reduce it for sound isolation). I can't steal space from the adjoining spaces, before anyone asks.
Here is how the builder's model designed it. They put the mini riser in, which I may keep in the final to open up accessory seating options. I might flip the layout but with the doorway recessed a bit I think it works as they did it.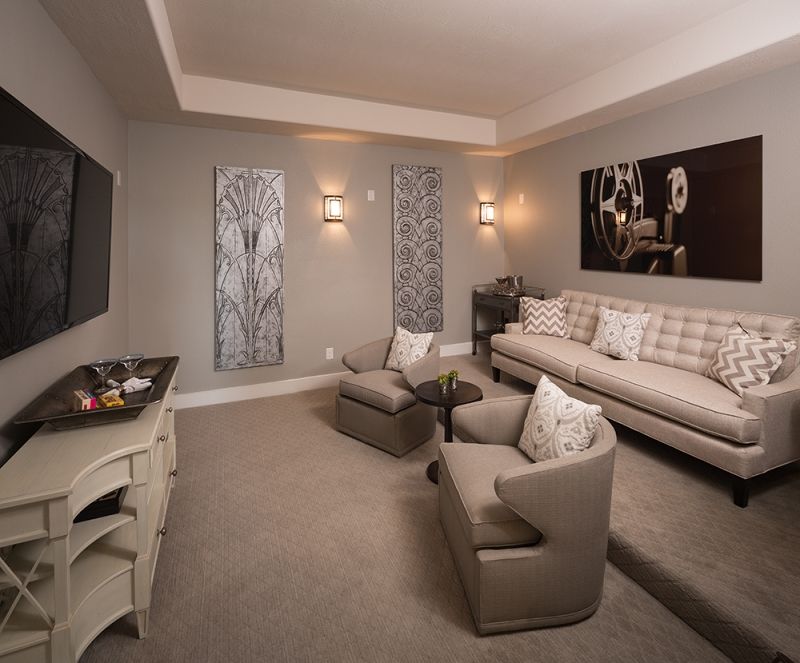 For now I am catching up on what has changed in AV and trying to figure out color scheme. My wife selected a dark gray carpet that we are planning to save and re-use. We close late December and I will hope to have the rebuild up and running before the summer heat hits. I will be hiring contractors for the work until the room is back together. I will DIY the decor, acoustic panels, hanging the projector, etc.
Can't wait to get back into a dedicated space.