Discussion Starter
•
#1
•
So I'm borrowing a buddy's DCX2496 and trying to learn it. I'm a bit confused because I'm not having any luck with the using the REW autoEQ function to provide parametric EQs that actually work? I've used the REW autoEQ function to quick success in the Inuke DSP 3000 at KCNitro's house - but not so far with the DCX2496? I must be doing something wrong but what? Either I'm oversighting something - or the Inuke DSP is more accurate than the DCX2496? It's not much better after applying the REW autoeq suggestions than it is naked FR with no EQ?
If these pictures aren't showing up well you can go directly to the photobucket album
I tried twice to use the REW AutoEQ function. I even chose DCX2496 to make the filters in REW. I've done quite a bit better than either result just working out the EQ manually on the Inuke DSP 3000. I could just try to manually create the filters and do so in a half hour, but when it works this auto EQ function really rocks and is fast --- so I'm trying to get it to work. As it is -- my own manual EQs are better.
All FR captures are unsmoothed:
Blue is raw captivator response in my room.
Orange is Inuke DSP 3000 with me manually plugging in three or four parametric EQs (this is an old capture and the caps were facing sideways for this FR capture -- in all other responses they are toed in facing forward)
Red is REW Auto EQ
Green is MIC2200 manual EQ. One parametric EQ per channel. This is also an old EQ save I pulled up for comparison's purpose.
The Blue and Red were both taken tonight.
I've offset them for easier visibility for each graph.

I tried making the tolerance only 1dB instead of 3dB and the resulting FR was actually worse with nine filters than it is with the five filters from the 3dB tolerance shown in the screenprint below. It's weird to me that the auto eq function doesn't seem to be flattening out properly? Anyone see anything obvious that I'm doing wrong on my settings?
Here are the REW AutoEQ settings I've employeed and the DCX2496 filter option radio button in the menus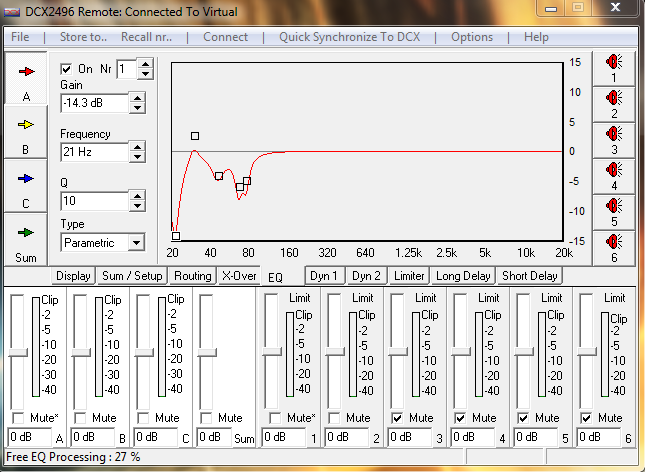 Obviously the omnimic was in the same spot for all of these measurements.