Discussion Starter
·
#1
·
Hey guys,
I am finishing my basement and would like a home theatre area in there. It looks like this (dimensions are finished dimensions) :-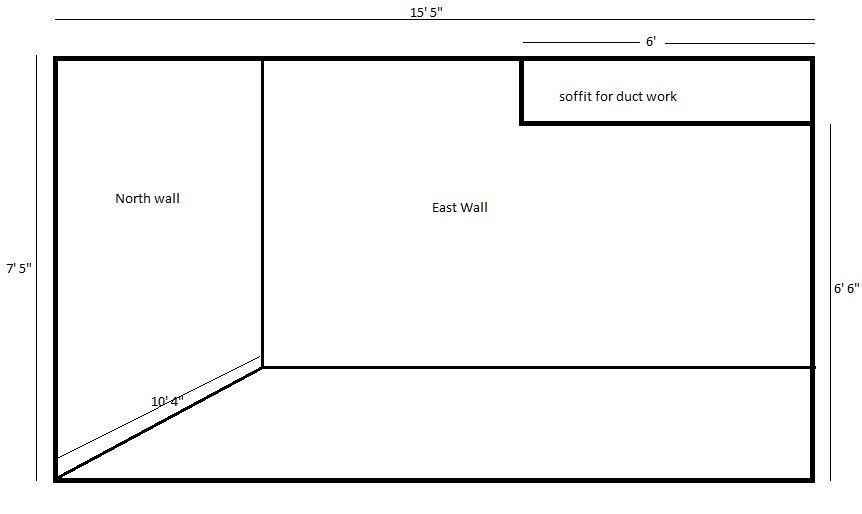 The "North wall" will have the projection screen. There is a 12' space behind the wall so front speakers can go behind the screen. I have an acoustically transparent 106' screen.
There is a fire place indent in that wall. Projection screen will cover most of it (I'll put a black plywood behind it, so the area behind the screen is consistent. However, on the top and at the bottom I will be able to store HTPC, Xbox, receiver etc.
Projector will go in the 'south wall'
There is no "west wall". That part is open
The room is fairly narrow (10' 4"). It seems big because it's missing a wall
, but I don't want furniture to "spill over". This means that any furniture I get has to be Do I have enough room to do two rows? This is my dream setup :-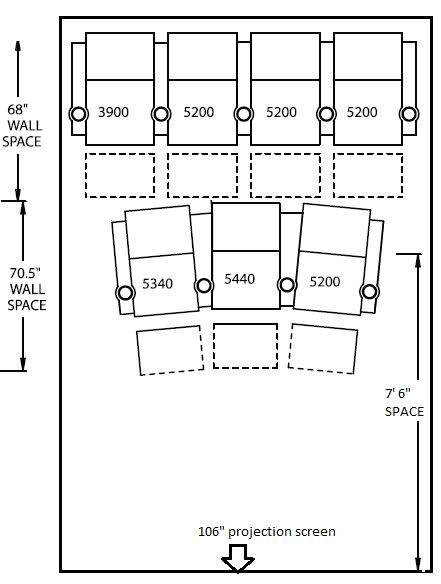 Do I have to decrease the size of the screen to 92" to make this setup work?
I prefer the 106" screen because when we are only using the back seats, we can use the 106" setup. IF people use the front row then we can think about (potentially) reducing the screen size.
Another major issue is the soffit above the rear row. It's not an issue if I do only one row and don't use a riser. But if I have to use a riser then there wont be much headroom left. Unfortunately flipping the room around (aka, putting the projector screen under the soffit and sitting area on the other side) is not an option (electrical is done, will have to get it all reinspected etc). For this reason I can't put proper home theater seats under the soffit on top of a riser.
Is it possible to do a taller riser just under the seat and a shorter one around?
The idea is that you climb a 6" riser, walk to the seat and then the seat will be 48" high instead of 41" high. It may make it a bit trickier to climb onto the seat but at least you wont hit your head on the soffit.
Alternatively, I am thinking about classic movie theater chairs at the back, like this (four chairs) :-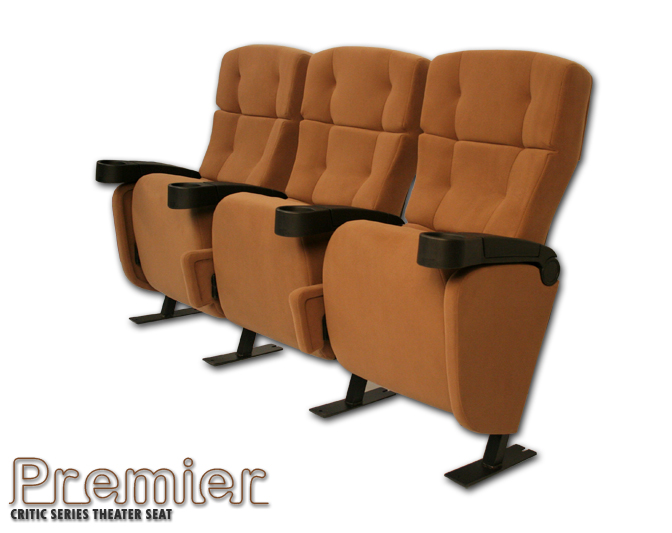 Since they're small and don't recline, this will allow me to put a riser of only 4' (seats themselves only need 28". They obviously don't have a foot rest. If I add 20" of aisle space in the front then I can get away with a riser of 4' depth.
Alternatively, I can use these non-reclining (they recline only slightly) at the back :-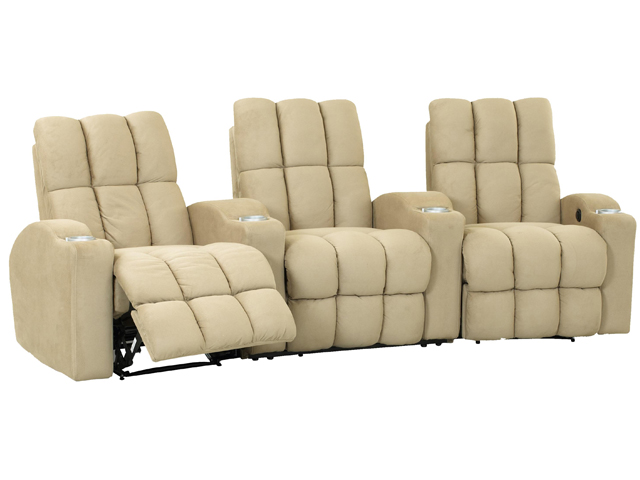 This will also allow 4' distance between back seats and front seats. 4' is very tight, but my main regular seats will be at the front. For back I am just trying to find a good option that I can use if more people (more than just my kids and I) are watching. My brothers often visit and we watch movies together.
Also, if I put my main sitting area at the front then the front row will be ~12' 5" from the screen. Is that too close for a 106" screen? The screen has 0.8 gain and the projector is 1080p with 1800 lumens (if that makes a difference).
Another option is to just use normal (but with tall back and high seat) at the back without riser and seats with short back and short seat back at the front so I don't have to use a riser. But then I am worried that the front row may be too close to the screen. I do have the option to move the home theater wall in by 7" (I built the frame 7" further from where I had to so I could put the center channel behind the screen, right at the ear level ( otherwise I'd have to either put it above the screen or below it).
Yet another option is to use a couch at the back on riser and home theater seat at the front.
Essentially, I spent last three days reading this forum and researching but I have trouble visualizing the end result, so I am having a really hard time deciding. That's why I am here.
Any advice or guidance will be appreciated (and those in the GTA will be more than welcome to come enjoy a few movies in the finished product).