Discussion Starter
·
#1
·
Hi Everybody!
Some of you around here have seen me post from time to time. I have a fair amount of experience with 'Unibox' but not too much skills with wood working/tools.
That is where I will need the the most help.
I already know what I want in terms of performance. With two RLp18's, a EP2500 and a small-ass room. Yep, not worried about a "lack of performance"...heh.
So like I said, I know what I want and have modeled it in 'Unibox'. My problem is with coming up with a build guide for me so when I build this sucker, so I know what I am doing. Now, I have some wood working experience. I've built a Adire Tempest vented "Adire alignment" about 5 or so years ago when I was a Jr. in High School. Build the original Adire LCC and 281's the following year. That's about all my "experience" in woodworking. Did wood class in jr. high but I kinda slacked in that class and didn't really take-in what I was supposed to be learning.
Enough with the life story...
What I want is TWO large cabs, one each to house one RL-p18 and one 8" ID port. I originally wanted to build the whole thing with a 28" ID sonotube @ about 6ft in height but things like a small door and other circumstances have changed the build from sono to MDF. I want them to be pretty large because I am shooting for 650-800 effective liters per cab. Yep, pretty big. Spent plenty of time looking over this similar build over at HTS.
http://www.hometheatershack.com/foru...llt-begun.html
I thought a 3ft9in tall by 2ft wide and 3ft9in - 4ft in length each would net me in that area.
***You can see my problem. I have no idea how to really get an accurate internal volume.*** I wanted to got with 4ftx2ftx4ft cab for each cause it sounded easy to design but quickly changed that so when I move out of the house and into a place with "normal" height ceiling I could still stack these suckers. Not that I would want to too often what with how much they will weigh...
So...here are the facts so far.
1) 650 liters
minimum
per cab, 700-800 liters
optimal
.
2) Tune will be 12-13hz approximately. Tune will move up if I feel I am not happy with this, the lowest tune. Easy to trim a port.
3) 8 inch ID sono will be used per cab for port. Length will change depending on internal volume and final tuning.
4) MDF will be used with two or three window braces. Front (and possibly) back baffles will be double layer.
5) Sub driver will be front firing with a rear firing port. This lets me stack them with no worries on clearance. (***UPDATE 5/18/07*** Possibly front firing port now.)
6) Behringer EP2500 will be used in "bridged mode" to deliver up to 2400w (1400w realistically) total to be distributed between them.
7) No finish has been decided on. Probably anything that is easy, durable and cheap.
8) Already have the two drivers just sitting, waiting to be used. Already have the EP2500. Bridged and running my center channel, atm.
Just need to buy wood and the other stuff...
I already know that the driver only takes up a few liters and the port will be around the mid 20's into the 30's in liters of volume displaced. I just don't know how much the bracing and stuffing will take up in volume. I can only do the math on the volume of the whole box by simply entering the 4 x 3.75 x 2 into the windows calculator. Heh, not very good at math too, I guess.
***UPDATE 10/08/07 Changed this graph as I had them way out on page 8 or 9. Figured Id put them on the front page. More accurate graphs and the newest models.***
Unibox FR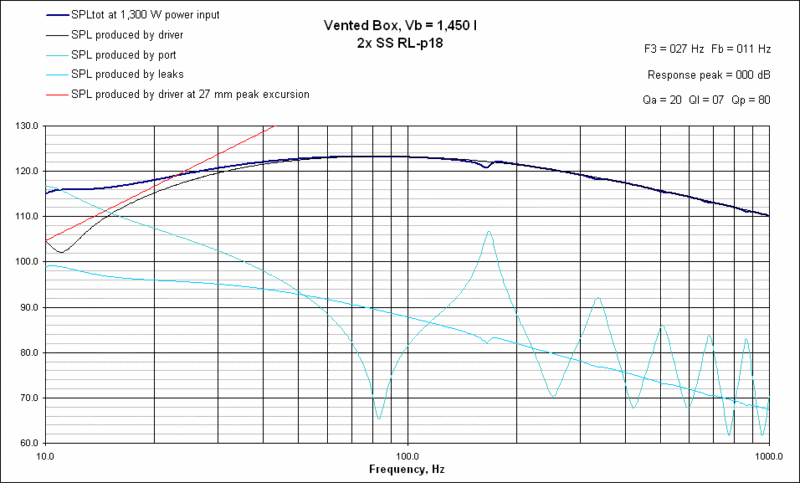 Excursion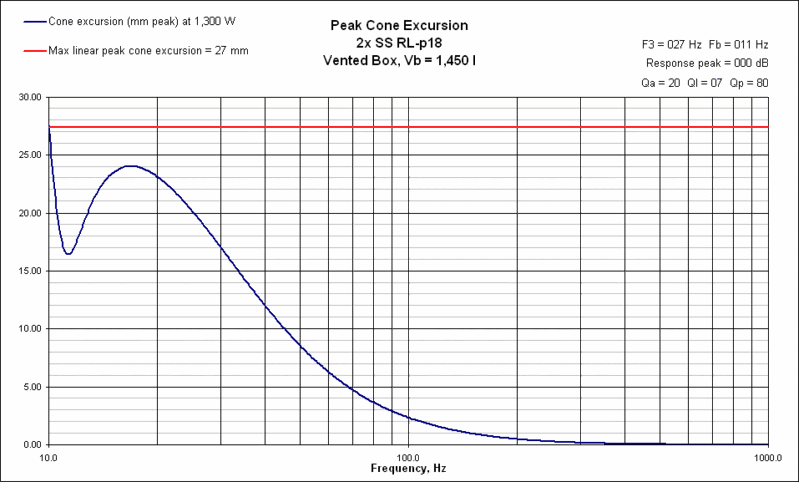 Port airspeed @ 650w each
Impedance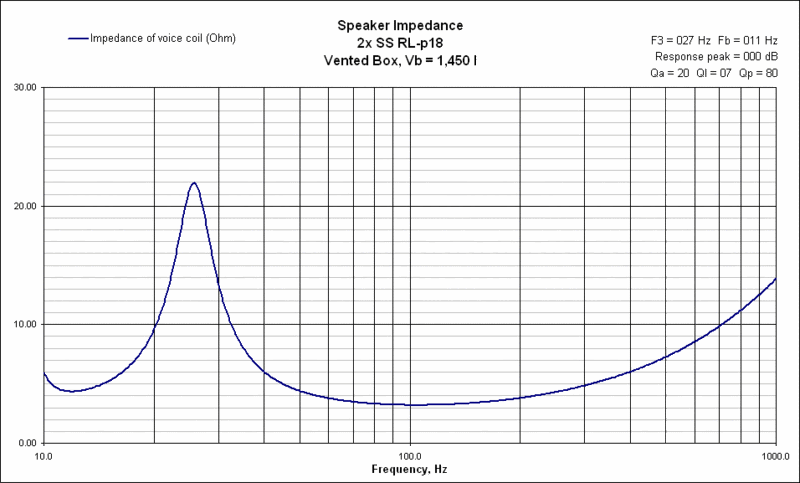 *********
If you want to model out what my finished project will be...Try:
1450liters, two RL-p18d4 in parallel, 11hz tune with a 20.3cm port each. Minimal leakage, walls lined, and one flush end for port.
*********
So what do you guys say...?
Give me some guidance and help a young man enter bass heaven?