Discussion Starter
·
#1
·

EDIT: 3/5/2012 for system updates: new 7ch amp, PS3 & cables
EDIT: 4/1/2012 for system update: Now 7.2 - added 2nd PSW - another Paradigm Reference Seismic 110
EDIT: 4/1/2012 replaced pictures with current set-up and moved some historical pictures to my 2nd post
EDIT: 7/3/2012 added 12volt trigger and Pangea power cables to AVR - trigger linked to power up/down amp
EDIT: 12/23/12 switched out Emotiva power cables with Pangea to main power feed to Furman conditioner and Amp.  Switched out stock power cables to 2 powered subwoofers with the Emotiva cables
EDIT 1/4/13: Added universal remote - Harmony 1100
EDIT 5/3/14: added PJ Wolf Cinema SDC10, SI Black diamond power retractable screen 110", replaced Onkyo AVR with Anthem MRX510 and replaced Sony BR player with Oppo 103D.  16 meter Audio Quest Chocolate HDMI to PJ
Main "HT" Equipment
Room Summary:
• Multi-purpose family room
• 18'D x 24' W x 11.5'H (approx 5K cu. Ft.)
• 3 exterior walls with large windows
• Rear wall has 6' opening to kitchen and eating area
• Currently running 7.2, wired for 9.2
• Viewing position is approx 13' from TV - approx 10 - 11' from screen
• Upgraded to in-wall and in-ceiling speakers to help de-emphasize HT look in family room
• Power light blocking shades for all 5 windows plus manual arch light blocking shades.  Ordered add'l light blocking shades for attached rooms for total light blocking later  
Control: Universal remote - Harmony 1100
Power protection, conditioning and cooling:
• Intermatic Panel Guard (whole house surge protector located at circuit breaker box)
• Furman Elite 15PFi power conditioner
• Niles 12volt trigger (linked between AVR & amplifier)
• Pangea power cables AC-14 (0.6m) X2 to AVR/Niles 12v trigger
• Pangea AC-14SE Signature power cable to Furman 1.5m
• Pangea AC-14 power cable to Arcam Amp 1.5m
• eMotiva X IEC power cable to PSW two 3'
• eMotiva X IEC power cable to PSW one 6'
• Cool Components CP-CC-4WC – 4 fan cooling unit w/ top cover and thermal control switch
• Monster A/V cables (except Wii) and Monster banana plugs
• Transparent Link interconnect audio cables between Amp & AVR & subwoofers
• AVR to PJ HDMI 16 meter Audio Quest Chocolate
Processor/Amp:
• Anthem MRX 510 AVR (2014)    REMOVED:  ONKYO TX-NR3007 – AVR
• Arcam Diva P1000 amplifier - 135w/ch X 7 @ 8ohm (the Atlantic speakers are 6ohm resulting in amp power of approx. 2XX/ch)
Source Components/Peripherals:
• Oppo 103D  in 2014REMOVED to Master bedroom - Sony BDP-S560 Blu ray player
• Apple TV (connected wirelessly to office PC)
• Roku 3 (new 2013/2014)
• PS3 (new 2012 - replaced PS2)
• Wii
• Thorens TD 280MK IV phonograph
• ONKYO DS-A3 iPod dock (can't get video to work…..)
• ONKYO UP-HT1 HD Radio tuner
• Winegard HD6010 FM antenna (installed in scuttle above family room)
• Upgraded to Comcast xfinity HD cable/DVR
• PC1 – HP Pavilion a1517x tower (home office PC connected to HT via wireless Apple TV (iTunes account #1, pictures, youtube, internet radio, etc.)
• Atlona AT-Air3: a PC to HT wireless broadcast unit (transmits laptop image/audio to HT)
• PC2 – HP Laptop
• Motorola modem
• Linksys router connected to AVR (internet radio, software updates, etc.)
Picture:
• Pioneer Elite PRO 507PU (50" Plasma)
• Wolf Cinema SDC10 projector
• SI Black Diamond 110" screen - power tractable
HT Speakers: (in-wall and in-ceiling)
• Mains: Atlantic Technology IWTS-30 LCR (L&R)
• Centers: 2 Atlantic Technology ICTS-6 LCRs (powering two wired in parallel) and enclosed w/ DynaBoxes by Dynamat – installed two to try and match the output of the IWTS 30 LCRs
• Side Surrounds: Atlantic Technology IWTS-30 SR-P
• Rear Surrounds: Atlantic Technology IWTS-30 SR-P
Subwoofers:
• Paradigm Seismic 110 (850watts RMS, 1,700 peak) X2
A/V Shelving:
• Sanus VF2022 (two tier double column glass shelves rated for 75lb ea)
• Sanus VF2012 (two tier single column glass shelves rated for 50lb ea)
• Added metal base support pole just in case for the AVR weight
• Peerless Adjustable Shelf (rated for 100lbs)
Outdoor Sound System Controlled/Sourced by Main "HT" Equipment
Zone 2 Power & control:
• ONKYO M-282 - 2 channel power amp (100w/ch)
• Aton DLA4 with RF remote – 4 pair impedance matching speaker switch (the remote controls the on/off, mute & volume individually for each pair of outside speakers)
Zone 2 exterior speakers:
• Boston Acoustics Voyager 6 – over garage doors/driveway/basketball area
• Boston Acoustics Voyager 6 – deck
• Boston Acoustics Voyager 6 – patio under deck
Thanks for looking and all comments, suggestions are welcome.
Best,
Dan
PS: Sorry, I do not know how to insert a picture so that it appears in the thread. Please see links picture links below. I will appreciate any help on how to do this. Thanks -
PSS: Thanks for the instructions on copying in the pictures.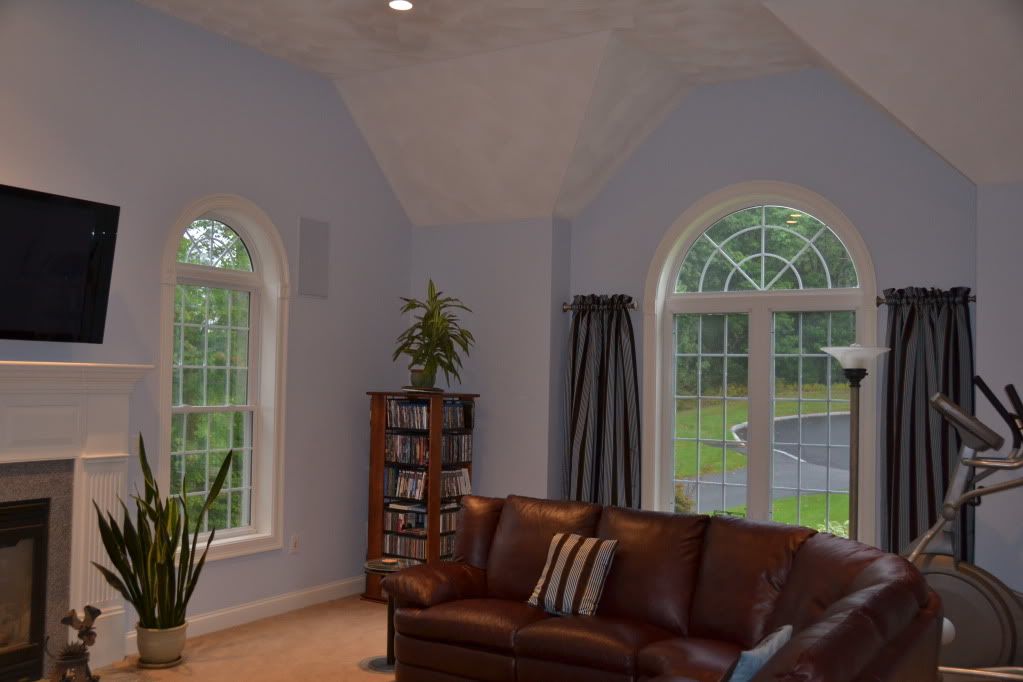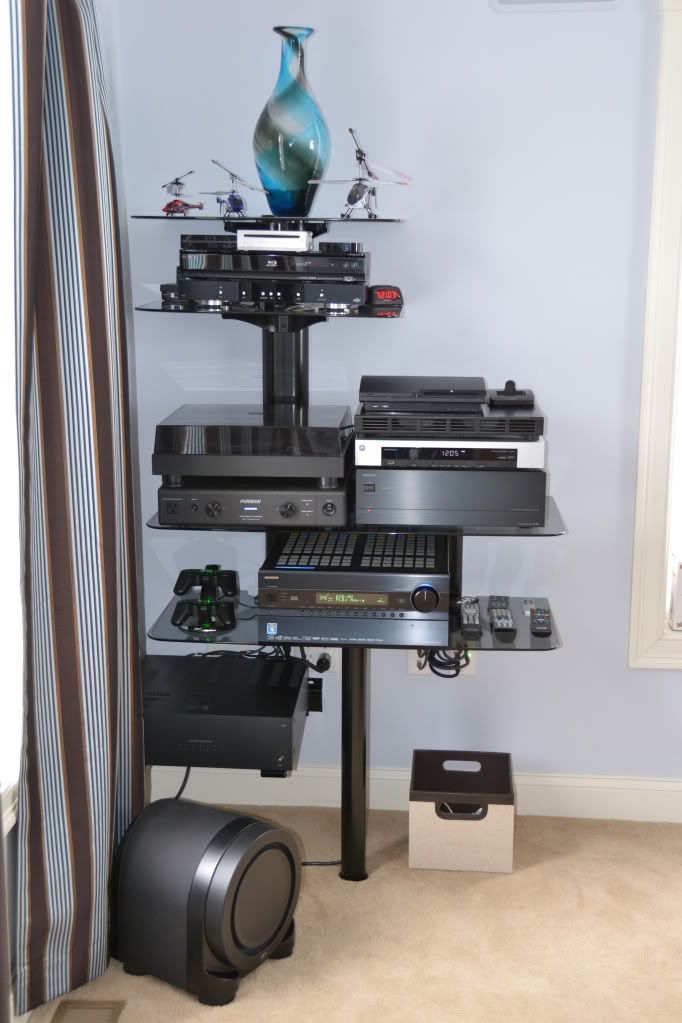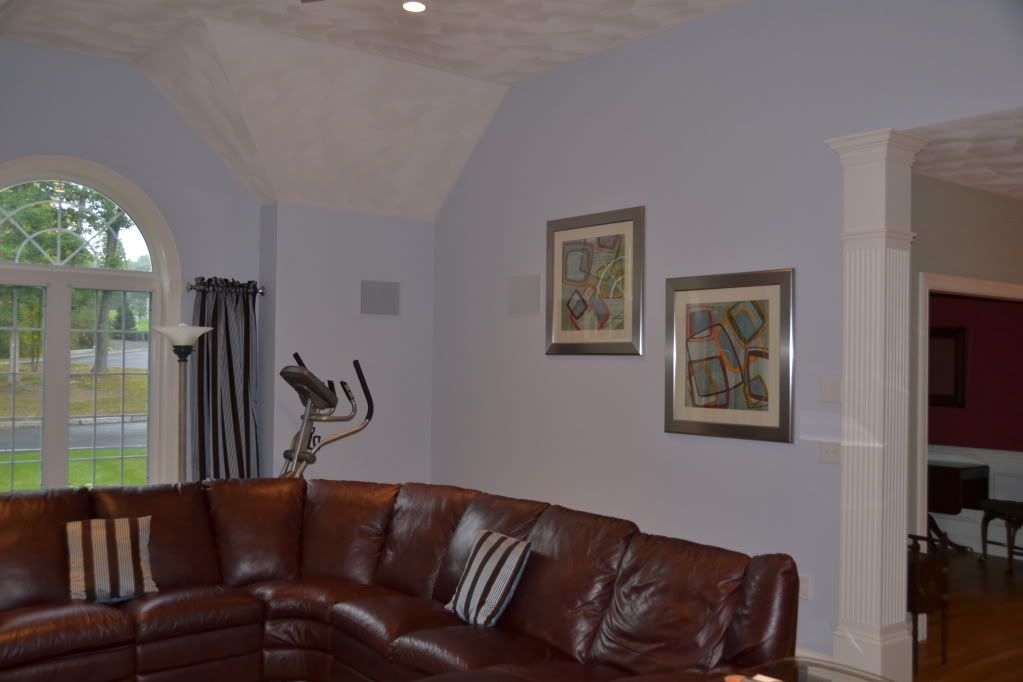 On the back table is the home modem, router & laptop. I have 2 cat5 cables running in-wall from the router to the HT equip for the AVR and PS3.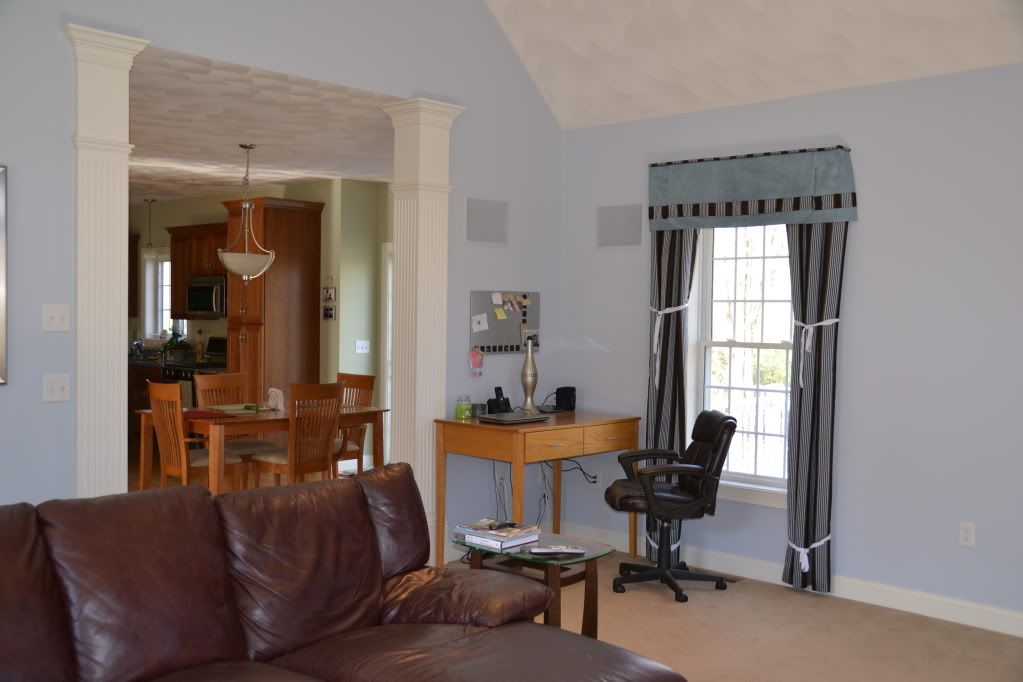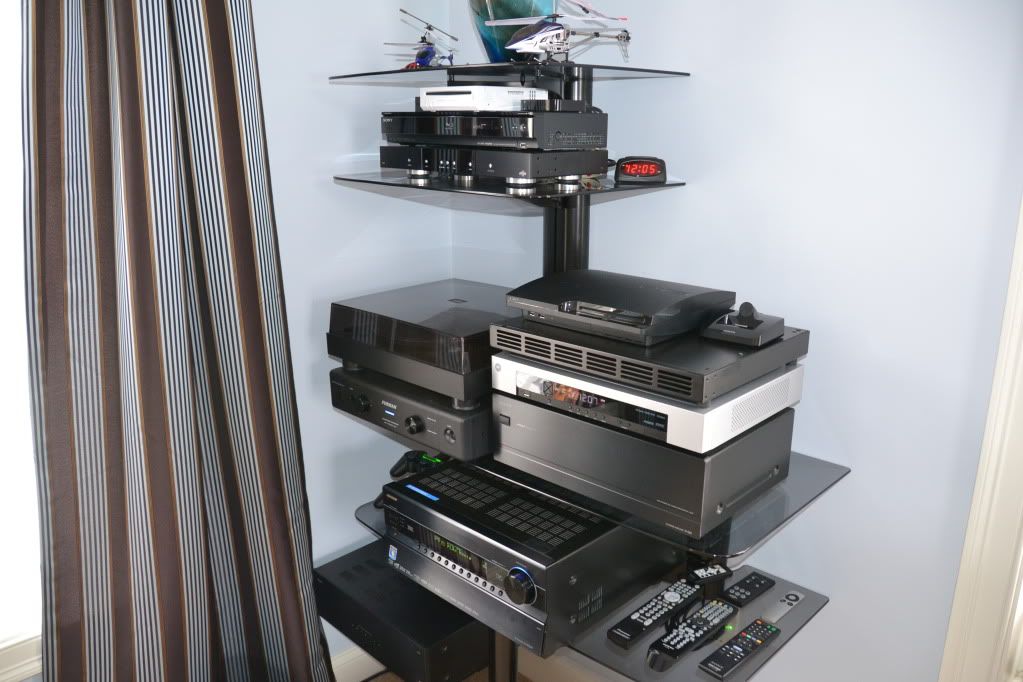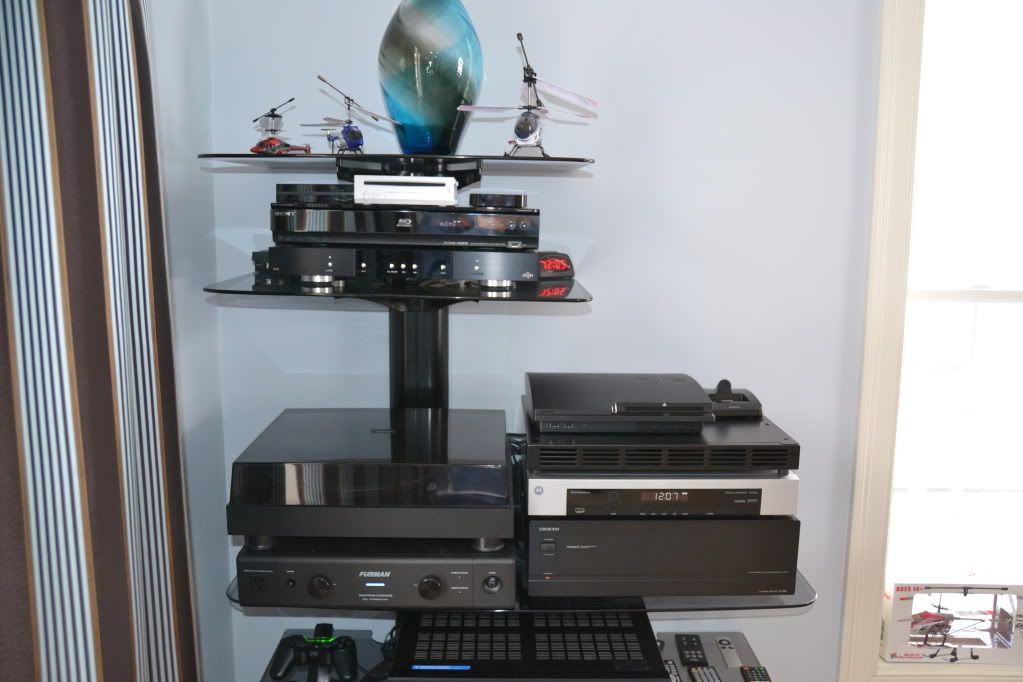 Picture of PSW 1 before adding an amp above it. This little guy is amazing
Main Atlantic Technology in-wall Speaker with out painted grill on. The tweeter & 2 mids are sealed and movable - they are toed in and down toward the listening position - one of the main reasons I choose them for my solution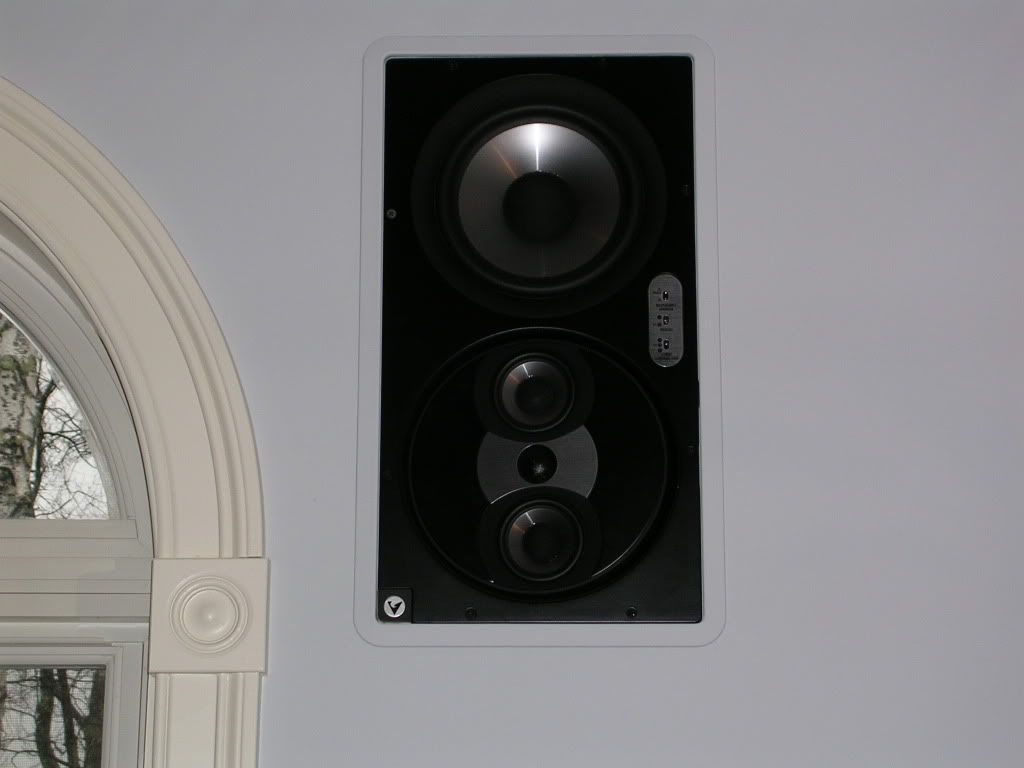 Atlantic Technology surround speaker with out painted grill on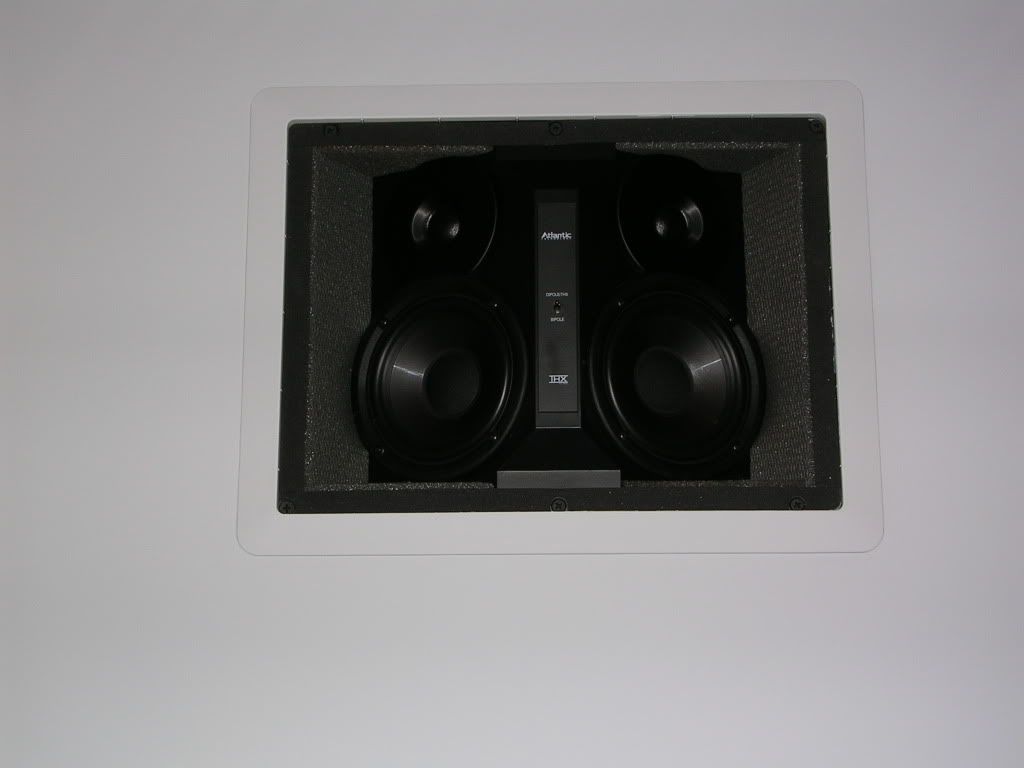 Two directional center speakers installed in ceiling. I used two to try and match the output of the two mains. I went with in-ceiling so that I could add Non-AT screen and PJ later on.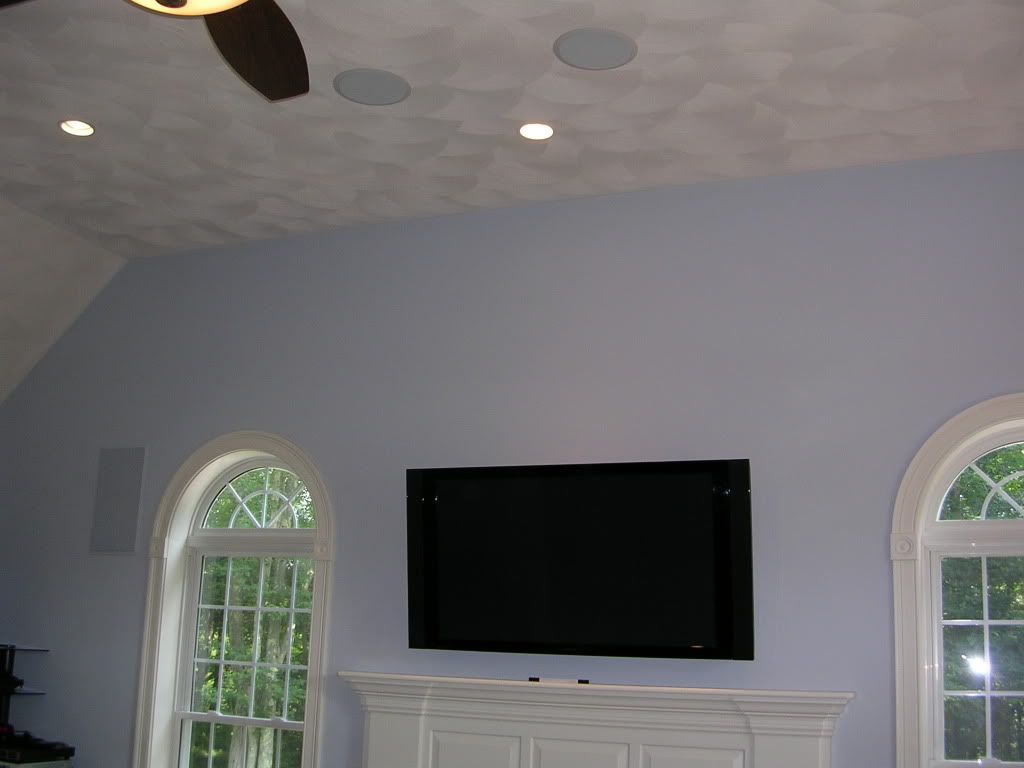 Second PSW