Discussion Starter
•
#441
•
Isn't there a passive XO to blend the MF and HF pieces of that coax? That could probably be modified.

Resistors are cheap. I'd just buy the higher wattage ones and get: 2, 4, 6, and 8. Then arrange them in different Lpads like

Most attenuation

---8---!---DRIVER
!
2
!
Negative

To least attenuation

-----2----!----DRIVER
!
8
!
NEGATIVE


The first would offer the most attenuation and the second the least. I'd try something like a 4 and 4 and see what hat gets you. If you put in the Lpad and find you need to use boosts in your eq, raise it up to say a 2 and 6 or a 4 and 6. You really can't make a mistake with those resistors. Even if you use a 2 and 2 Lpad the impedance would still be safe for that amp, though I'd recommend a 2 and 4 as a minimum. If your worried about dropping the impedance to much just run it by me.

As for measurements. Isn't the MF and HF already worked out? So you just need to get the low blend right. I would think about the driveway if I were you. In your room getting useful results at 400hz is unlikely. You could use "at the seat" measurements. Normally I dismiss those as they're not representative for XOers in the midrange, but down that low it's all about the power response and getting it smooth at the seat is actually the point. Still important to know the anechoic response though. We could do it in July if you'd like.
At the moment, I think the timing/phase between the CD and woofers might be alright.
Here's a couple sweeps at 4ft, with the red being with the phase reversed: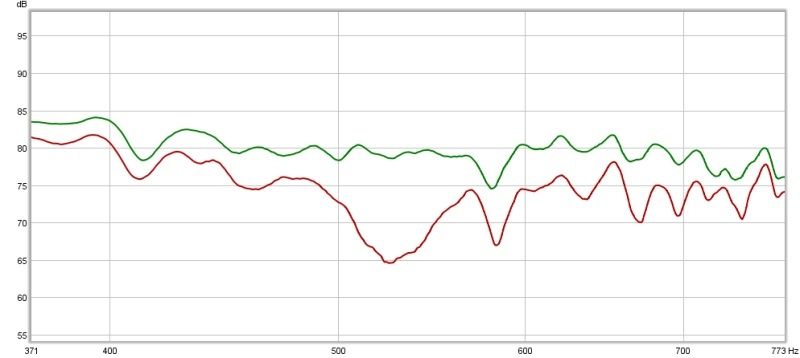 Changing the delay in either direction by even .02ms doesn't have a positive effect, and it sounds ok to me.
Are these the resistors you're referring to?
http://www.parts-express.com/8-ohm-20w-resistor-wire-wound--017-8
http://www.parts-express.com/4-ohm-20w-resistor-wire-wound--017-4
I wasn't able to find a 2ohm or 6ohm equivalent, but I have no idea what I'm looking for