Tapped Horn Design
We're up to v34 now, and there is a new download link.
Get it here:
http://www.hornresp.net/
After reading maxmercy's excellent post on front loaded horn design, I thought I'd share what I know with respect to tapped horns.
As I've said all along, I am an amateur, I do this as a hobby. I am not selling anything, just sharing what I have figured out.
I apologize in advance for my lack of sketchup skills. I hope that I can get the idea across.
What is a tapped Horn? I don't want to go into that here, as others far smarter than I have explained that already.
http://www.google.com/search?rlz=1C1...&q=tapped+horn
Google is your friend, I recommend links 1 and 3 first. Danley's white paper is excellent too, but may go over your head at first.
Do they work?
Absolutely.
Why bother with a tapped horn?
Cabinet size. While a tapped horn may not equal a front-loaded horn in output, it can produce considerable output from a cabinet that is ~1/4 the size of a 1/4 wavelength horn.
Are they hard to build?
No, not at all. In the simplest form, it is a box with a driver near one end of a sloped baffle inside, 7 boards.
Some Caveats:
Not all drivers will work in a tapped horn
Improper designs will kill a driver quickly
Overexcursion explodes out of the pass-band (use high-pass filters)
As with any horn, boundary loading is your friend, but unlike a front-loaded horn, you don't need it to flatten the response.
Number one rule - there is no free lunch.
There is no magic here, just physics and math.
Here is an annotated diagram so you know what I am talking about. S = area, L = length. Hornresp works in metric units, like the rest of the world...
One of the primary concerns in designing a tapped horn is if a given driver will work with a reasonable compression ratio, which is the area of the driver (Sd) divided by the area of the horn at the driver entry (S2).
Small drivers can work with a higher ratio, as can drivers with a more rigid cone. Personal experience suggests that 4:1 or less is fine for small, high-excursion 6 to 8 inch diameter drivers.
Larger drivers require lower ratios, for example jbell's PA tapped horns use Eminence 3015lf 15" drivers, and have a compression ratio of 1.26:1. These are an extreme example, SPL @ 40 Hz was the primary concern.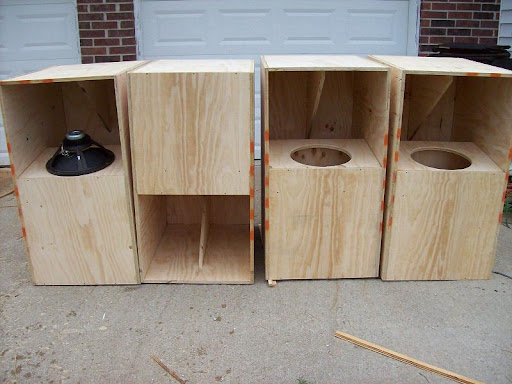 Yes, that is a 15. These are HUGE. More details here:
http://www.diyaudio.com/forums/subwo...ped-horns.html
So - how do we design one?
Select a driver. Lots will work, I'm choosing one that I have, and one that is cheap enough for anyone to experiment with this should you choose to play along at home. For this example, I'm using the MCM 55-2421 High-excursion 8" woofer. While perhaps it is not an ideal driver, it is cheap and I already have some (that makes it even better in my book).
http://www.mcmelectronics.com/product/55-2421
These drivers are often on sale, but you have to enter the correct code to get the sale price. I paid ~$25 each shipped for the last ones I bought.
Here
is a link to how to enter your own driver parameters.
This cabinet will use two drivers wired in series. I've measured several of these drivers in the past, the thiele-small parameters I have are entered into hornresp.
Select a target low frequency response cutoff. Realistically, a low corner of 66% of the drivers Fs in free-air can be reached without losing too much efficiency or sending excursion through the roof. Higher frequencies = smaller boxes and higher efficiencies. It is all about the compromises.
In our case, since I have realistic expectations for these 8 inch drivers, I'll choose 30 Hz.
Next, I determine the minimum throat dimension.
Sd * 2 (number of drivers) / 4 (max safe compression ratio)
In this case, S2 should be approximately 105, so S1 can be smaller than 105. I'll start with 100.
Then I determine the mouth area. I typically use total Sd * 2 as a starting point, some drivers want more or less.
In this case, S4 should be around 836, I'll use 800.
Now, we have to determine the lengths of the various parts of the tapped horn. We know that the drivers have to fit inside this thing, so L12 and L34 have to be at least 21 cm (one driver diameter).
Experience has taught me that an additional few centimeters is a good thing, it makes driver installation and construction much easier.
I'd suggest 32 cm as a good starting point.
What about the L23 value? Lets use 250 cm for now.
OK, we have what we need to get started. I've attached a hornresp import file to this post so we all start at the same place. 
example.txt 0.3798828125k . file