Discussion Starter
•
#1
•
Like many of you I have been lurking in these forums for quite a while waiting for the chance to build my own theater. I recently bought a home at the beginning of the year and now that I'm back from a little detour, I have the time and more importantly the cash to build it.
For the most part this will be interesting to those who want to lurk as well and get some ideas on what you might want to do or learn from my goofs and not do that (hopefully none of that). And I've kept a close tab on all the material that I've been buying to give others an idea on how much it could cost. Oh and suggestions and questions are welcomed.
Anyways, I am a complete DIY'er. I like learning stuff if I don't know how to do it and I've always had a knack for using tools so, for me this will be a lot of fun doing a more serious project.
I actually started my project last week before the 4th but I just now got to posting this. But before I give an update on where I'm at, I'm going to give a description of what the theater will be.
I know some of you moan and groan at 3D, but I really enjoy it and there's more chance than ever of that experience improving. A while ago there was no easy way to do a Bluray dual projection 3D experience without having to do some work on the feature and then playing it through stereoscopic player. But now, even that player gives the capability to play it straight from the disc. That might work and it might not. If not, I'll do it the other way I was doing it. Anyways, it will be a full 1080p dual projection circular polarized theater. And, it will be a scoped theater (2.40:1) as well. I'm hoping to do it for 3D as well but that might be an experiment at the moment since I'm not able to buy a Panamorph (which doesn't do 2.40) or a Prismasonic (which does), but that might be an upgrade later. For now it'll be DIY prisms. It will also be a 7.1 system with a Tuba Home Theater Low Profile to give it that really rumbling blow that you would get in a real theater, and I will also build all the speakers. The walls and ceilings will be double 5/8ths with Normal Green Glue application. The walls will also have acoustic treatment as well using fabirc frames and wall coverings with rigid insulation.
So, on to the updates. This is what the space looked like before.
Front
Back
And the basic design from the side.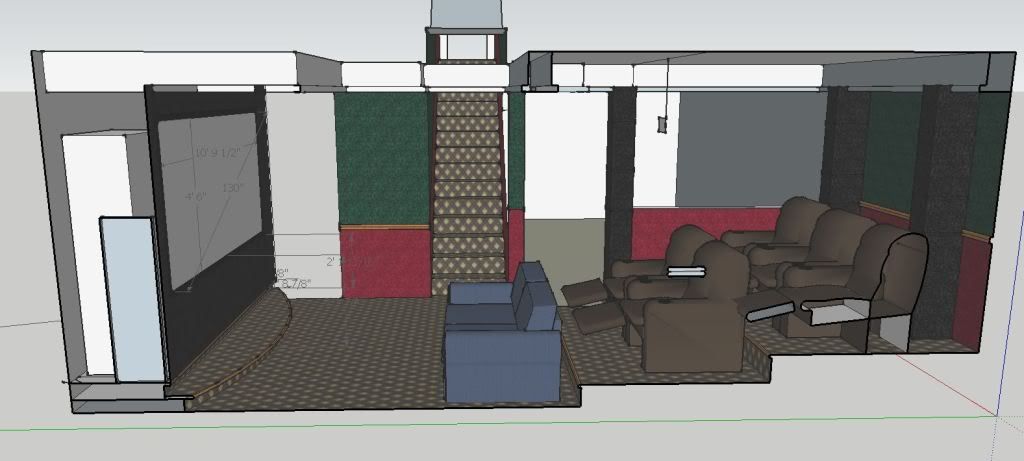 I stripped the walls and ceilings bare to start from scratch. I will be reinsulating the walls and ceilings to help with the cool Nebraska winters and come soundproofing from the rooms above.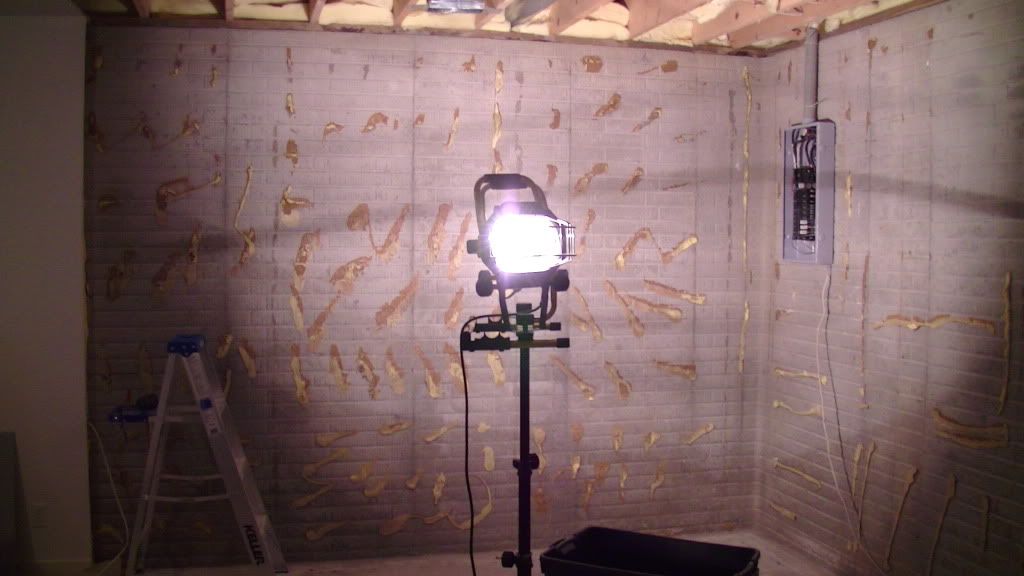 I've already bought the lumber to begin framing tomorrow...as soon as I take off some of that old construction adhesive.