Discussion Starter
·
#1
·
Hey all!! The short of it is that I'd like to have sound on the deck as well as in the main room of the house; I think my Onkyo 603's Zone 2 feature should be able to do it well. But speakers! And placement...here's the deck in question.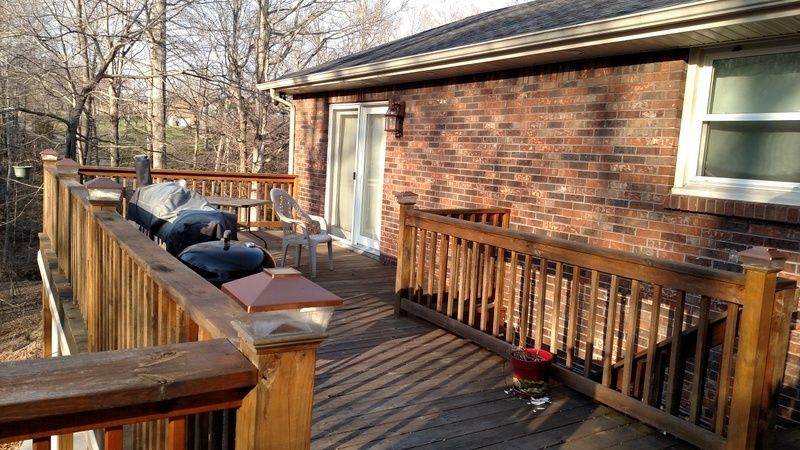 I, in my incredibly limited scope of understanding, see two options:
1. I could do outdoor speakers under the eaves along the house, or
2. I could use indoor speakers (bookshelf) mounted up high just inside the (opened) windows of the sunroom looking out. I know that indoor speakers tend to perform much better for the money, but that room is *not* climate controlled...especially in the summer (here in middle Tennessee it gets warm!) I don't want to fry anything, either. They would stay dry but they would be subject to vast temperature swings!
By the way, I'm all about hunting on Craigslist for used gear.
The SECOND question...bass!!! I have a BIC America V12 sub (which for the money really does well.) I'll like to use it to help out these smaller speakers. I thought perhaps I could put it *inside* the sunroom and open the windows and hope it would make some difference on the deck itself - but again, especially being a powered subwoofer with its own amp, would it be OK to stay in a hot room? I suppose I could figure out some kind of quick-disconnect setup to bring it out for parties but keep it indoors other times. I might even be able to put it outside in the corner! Pic
#3
.
Guys, thank you so much for taking the time to read this and for weighing in. Your expertise is vast and your helpfulness is great!
Many, many thanks, all!