Discussion Starter
·
#1
·
A close friend just brought around a SONY KV-X2972U (27" CRT) last week on (12-26-2008) which has now replaced the Toshiba (20" CRT). I'm a little speechless to say the least. He said he'll drop the remote off later and I was thinking I have one of those learning universal remotes that I thought had malfunction and I gave it a try. (Yes it accessed the Sony menu features).
The contrast is a bit hot that produced slight bleeding on whites. I adjusted the contrast down that was fairly high on its least preset level.
Colour looks normal when compared with Toshiba. There is slight minor over-scan on the left side of the screen by a small percentage. I'll see if I can't adjust the (horizontal variable resistor) later on. A test card needs to be put up on it to see how much error there is on the vertical and horizontal.
Stereo sound on it is fair if not a little narrow due to distance to the seating area and the spacing of the speakers. There are a few basic modes for optimising the stereo sound with (space control) it seems a bit hockey if you ask me, so I leave it in the (off mode).
The image here makes it seem small against the JBL 4645 parked off to the side of it LOL, still it's a whole lot clear to view than the Toshiba which is still a fine CRT television.
There are assorted modes of SCART inputs which is set in RGB mode at present to offer best picture. There is an S-video input but I don't have an S-video lead I thought I did not sure of I gave it to my friend a few years ago, no matter I'll get another S-video lead from D.J. electronics down the road from me. They don't cost much.
Well I now have new problem! The LCR speakers or left and right needs to be raised up a few inches due to the height of the Sony so its looking around for any resourceful items to place underneath left and right and get the height level correct.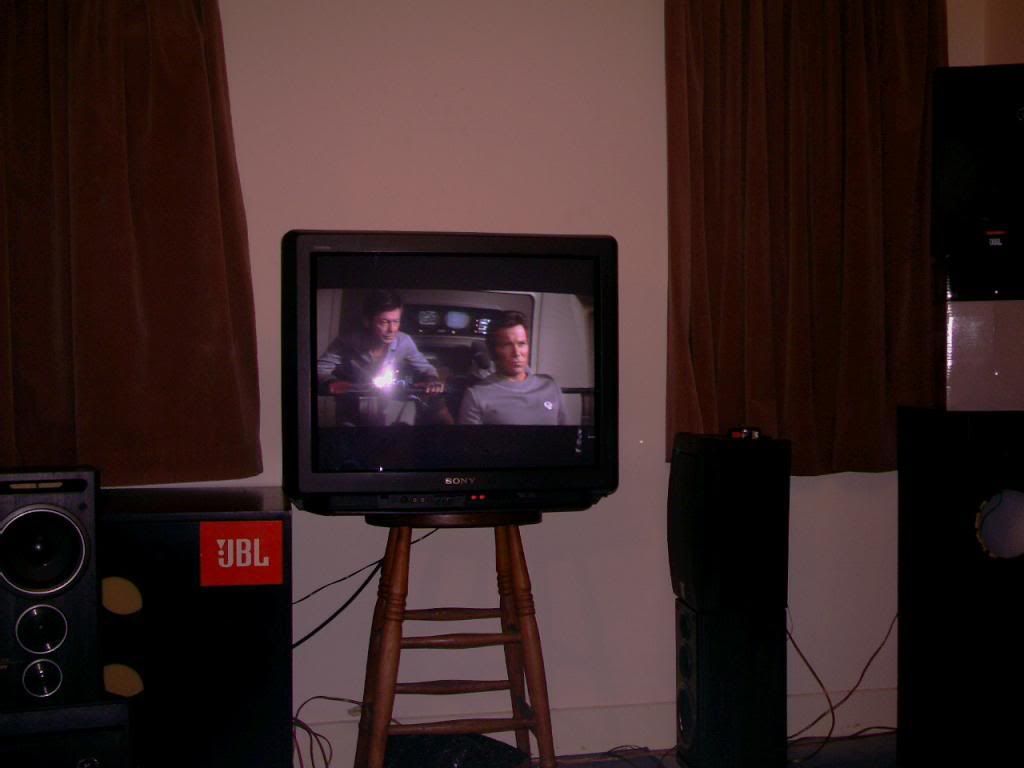 Well I've managed to get the height of the left and right within ½ inch that is the best I can do with what I had on hand. I used the lower part of polystyrene that holds the JBL control 1 in place in the carrying box. Again JBL control leaves something in the packing to provide control LOL.
The picture is leaning to one side we just hit an iceberg!! Women and cats first!
All I have to do now is test the sound with pink noise and a few sine wave frequencies to see what needs correcting.