Discussion Starter
·
#1
·
I built my Stage knowing I wanted to see it with a shorter step up from the first step , I think it looks a little better than evenly spaced, almost like molding has different sizes to its routes .
I can easily raise it in any dimension of 1/4" but Im not sure an even number will look boring. the bottom step is 16' wide and the stage is 14' to match the 2.35:1 screen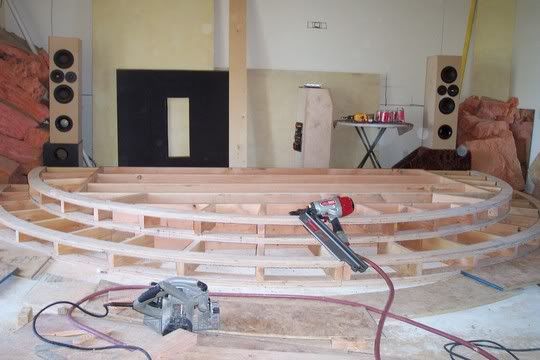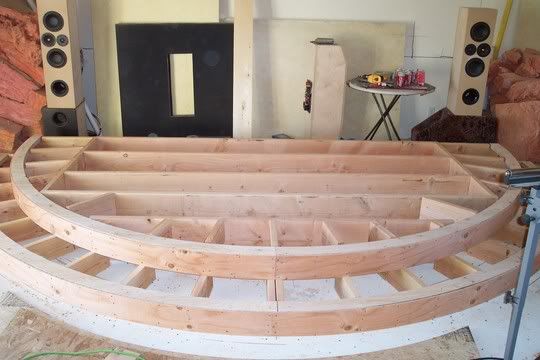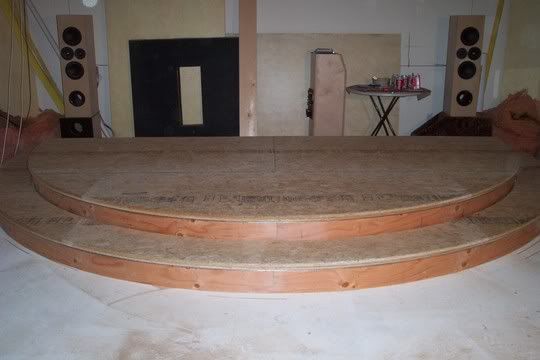 I built it yesterday and today and the only part that stunk was filling it with fiberglass, I used some R-38 12" left over from raising the ceilings to 14' and 16' , trust people when they tell you to use blown in because after cramming in hundreds of dollars of batting that didnt cram in evenly I bought some blow in to top it all off. Other than that is was pretty entertaining and Ill post pictures in a couple days from further back when the entire thing is done, this is only about half of whats going to be the final product
heres a pic from 45' away, I added a fake screen for perception . The screen will be 14 wide 2.35:1 constant height
The riser is 12' x 12' x 10" tall to first level ( which is extending out inoto the rear doormers and curving to fit front side stages in doormers) and 22" to second level, they will hold 5 seats each for a total of 15.
On top of the columns is the Balcony and heres a shot from the "couch" from 40' away . the balcony is not finished but will be curved cantilever but out 1' past where the plywood is now
The Stages were built last weekend, the Riser and start of balcony was built this weekend
New pics with wider lense